An orbital sander is a must-have tool for both woodworkers and homeowners. It can quickly smooth out uneven surfaces and make big projects easier to handle. Whether you're working on craft projects, repairing walls, restoring furniture, or any other task, an orbital sander can help. The best part is that these tools come in corded and cordless options, giving you the flexibility to choose a sander that is easy to maneuver or portable.
If you're looking for a cordless option, we've put together a list of the top 5 best cordless orbital sanders to help you make your decision.
A List of Top Best Cordless Orbital Sanders
Enertwist Cordless Orbital Sander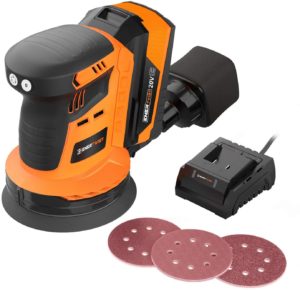 Bring the cordless convenience to your job site after purchasing the Enertwist Cordless Orbital Sander. It features an ergonomically designed body for increased operator comfort and reduced fatigue. Also, it has a one-touch electric speed control switch. The switch provides for three-speed settings, 6000 OPM 8500 OPM, and 11000 OPM to let you customize it depending on your needs.
Featuring a large 1/8" random orbit action, the orbital sander allows for a fast material removal rate. Also, there is a replaceable 8-hole hook-and-loop sanding pad to ensure fast and quick paper changing. The switch is dust sealed for a longer life of the tool. The tool has a detachable dust bag for an efficient and convenient collection of dust.
Pros
Three-speed settings match different applications.
The dust collection bag is easy to attach and detach.
Compact and lightweight for easy handling.
Cons
The power button isn't easy to press.
SKIL PWRCore 20 Brushless 20V 5-Inch Random Orbital Sander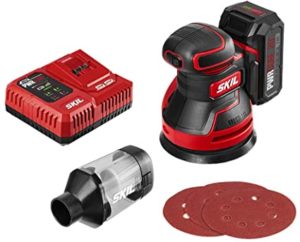 The PWRCore is a powerful, brushless orbital sander. It includes a PWR Core 20 2. 0Ah Lithium Battery with a PWR jump charger and a PWR assist USB port. The jump charger charges the battery within 5 minutes or up to 30 minutes for a full-power charge. Each cell is wrapped with cooling material for a longer run time.
The sander has a variable speed control to adjust the speed from 7000 OPM to 11000 OPM. It includes a micro filtration dust canister to help you maintain a clean working environment. A digital brushless motor is another addition for high-performance power and extended life of the tool. Plus, a hook and loop pad allows for a quick and easy change of the sandpaper.
Pros
The sander spins while vibrating to get rid of scratches and swirls.
It derives its power from a longer run-time battery.
Lightweight and easy to maneuver.
Cons
The battery charging unit can become noisy.
Makita XOB01Z 18V LXT Lithium-Ion Cordless 5″ Random Orbit Sander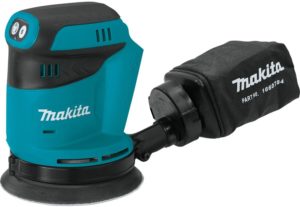 Are you a woodworker aiming to get a cordless orbital sander that will increase your job site mobility and efficiency? If that is the case, the Makita XOB01Z is an ideal option. It offers three-speed settings; 7000 OPM, 9500 OPM, and 11000 OPM for easy customization depending on the task. While on the low speed, the tool operates for 40 minutes and up to 20 minutes on the high speed.
Equipped with a dust-sealed switch and oversized sealed ball-bearing construction, the Makita XOB01Z is a durable cordless orbital sander. Also, the tool has a pad control system for the control of the pad speed upon startup. The tool uses a dust collection system for a cleaner working environment. Its 1/8" random orbit action provides for fast sanding and a swirl-free finish.
Pros
A pad brake reduces the free spin for an improved finish.
Ergonomically-designed body for user comfort.
Good battery life.
Cons
The sander is quite heavy.
Ryobi P411 One+ 18 Volt 5 Inch Cordless Battery Operated Random Orbit Power Sander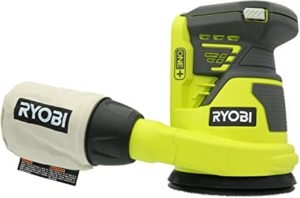 Get ready to keep your furniture looking good and free of splinter after purchasing Ryobi P411. The orbital sander delivers 10,000 orbits per minute, for fast results. It includes a rubber overgrip that makes it easy to handle despite the intense vibrations. Equipped with a dustbag, it collects the shavings from the task to reduce the need for cleaning after the job. Plus, the orbital sander comes with sanding pads that should be attached using a hook and loop connecting system for fast replacement.
Pros
Easy to maneuver
Quiet operation.
The power tool comes with the required sanding pads.
Cons
No variable speed control.
Black & Decker BDCRO20C 20V MAX Random Orbit Sander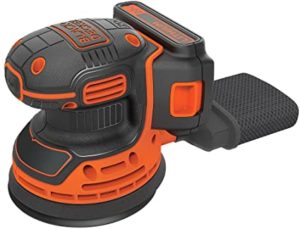 Concluding our review is the Black & Decker BDCRO20C. It is a compact orbital sander that places the power of tackling small projects in your hand. The sander delivers a 12000 OPM speed for fast removal of the stains, paint, and material. It includes a dust collection system to help you maintain a clean work surface. A hook and loop system is another plus that facilitates easy and fast paper changes. The sanding tool comes with two 5" sandpaper sheets, a 20V MAX 1.5ah battery, and a charger.
Pros
The compact size makes it easy to maneuver.
The sander comes with the required battery.
Strong motor and a comfortable grip.
Cons
The battery takes a long time to charge.