Top 5 Best Home Air Purifiers (2022)
Take a deep gasp if you can because the best Home Air Purifiers are here to help improve the indoor air quality. In case you want to improve the air quality of your living room, then you must begin by reducing the sources that are known to cause pollution such as dust, pet dander, smoke just to mention a few. Therefore, choosing an air cleaner will do an outstanding job of cleaning up your living room's air. Consider buying the below top 5 below air purifiers today, and you will never regret it.
A List of Top 5 Best Home Air Purifiers
1. GermGuardian 3-in-1 Air Cleaning System, UV-C Sanitizer, Allergen, and Odor Reduction, 28-Inch Air Purifier

The GermGuardian AC5000 Air Cleaning System is among the best air purifier for your home because it captures about 99.97% of allergens and dust even as small as .3 microns. This air cleaning system comes with many levels of cleaning which are meant for getting rid of the allergens, destroy odors and mold spores as well as kill airborne bacteria and viruses. It is best to use people having large rooms because it cleans 20% more when you compare to GermGurdian AC4825 model. It is also the most recommended because it minimizes exposure to indoor asthma.
Key Features and Benefits:
A single filter stays for 6 to 8 months depending on the usage
Comes with a charcoal filter which reduces common odors
Uses UV-C light technology to kill airborne germs, bacteria, mold spores and viruses
The ultra-quiet operation which makes it easy to leave running while one is asleep
Pros:
Best for large and medium rooms
Reduces odor by a high percent
Easy to operate
Has a replacement filter
Comes with a 5-year limited warranty
Fights germs and captures allergens
Cons:
Sometimes it stops working
2. Honeywell True HEPA Allergen Remover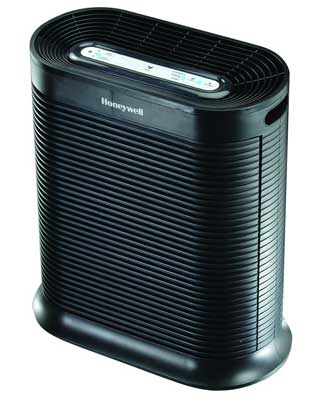 Honeywell Allergen Remover is home air purifiers that are well recommended by doctors as part of the allergy treatment program. Don't hesitate to buy this true HEPA product because it is well-known to capture 99.97% of microscopic particles such as pollen, dust, cooking smoke, tobacco smoke, mold spores, pet dander just to mention a few.
This air purifier has been tested to also capture certain germs that may pass through the filters. This product uses a mechanical filtration technique where a fan pulls the particle-filled air into the unit and then forces that air through the filter this effectively circulating and cleaning the air in your room.
Key Features and Benefits:
Capture microscopic and large harmful particles thus reducing unpleasant odors
Comes with a fan which is quiet which pulls the air into the filter unit
Comes with electronic controls a/3 air cleaning levels and a Turbo clean setting as well as an hour timer
Activated Carbon Pre-Filter helps in reducing unpleasant odor
Pros:
Captures up to 99.97% of harmful particles
It's a good choice recommended by many physicians
Helps capture airborne germs
Circulates the room with fresh air all through
Easy to use and clean
Cons:
3. Rabbit Air MinusA2 Ultra Quiet HEPA Best Home Air Purifiers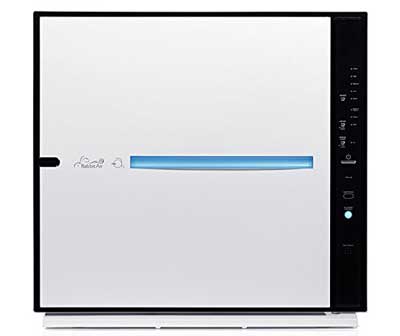 Are the dust particles in your room causing allergies to you? If so, consider buying Rabbit Air MinusA2 Allergen Remover. These air purifiers are designed to complement and adapt to any space. Ensure you have purified air by getting one of the MinusA2 because it fits all your personal needs.
The product is made of high grade granular activated carbon filters which are usually coated with a thin layer of AC. This ensures common household odor and chemicals have been effectively reduced. The product is also has a negative ion generator which generates beneficial ions that freshen the indoor environment as well as fortifying the air we breathe.
Key Features and Benefits:
Comes with customized filters which ensure odor reduction, trapping as well as reducing volatile organic compounds
Designed to be fixed on the wall or stand on its own
Contains BioGS HEPA filter to trap airborne particles to 99.97% as well as minimize allergens
Cover a room to an average of 700 square per foot
Pros:
Effectively reduces and traps any airborne particles, bacteria and mold spores
It is ultra-quiet and energy-efficient
Very thorough in how it functions
Adaptable because you can either mount it on the wall or let it stand on its own
Cons:
A bit expensive compared to other air purifiers
4. Winix WAC5500 True HEPA Air Cleaner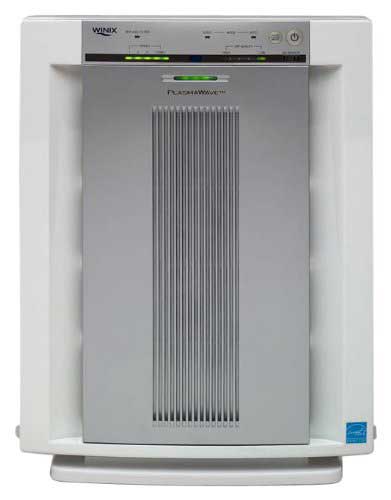 Do you want to control your entire unit manually? The Winix WAC5500 Air Cleaner has got you covered. It comes with 4 settings which help you to manually set the speed to where you prefer. You can choose between turbo, high, medium and low.
Also in case you are worried that you might forget when to change your filter, then this home air purifier has a timer and it will notify you the right time to change. The control panel usually displays an LED alert until the moment the filter is changed. The Carbon Filter should be changed every 6 months.
Key Features and Benefits:
Odor control carbon prefilter which is designed to minimize harmful smoke and other house odors
Comes with a smart sensor which has an auto mode automatic adjustments which ensure the needs of your environment have been met
Contains a plasma wave technology which reduces pollutants at a molecular level
Known to have a long life HEPA filtration for capturing 99.97% airborne particles and allergens
Pros:
Monitors the air by the help of smart sensors
Cheap compared to other products thus saves money
Easy to use and clean
Cons:
It fails to work after some time
Has a strong plastic chemical
5. Winix WAC9500 Ultimate Pet True HEPA Air Cleaner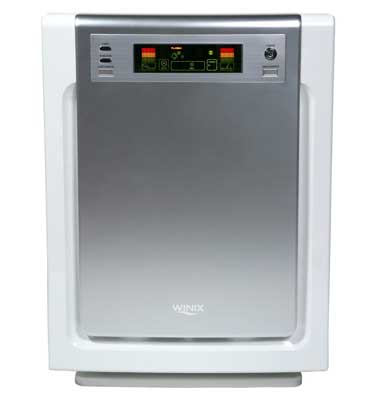 You might have noticed some pet's hair in the air or even on the floor of your living room. In case this is the case, WAC9500 Air Cleaner is the best to solve this problem because it uses a 5 stage filtration which usually eliminates the hair by 99.99%.
Key Features and Benefits:
The HEPA filtration captures airborne particles, allergens as well as pet dander by 99.99%
Comes with a PlasmaWave tech which reduces particles to a molecular level thus neutralizing odors and viruses
Washable pre-filters ensures an extended life to the filters
Pros:
Use friendly
Washable pre-filters
Has advanced odor control
Uses plasma wave technology
Good for medium and large rooms
Cons:
Filters are expensive and may be difficult to find them
Conclusion
The above are the 5 best Allergen Removers for odor reduction and particle removal. Therefore, if you have allergies and asthma-related conditions, consider buying them because they will ease your allergy as well as asthma thus relieving your respiratory system.