Top 10 Best Drying Racks for Clothes
A drying rack for clothes is a must-have household product for most people. But getting a good one isn't easy. Drying racks are essential because without them at home. It is rather mad to spread your clothes all around the house to have them dried. What's best cloth drying rack these days? We'll help you make easy decision buying the top rated drying racks for clothes this year.
Also: Best Baby Diaper Backpacks
That's right, you read me. Clothes. Drying. Rack. Think about it. How many times, gentlemen, have you come home to find bras, and sweaters draped in the house?
The best drying racks are essential in most homes. You cannot expect a home to be complete without a drying rack. When you're done with your laundry, you need some place to dry your clothes.
You could consider a clothesline, but that'll take a lot of space for no necessary reason whatsoever.
These drying racks are not space saving, but they're also strong and give a lot of coverage for the clothes.
A List of Top 10 Best Drying Racks for Clothes
Household fundamentals 5009-1 Collapsible Portable Indoor Tripod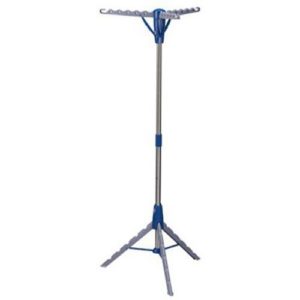 This looks like the perfect drying rack for someone who has a large number of shirts and blouses. Because it stands vertically, it does not take any more space than a coat rack.
The downside is it's collapsible, it has parts that you must remove and add on again when back in use.
If you happen to have a large laundry room and then, this is the product for you. It could stand there and look pretty all day. But, for smaller laundry rooms and living quarters, something without parts.
It is tall, it is slim and comes in two different sizes, a one-tier (29.95) and a two-tier (39.97).
Ohuhu Stainless Steel Gullwings Clothes Drying Rack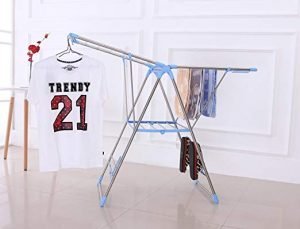 It has plastic hinges and is collapsible. It could fit between the washer and dryer, behind a door, or beneath a bed. It even has little clips on it for socks.
The only downside is it does not appear to come assembled.
Household Essentials Collapsible Expandable Metal Clothes Drying Rack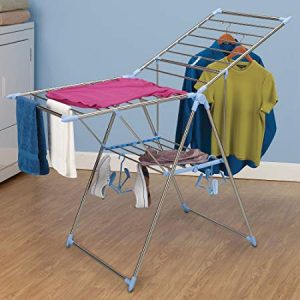 This rack is similar in style to several other clothes drying racks that made our list. But, I had to pay attention to the ratings.
Polder Wall-Mount 24-Inch Accordion Clothes Dryer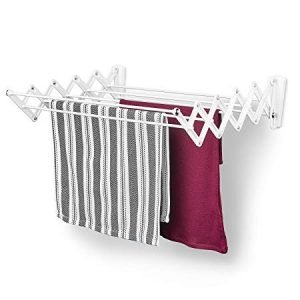 This product had me at accordion. It is collapsible and wall-mounted. So, it is perfect for tight spaces. And you could hang in a smaller laundry room or even a bathroom for drying towels and clothes.
With this nifty little drying rack, you can lay clothes flat, although not more than one or two pieces.
It is not that sturdy. So if you need it for those unmentionables or smaller items. Then it is awesome, but for larger, heavier items, this item for consumption is not advisable.
DecoBros Supreme Commercial Grade Double Rail Garment Rolling Rack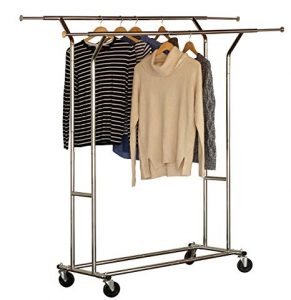 This product is truly amazing. and I would have no problem giving it a higher rating, but, only because it is so stylish.
If I had this product, it would be in my bedroom with some of my nicest dresses hanging on it for display.
That is the thing, there are no racks per se for laying garments flat, only for hanging.
While it will dry several hanging items at once, and it does come in both one (59.87) and two (79.87) rack styles
Ikea Stainless Steel Wall Mounted Laundry Drying Rack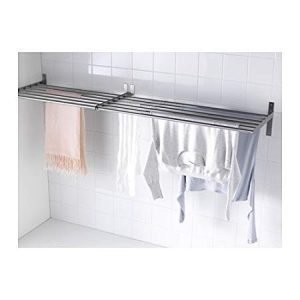 Here we have another wall mounted product. It is stylish and compact. As it collapses against the wall, it is versatile in that it can also serve as plant or bookshelf. It is not for a large laundry day, but for drying smaller and lighter items. This product is from IKEA, and who doesn't like IKEA? But, there is a disclaimer that the product does not come with hardware to affix it to the wall.
So if you are like me and you get nosebleeds when you go into a hardware store, skip it.
Honey Can-Do DRY 01610 Heavy Duty Gullwing Drying Rack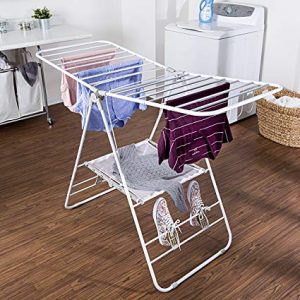 I like the name of this little drying rack. but, it does have some rather unique and useful features.
This rack has 6 position wings for hanging clothes, laying clothes, or drying sneakers. It also has a drying net for those items that you cannot hang and might get rack prints.
It is fully collapsible for storing between the washer and dryer, behind the door, or beneath a bed. Additionally, you might want to check out the other Honey Do products mentioned.
AmazonBasics Foldable Drying Rack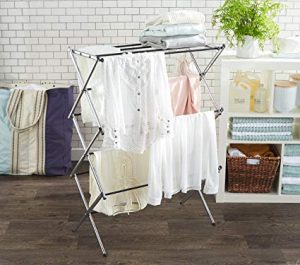 I am a bit partial to this foldable drying rack because it is actually the one I have at home. It does everything the makers promise and it folds right up and minds its own business when dried.
Affordable, this is the very good choice for anyone who has loads of lingerie and sweaters. I like it because of all the inner racks; it fits so many items!
Large Wooden Clothes Drying Rack by Benson Wood Products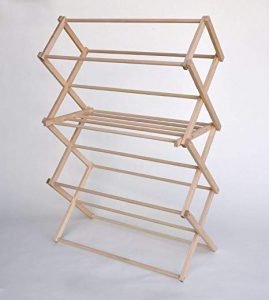 Before you click on the above link. Let me warn you, this product is pricey at 115.00. Yet, it is solid wood, it is foldable, and it stands at 5', with over 41' of hanging space. Each rack has space to allow better airflow, which means quicker drying time.
Finally, and after much soul-searching… this is the cloth drying rack that steals the show.
Cresnel Stainless Steel Clothes Drying Rack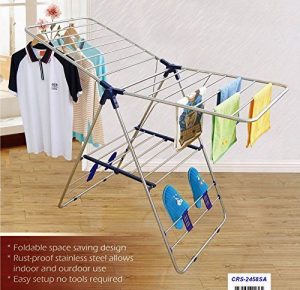 Unlike typical painted steel rack, this rack makes of pure stainless steel. Moreover, only stainless steel rack is for both indoor and outdoor. Its versatile foldable design allows easy storage without taking up spaces. This quality drying rack rack covers with money back satisfaction guarantee. And it comes with 1 year manufacturer warranty.