If you're looking for an electric scooter that can handle steep hills, there are a few things to consider before making a purchase. While a high price tag doesn't always equate to better performance, it's important to invest in a scooter that is specifically engineered for uphill climbs. Here are some factors to keep in mind:
Battery life
Make sure to choose a scooter with a high-quality battery that can provide long-lasting power. This is especially important for hill climbers who need reliable performance.
Motor power
For steep slopes, you'll need a motor that can provide enough power to get you up the hill. Look for electric scooters with motors rated at about 750 watts to 1000 watts. High power motors will also give you more speed.
Weight of the scooter
A lightweight electric scooter doesn't necessarily mean it's of low quality. In fact, a lighter scooter can help you climb hills faster. Look for a scooter that is light enough to be easily maneuverable but sturdy enough to support your weight.
Built quality
Make sure the scooter is built with durable materials that can withstand regular use. Buy from trusted sellers to avoid cheap build materials that are likely to break or wear quickly.
Braking system
A good braking system is essential for safe hill climbing. Look for electric scooters with both rear and front disc brakes or v-brakes.
When riding your electric scooter uphill, it's important to use short, continuous thrusts and alternate your legs frequently to maintain momentum. By considering these factors and following this advice, you'll be able to choose the best electric scooter for hill climbing and enjoy a smooth and safe ride.
A List of Top 10 Best Electric Scooters for Hill Climbing
UberScoot 1600w Electric Scooter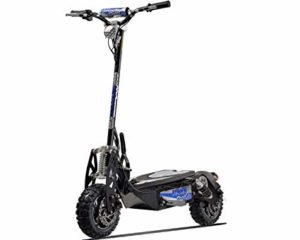 Although the Uberscoot is rated as 1600w it actually provides a peak wattage of 1824 watts. . Its design is inspired by mountain bikes. If you want an electric scooter for climbing you do like the look and the performance of mountain bikes. If so, this is the electric scooter for you. Very powerful, quiet, and solid. Period.
Pros
Good breaking system has both rear and front disc brakes.
Good quality tires built for maximum friction make it best for off-road riding.
Quality built materials.
Long battery life.
Sleek design.
Can output about 25 miles per hour on uphill.
Cons
Can be heavy
It is big and bulky
Swagtron City Commuter Electric Scooter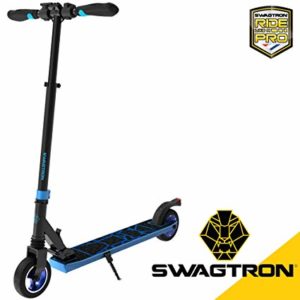 It is a model designed after the Xiaomi m365. This company's top electric scooter is sought after by most scooter rental companies.
Pros
Spare parts are easy to find
Comes with an app that you can connect to and retrieve your travelling data such as mile coverage
Easy and quick folding mechanism
Comes with a phone mount and bottle holder
Lightweight
Good built quality
High ground clearance
Cons
The motor is only capable of 250 watts
Does not handle high carriage weight comfortably
Does not come with suspensions
Nanrobot D4+ Electric Scooter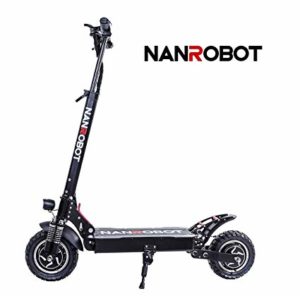 Designed for adults, it's a great pick for anyone looking for good looks and speed.
Pros
It has high speed about 40 miles per hour
Comes with two powerful motors each rated at 1000 watts.
It has an impressive travel rage about 45 miles on a single charge
Comes with an LCD display
Light weight
Sleek design inspired by mountain bike design
Good quality off road tires
Has good breaking system
Comes with suspensions
Cons
It is expensive
Handle slightly tilts backwards which might uncomfortable for some riders.
FreegoUSA Electric Scooter FS10D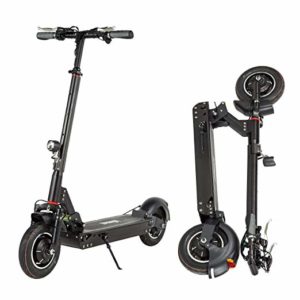 The FreegoUSA scooter is great to carry heavy loads thanks to its powerful motor. The motor on the FreegoUSA makes it possible to haul heavy loads on steep hills.
Pros
Long battery life
Powerful motor
Good break system
Very portable
Cons
Glion Dolly Electric scooter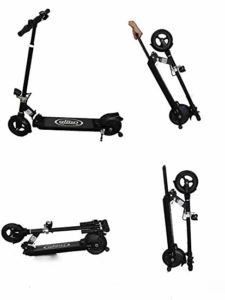 Durable and lightweight material are the priority in this electric scooter. Its design makes it very easy to fold and transport.
Pros
Lightweight
Easy to fold
Durable material
Cons
Low speed
Low motor power
Poor battery life
Jueshuai Electric Scooter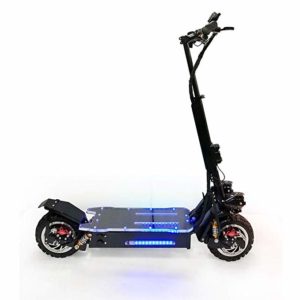 If battery life is a big concern, you should consider the Jueshuai Electric Scooter. However, the scooter is not as durable as expected. And the customer service is not so good.
Pros
High speed about 40 miles per hour
Long battery life and capacity about 60 voltes
Powerful set of motors with an output of about 3200 watts.
Has double break light
Anti-theft alarm
Cons
It has a bulky design
Takes a long to time to charge
EGWAY Ninebot MAX Electric Scooter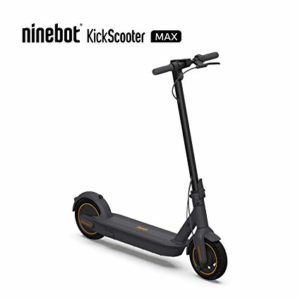 It is for anyone looking for a scooter that feels smooth with an amazing shock absorption. High end feel and appearance with excellent performance and mile coverage are a plus. Ideally, this scooter is great for short, relatively flat commute.
Pros
Long travel distance, range is up to 40 miles
Long battery life
Large digital display on the front
Flash light at the front
Good built quality
Very comfortable
Cons
Turbowheel Lightning 55 mph electric scooter
First look and what stands out is its ground clearance. This electric scooter has a large amount of ground clearance and suspension. So, it can go over any terrain easily without compromising on comfort. It also has extra features that make it a great pick for mountain climbing such as its dual motors.
Pros
High speed, about 40 miles per hour
Good built quality
Minimal design
High capacity battery about 1 kilo watt of available energy
Double charging ports for faster charging
Cons
Very heavy, about 35 kilograms
Outstorm Maxx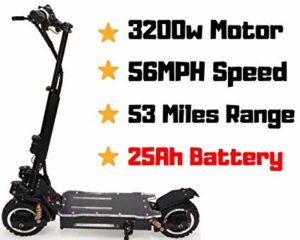 The outstorm maxx is one of the fastest electric motors in the market. Fast speed usually means it has good quality motors and battery capacity. It has awesome more features and be use for hill climbing without quick battery drain. Essentially, what to love about the Outstorm Maxx are hydraulic shocks, portable and foldable with off-road tires with a seat.
Pros
High speed, about 55 miles per hour.
Sleek design
Powerful motors about 3200 watts
Dual motors
Quality batteries rated at 60 volts and 25Ah
Good built quality
Off-road tires
Cons
Speedway electric scooter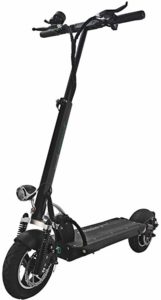 This bike is great for anyone looking for an electric scooter with safety as a priority. Decent performance and a minimal design are also essential. Overall, it's an awesome and tubular electric scooter although the speedometer is not so accurate.
Pros
Good built material
Comes with turn signals
Good battery capacity about 23Ah
Minimal design, very portable
Cons
The motors are only 600 watts
Very heavy, about 32 kilograms