Are you planning a camping trip or a hiking expedition in the wilderness? Whatever your adventure may be, it's important to prioritize your safety and pack the necessary emergency items to protect yourself from injuries or attacks from wild animals.
To help you prepare for your next outdoor adventure, we've researched and reviewed the top 5 best survival kits for adventure enthusiasts in 2021. Take a look at our list and choose the survival kit that best suits your needs and gives you peace of mind during your trip. Remember, your safety should always be your top priority.
Best Hiking Essentials for Beginners
A List of Top 5 Best Wilderness Survival Kits
KOSIN Survival Gear and Equipment,18 in 1 Emergency Survival Kit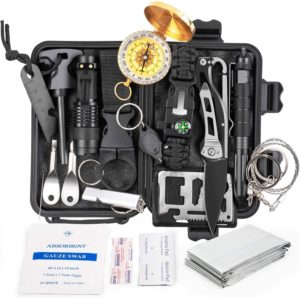 Lightweight and compact all in one survival kit by Kosin is a must choice for hikers and campers looking for a lightweight yet reliable survival kit. This kit includes all the necessary items like band-aids, tactical pen, screwdrivers, saw, and knives made from high-grade steel. The case of the kit is compact and neatly organized also it is water-resistant and durable.
Pros
It is lightweight and compact
All tools are for emergency
Flashlight and whistle are included
Cons
Not all first aid are included
AOKIWO 126Pcs Emergency Survival Kit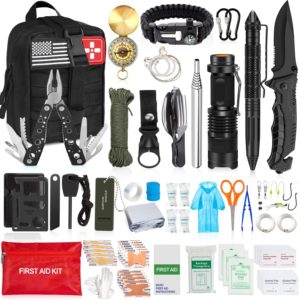 For a long expedition kit by AOKIWO is the best fit with 126 different survival gears from gloves to parachute core, steel knife to flashlight this kit possesses all. It comes in a Military Molle pouch making it easy to carry and compact to keep.
Pros
Fishing kit is included
It is a Complete range of tools
It is Water-resistant, durable carry pouch
Upgraded folding knives includes
Cons
Carry pouch is not neatly organized
EVERLIT Emergency Survival Kit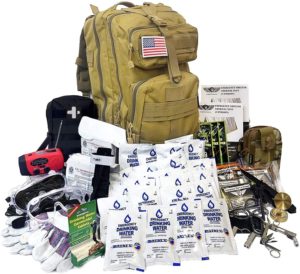 Everlit emergency survival kit is one of the most comprehensive survival kits available in the market. Along with the flashlight, knives, first aid this kit includes a thermal blanket, Para-cord bracelet, and compass. The kit comes in a Molle pouch that is sturdy and durable.
Pros
Multipurpose gears of a large variety
Complete first aid kit included
Compact and lightweight design
Cons
Batteries for flashlight not included
TIANERS SURVIVAL KIT 16 in 1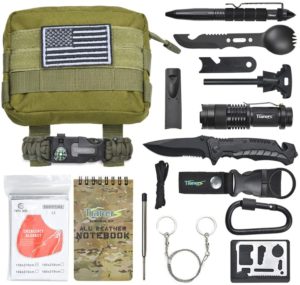 This 16 in 1 kit includes a great variety of wilderness survival tools. The kit includes a cold steel knife, paracord bracelet, compass, whistle, and a 3 mode flashlight. Also, there is a tactical pen and weather-resistant notebook. The Molle pouch is reliable, compact and lightweight
Pros
Includes 5 in 1 paracord bracelet
Compass and 3 mode flashlight included
Lightweight and compact
Durable and water-resistant
Cons
No medical supplies included
TRSCIND SURVIVAL EMERGENCY KIT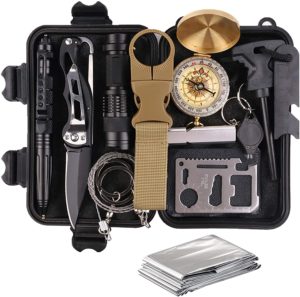 This one is the most compact, lightweight yet very useful wilderness survival kit. TRSCIND survival kit includes a compass, thermal blanket, flashlight, whistle, tactical pen, scraper, flintstone, and an 11 in1 multipurpose card that can be used such as a car or bottle opener, as a screwdriver, saw etc.
carry case is waterproof and neatly organized.
Pros
11 in 1 multitool card
Blanket, scraper, and flintstone included
Tactical pen for glass breaking
Cons
No first aid supplies
No batteries