Must-Have Hiking Essentials for Beginners
Hiking essentials refer to a carefully curated set of items that hikers carry with them on their treks. The selection of supplies depends on various factors such as the season, duration of the hike, destination, and personal preferences. Nonetheless, there are certain fundamental items that all hikers must pack to ensure their safety on the trail.
To have a successful hiking experience, it is essential to keep track of everything you need. Safety should be your top priority, and you must have the necessary items to keep yourself secure on the trail. Below is a comprehensive list of the best hiking essentials that you should have before embarking on any outdoor adventure. Make sure you don't forget anything on this list to have a safe and enjoyable hike. While hiking offers many benefits, it also has inherent risks. Thus, it's crucial to exercise caution while on the trail.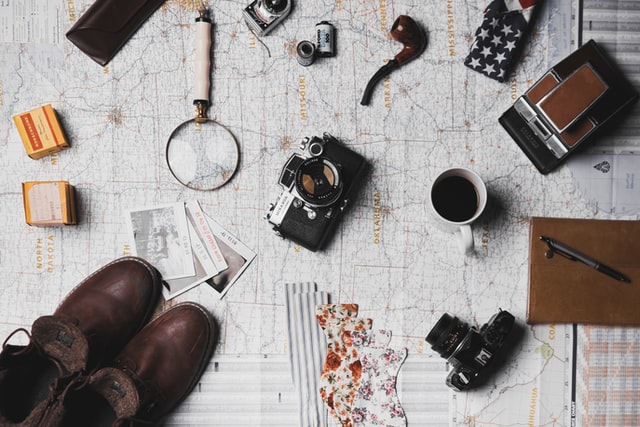 Recommended: Best Electric Bikes for Hunting
Here is a list of the finest hiking essentials that you need.
Navigation Devices
As you never know what may happen during a hike, it is essential to always carry a compass and map of the area. A good hiking watch should also be included as a backup plan if you become lost or delayed by unforeseen circumstances. It is not sensible to depend on technology for your navigation needs; while GPS units can be helpful, they can break or malfunction, and cell phone service may be nonexistent in remote regions.
First-Aid Supplies
There is nothing worse than getting wounded on a hike and having to cope with the pain until you can make it back for medical assistance. Even minor injuries can become serious if they go unattended, and serious wounds could lead to fatality without proper treatment. Make sure you pack enough first-aid supplies for the anticipated length of your hike and bring medications specific to any pre-existing conditions you may have.
First-Aid Kit
A first aid kit is a needed piece that should be packed in your backpack at all times. Not only will it be responsible for you with the necessary items to treat injuries, but it can also double as a makeshift toolkit for repairs and equipment assembly. It is essential to bring any pre-existing medication you may require due to an allergy or medication reaction.
Weather Protection Items
Even if the weather today looks calm and sunny, anyone who has lived in an area with ever-changing seasons knows that changes can happen abruptly. It is essential to be prepared for all types of hazardous weather conditions. Rain gear and warm clothing should be packed in case you encounter a storm, and sunscreen and sunglasses protect against the sun's harmful UV rays.
Rain Gear
Hiking in the rain is no fun under any circumstances, but bringing along some waterproof gear can make the experience significantly more bearable. Ponchos are compact and inexpensive, but lightweight rain jackets are also an option for keeping dry. It is essential to bring along extra clothes in case you get soaked by the rain; these items can be layered beneath the waterproof gear if necessary.
Sun Protection
Even if you will be hiking in natural areas with trees and shade, it is vital to bring sunscreen and sunglasses to buffer your skin from the sun's harmful UV rays. These items typically come in small sizes that can easily fit in a pocket or backpack, and they provide essential coverage when traversing open terrain.
Backpack
The best backpack will be based entirely on the person's requirements and needs, as it is one of the most essential factors when hiking. If you need to carry a lot of equipment for longer trips, make sure your backpack has plenty of room and storage compartments. If you plan to pass a day or two on the trail, you should look for a light pack with plenty of pockets.
Food & Water
It is essential to eat nutritious snacks throughout your hike and bring enough water to last every day. Never pack perishable food items, as they could go bad while stored in your backpack.
Extra Calories
On long hikes or overnight treks, your body requires additional calories for fuel. Even on walks that are not strenuous, Bring along some type of energy-rich snack for refueling purposes. Energy bars are a superb source of protein and carbohydrates, and they come in small junk mailS that can simply be stored in a backpack.
Emergency Shelter
One of the most challenging issues hikers face is an unexpected accident or injury that leaves them stranded without shelter for an extended period. Make sure you bring along some rope and a tarp to build an emergency shelter if necessary.
Hiking boots
The first essential item on any hiker's checklist is a good pair of hiking boots. You can't go wrong with this typical shoe, which has been around for more than 100 years. It provides comfort and stability, critical factors for preventing injury when you're traversing uneven trails. Features to look for include waterproof materials, ankle support, Vibram or lug soles, and a toe cap for extra protection.
Matches or Lighter
Though you do not plan on starting a fire, it is always wise to bring along some means of producing heat and light in case of an emergency. Matches and lighters are usually waterproof and windproof and can be used even when the weather conditions make them difficult to operate.
Best Outdoor Solar Lanterns for Camping
Flashlight
Flashlights help provide light in the dark and can be used to signal other hikers if necessary. Headlamps can further aid night travel by freeing up your hands while still allowing you to see where you are going. Make sure to pack extra batteries so that you can replace them when they run out.
Extra Clothing
Among the most essential items to pack for any hike is extra clothing. Weather can quickly change, and you want to be prepared for all possibilities. Bring enough clothing to remain warm throughout various weather conditions, and make sure these items are versatile enough to layer over other pieces if necessary.
Recommended: Hiking Jackets for Cold Weather
Knife or Multi-Tool
Because of the broad tasks that a knife can perform, bringing one along on any hike is essential. It is equally important to pack extra tools such as screwdrivers and pliers so that you can take care of any unexpected equipment maintenance or repair issues.