Many people around the world overlook the importance of including glow sticks in their home survival kits. However, no survival kit is complete without at least one of these versatile tools, along with other essential supplies and equipment for emergencies. While glow sticks may not be the first item that comes to mind when assembling a survival kit, they prove their usefulness and effectiveness when the need arises.
When choosing a glow stick, it's important to consider factors such as buyer ratings, quality of materials, product characteristics, and brand reputation. While some of the best options may be pricier, it's important to prioritize quality over cost. The ideal glow stick should be durable, provide light for at least 8 hours, and be resistant to degradation over time.
For survival and emergency use, the top-rated glow sticks should be prioritized over recreational options that may offer a greater variety of colors. With options available for all budgets, it's essential to upgrade your kit with these critical pieces. Don't wait until an emergency strikes to realize the importance of having a glow stick on hand.
A List of Top 5 Best Glow Sticks for Survival
BE READY YELLOW GLOW STICKS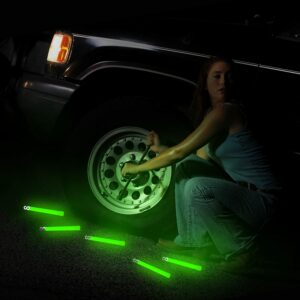 These glow sticks work between 4 and 27 degrees Celsius, which makes them a perfectly valid option for activities such as cycling, mountaineering or diving, as long as the conditions favor it. They won't be as useful in subzero temperatures and temperatures over 30 . Like most, they have a hook at one end for hanging.
The sticks are waterproof and non-toxic. In addition, since they are only one color, all the bars should have the same duration, unlike those of different colors. The only problem is that there are not many official reviews about the product, they are all from half official buyers.
COGHLAN'S LIGHT STICKS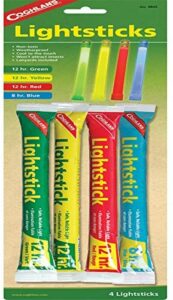 These glow sticks, available in many colors, measure 9 inches. They don't heat up during the chemical reaction that produces the luminescence of these sticks and the chemical components aren't toxic so it's perfectly possible to take these glow sticks with your bare hands and use them in cuts of light. Unlike the previous one, they can be stored in places with big changes in temperature, like the trunk of a car. The duration of the light is up to 12 hours. They come in individual packages for convenience and also have a hook to be attached with a cord. The disadvantage that light has is much weaker the closer it lasts to 12 hours.
RECON MEDICAL ULTRA BRIGHT LIGHT STICKS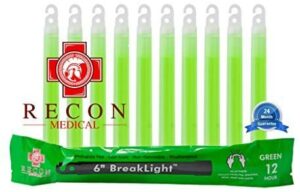 These bars are useful for up to 2 years stored in good condition. The chemical used is environmentally friendly, making it perfect for outdoor activities like hiking. They measure 6 inches, are easier to store and work even under water. This company also offers a 24-month warranty to be able to recover the money if they are damaged. Its disadvantage is that after 8 hours the light begins to fade.
NORTHERN LIGHTS BRAND EMERGENCY LIGHT STICK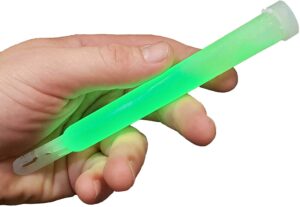 Cheap 6 inch 15mm bars for easy storage in emergency packs and activity packs. Bars should generally hesitate 12h. They are very popular, and in many places you can find these in any store. Only available in green.
CYALUME GREEN GLOW LIGHT STICK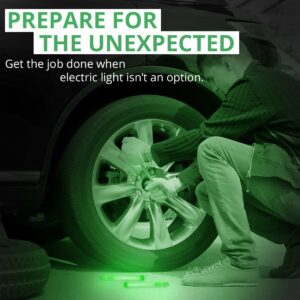 These clubs will last you for 12 hours and with the same intensity from start to finish. Competing with the most expensive brands, you have no problem. It's used for blackouts and outdoor sports. These chemical lights are the official product of this category for the US military. They are available in many colors, but if you are looking for the greatest luminosity, the ideal are green and blue. The rest of the colors are also bright, but they don't illuminate in the same way.