Choosing the right hard shell roof top tent for your adventure can be a daunting task. Fortunately, we've compiled a list of the best ones available to make your decision-making process easier.
Hard shell roof top tents are known for their durability and stability, despite being heavier and more expensive than other options. They're a great investment since they can last for a long time, providing you with numerous camping trips.
Moreover, there's a wide variety of hard shell roof top tents to choose from, giving you plenty of options to find the one that suits your needs and preferences.
Best Trekking Poles for Hunting
A List of Top 10 Best Hard Shell Roof Top Tents
Gen3 expedition Shell Roof Top Tent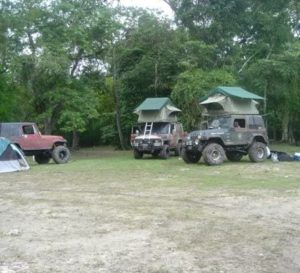 If you're adventurous and like aerodynamics will find this a delightful treat. One is usually able to mount off-road equipment such as awnings due to its strong aluminum frame. It is quite spacious as it is a bit wider than the earlier tents.
Features
After the hardtop has been lifted it reveals an interior canvas and awning.
One is protected from the elements by the awning which is resistant to both UV and water.
While inside there is the polyethylene foam which is closed-cell to provide insulation.
Both the door and windows are covered with premium quality mosquito net.
The tent has a track meant for mounting and rails which can be slotted through nuts.
It is quite comfortable as it comes along with a high density mattress.
It also a USB charge point.
ARB Simpson III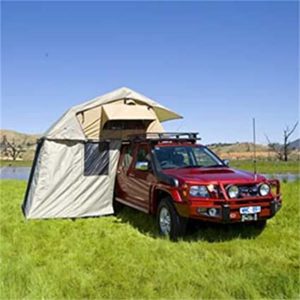 This is such an ideal hardtop tent for adventurers who dislike heavy loads.
Features
It is quite easy to unpack due to the fact that it has streamlined design
It is quite spacious as it measures 55inches by 94
There is great comfort provided by the foam mattress
The windows are equipped with insect screens hence one is protected from the mosquito bites
It weighs about 170 pounds which is not that heavy hence allows for easy setup
It has a tough fabric which offers great support to the elements.
Smittybilt Overlander Shell Roof Tent
Despite its price, it guarantees its prospective user of 4.6 stars.
Features
It can comfortably accommodate 2-3 adults.
It is 600D heavy-duty waterproof top and rain fly; sunroof; side windows with mosquito netting.
It is easy to set up and take down.
Also, it has a heavy duty PVC cover keeps tent dry and free from UV rays when not in use.
It can be used by any type of vehicle and it can be customized to fit one's preference.
Roofnest sparrow X Shell Roof Top Tent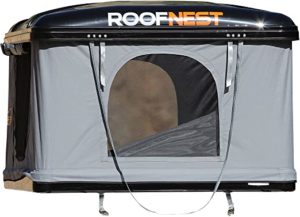 It is quite large hence very spacious.
Features
It can comfortably accommodate two adults.
Its length is 82 and its width is 48inches.
It has an impressive gas mileage which is brought about by fiberglass which is reinforced for the sole purpose of aerodynamics.
There is also the reduction of noise which is brought about by coating of the interior by soft foam.
It has mesh windows which have zip closures.
It is quite adaptable due to the fact that it can be attached directly.
It is quite easy and one takes a short time to install it.
Yakima SkyRise Shell Roof Top Tent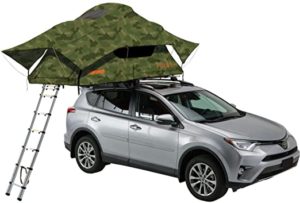 Features
It is available in two sizes that is the small and medium sizes
One can also choose from a variety of colours
It take a short period of time to set it up
Its tent's poles are made from aluminium while fabric of the very tent is made from denier fabric
It comes along with a comfortable 2.5 inch mattress
It includes a cover which can be removed.
There is great ventilation brought about by the mesh panels
One can also star gaze quite comfortable that is brought about by the two skylights
During heavy rains there is the protection offered by the rainfly.
Mt Rainier Shell Roof Top Tent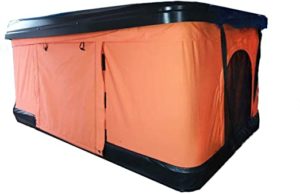 Features
It is able to accommodate comfortably three sleeping adventurers
One can choose to include an annex which is hang at the side of the motor vehicle
Its dimensions are 8 feet by 6 ft
One can enjoy natural day lights due to the many windows and skylights which are two in number
It comes along with a foam mattress
The annex can accommodate a ladder
It also comes along with PVC which is removable to protect your feet from rocks and dirt
The tent has an aluminium frame which is quite strong and poly fabric which is water and mold-proof.
Tepui Baja series Shell Roof Top Tent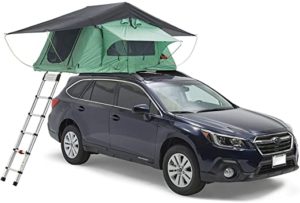 Features
It can be used anytime of the year due to its canopy that can be interchanged. The interchangeable is brought about by the zipper gimp.
There is also a removable mesh which is ideal in the hot conditions to bring some cool air in.
It is light weight especially the nylon canopy and the aluminiumized canopy during rainstorms.
It includes a telescoping ladder.
One is able to enjoy a great view though the spacious interior design.
It has a high density mattress for great comfort while sleeping.
The windows are dressed with mosquito nets.
It has a long-lasting PVC.
Explorer Shell Roof Top Tent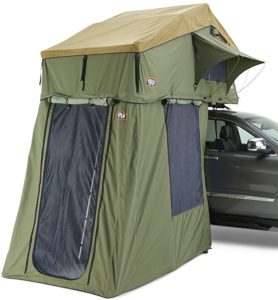 Features
There is great comfort offered by its 2inch foam mattress however one can decide to take the one with a three inch mattress.
It can accommodate comfortably two people.
There is great ventilation brought about by five doors especially the two side ones which can alternatively work as windows.
Its rear latches can be locked.
Its ladder is made from aluminium hence very sturdy.
It has side pouches.
It is compatible with many roof rack bars hence it is relatively simple to set it up.
Tentbox Shell Roof Top Tent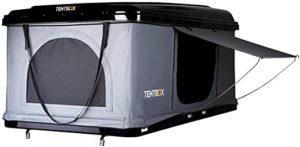 Why we recommend this product? First thing first, it's a large box with built in memory foam mattress. And it has space for 2 adults.
Features
It has a box-like design
It has a comfortable thick mattress
It has a fiberglass shell
There is great ventilation brought about by the two windows
It can comfortably fit two grown ups
It has two hook which are meant for hanging
It has a two side pockets
It can also be used by smaller cars
Falcon Shell Roof Top Tent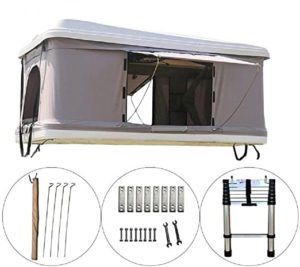 This is quite a long-lasting and comfortable hard shell roof top.
Features
It has a comfortable foam mattress
It has a light aluminium ladder
It is available in the regular and XL sizes
The regular size can accommodate two people while XL can accommodate three people
It can accommodate roof racks
It is approximately 6 inches which helps in the noise reduction.
Its frame is made from aluminium hence quite long-lasting.