Fishing lures are an essential tool for attracting fish and making fishing more efficient. These synthetic baits are designed to mimic the appearance and movement of natural prey, making them irresistible to a variety of fish species. By fitting them with hooks or other traps, fishing lures allow anglers to catch fish with greater ease and precision.
Whether you're planning an inshore or offshore fishing trip, choosing the right saltwater fishing lure is crucial for a successful day on the water. However, with so many options available, finding the best one can be a daunting task.
To help you make an informed decision, we've compiled a list of the top 10 saltwater fishing lures on the market. Our selection includes a range of styles and designs to suit different fishing conditions and target species. So whether you're a seasoned angler or a beginner, our guide can help you find the perfect fishing lure to suit your needs.
Discover Best Fillet Knives for Saltwater Fish
A List Best Fishing Lures for Saltwater
Paddletail soft plastic
If you are looking for great fishing lures, the paddle-tail soft plastic will suit you fine. It can attract a wide variety of predator fish who come to feed on it. One reason why this lure is popular is that it can be for under different depth levels. Besides, many companies manufacture paddle-tail- hence, it's available.
Gold Spoon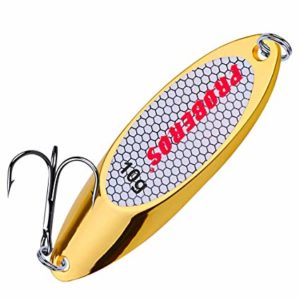 Another lure that most saltwater anglers find convenient is the gold spoon. It comes in a variety of colors and shapes, such as a single hook spoon, a weed-less spoon, and a hook spoon, to mention a few. The gold spoon works effectively to attract a variety of fish species in saltwater.
Heddon Super Spook Jr. Lure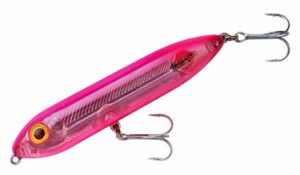 This fish lure is for both in saltwater and freshwater. Made with a simulating wounded bait, it attracts fish almost instantly. Additionally, the Heddon Super Spook Jr saltwater lure is durable durable. It is perfect for ocean rock fishing, ocean beach fishing, pond fishing, and river/lake fishing.
SPRO Bucktail Saltwater Lure

This lure is among the top-selling saltwater lures. Designed with a holographic body and bulging eyes, it give a life-like illusion of the bait. This makes it attract predator fish that are out for an easy meal. What's more, the SPRO Bucktail lure comes in a variety of sizes ranging from 0.5oz to 6oz. So, the varieties ensure every angler gets the right lure for his/her needs.
Berkley Gulp Shrimp
The majority of predator fish prefer shrimp as their favorite. For this reason, the Berkley Gulp Shrimp resemble the actual shrimps. For most anglers, this lure works well as the manufacturer intended it. It can best for both saltwater and freshwater.
Ocean Born Flying Popper

The ocean born flying poppa is for casting and surface action. It contains a plug that creates a bubble tail while in motion. Besides, it comes in four types i.e., the floating, sinking, super long distance, and finally, the tuna rocket. With such varieties, it can work in various conditions such as nasty weather or even deep depths.
Soft plastic Fluke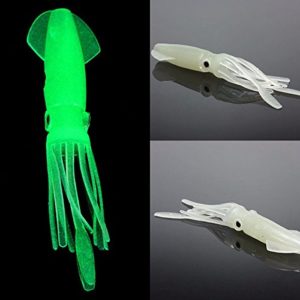 The Soft Plastic Fluke, also known as Jerkbait, can attract a fish strike almost anywhere. While you can use it in freshwater, its perfect place is the saltwater bodies. With its fluke design, you'll always be winning fish nice and easy. You can use the lures to fish close to the surface, or deep the water with the aid of a weighted hook.
MirrOLure Suspending Twitchbait

If at all your target fish species doesn't feed on the surface, then you'll have to bring the MirrOLure Suspending Twitchbait. With a slight twitch of the rod, this lure will start darting left and right to mimic an injured fish. By this, the hungry predator fish looking for an easy meal will come rushing.
Bass Assassin Sea Shad Saltwater Lure

These lures have natural and life-like appearance to attract fish miles away. The Bass Assassin Sea Shad Saltwater Lure features a herring like a body with paddle trails. They are suitable for fishing species such as snook fish, redfish, and trout. Besides, the lure glows in the dark hence attracts fish even in at night.
Rapala Saltwater Skitter Lure

The Rapala fishing lure is another amazing lure popular amongst ocean anglers. It's designed with a weighted tail to keep the bait in its natural position even at rest. Also, its large internal rattles generate a rhythmic left to right motion. They imitate that of a wounded or fleeing fish. Lastly, it comes in different colors and sizes suitable for every angler.