The primary objective of a survival kit is to equip you with the necessary tools and resources to survive during a crisis. Whether it's a natural disaster, war, political unrest, or financial collapse, a survival kit's ultimate goal is to ensure your safety and wellbeing. While you may hope never to have to use it, the adage "better safe than sorry" applies here.
In the following list, we've compiled five of the most effective tactical survival kits to help you and your loved ones overcome any adversity, no matter how dire it may seem.
A List of Top 5 Best Tactical Survival Kits
THE S.O.L. ORIGIN SURVIVAL KIT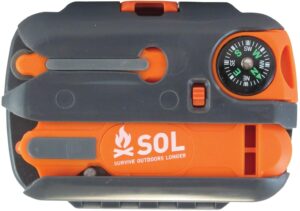 Not to be confused with the "other" SOL (though both are just as applicable) the S.O.L. survival kit is specifically designed to help you Survive the Outdoors Longer. As such, it has a whole host of different, yet vital, equipment items for your survival. Not only that, but it does so while keeping in a portable form that can go just about anywhere and survive just about anything.
The kit comes with Tinder-Quick fire starters, a liquid-damped compass, braided nylon cords that can hold up to 150 pounds, a folding lock-blade knife, and many others. In addition, the kit itself is made from ABS plastic, making it entirely waterproof.
THE GERBER ZOMBIE APOCALYPSE SURVIVAL KIT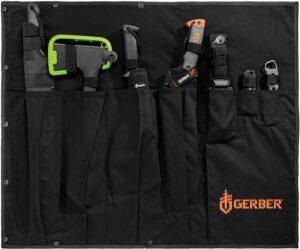 If you're a fan of _The Walking Dead_, or willing to acknowledge _anything_ as possible, this is the kit for you. And we're being serious here. Especially due to the world still reeling from a devastating pandemic, keeping on your P's and Q's isn't something to feel silly or embarrassed about in the slightest.
This kit, while lacking a bit in terms of stereotypical survivalist gear (rope, first-aid, compass, etc) it makes up for it in spades in terms of weapons and self-defense items. This kit comes with 2 machetes, 3 knives, a hatchet, and an axe. All in all, if any wild animal, crazy person, or even a potential zombie comes bothering you, you're gonna be the one who's laughing last.
THE GETREADNOW 2+ PERSON DELUXE CAR EMERGENCY KIT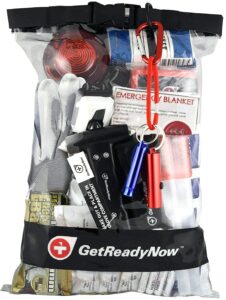 When it comes to survival, one thing that reigns truly supreme, over everything else, is mobility. It doesn't matter how much you've got saved up and stored, if you can't effectively move around in it, there's no point. Thankfully the GetReadNow emergency kit understands that sentiment perfectly.
This survival kit is small enough to be stored in your car at all times, making it work exceptionally well as a "bug-out" bag. The kit comes with an LED headlamp, 4 food bars, a Mylar blanket, a first aid kit, and 8 water pouches, just to name a few. The bag is made from a heavy-duty material, ensuring that you won't suffer from any rips or tears.
While not as impressive compared to the others in terms of contents, this bag can easily be taken with you no matter the situation in a snap.
EVERLIT TACTICAL SURVIVAL KIT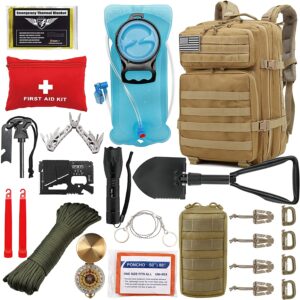 A great bag that hits all the essentials on the list while still impressively mobile, the Everlit Tactical Survival kit has just about everything you're going to need when things get hairy. It comes in a 43-liter backpack that is made incredibly durable, resistant from tearing as well as water. The bag also has padded shoulder straps and ventilated back support, meaning that you can carry it for longer periods of time without discomfort.
Inside the bag comes a shovel, first aid kit, rope, a poncho, a flashlight and compass, aB07QC4Q53Cs well as much, much more.
AOKIWO EMERGENCY SURVIVAL KIT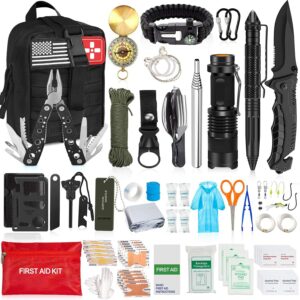 Finally, there is the Aokiwo emergency survival kit. The first thing you'll notice about this awesome kit is its size. Appearing as something that could, at best hold 5 things, this tiny bag has just about every piece of survival you'll need in the event of a disaster. It includes a compass, a flashlight, a first aid kit, a fishing kit, a folding knife, a defense pen, and so much more. If you need a kit that will cover everything for your survival while being portable enough to take everywhere, you're going to want this bag.