Camping is an incredible way to escape your regular surroundings and breathe fresh air. Whether you're camping alone or with friends and family, there are plenty of great places to camp, such as national parks, backcountry areas, private campgrounds, or even your own backyard. However, to ensure a comfortable and enjoyable camping experience, it's important to have all the necessary camping gear and tools.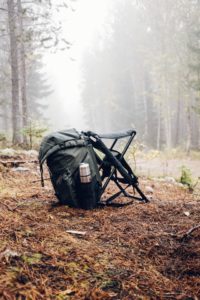 While most campsites provide basic amenities like picnic tables, parking space, tent spots, running water, and shared bathrooms, you may need to bring additional items to make your campsite more comfortable. For beginner campers, it's not always necessary to purchase every piece of essential gear, as some items can be borrowed. However, as you become a more experienced camper, it's a good idea to invest in your own gear.
If you're unsure of what to pack for your camping trip, check out the essential camping gear checklist below. Depending on the gear you bring, your trip can be a wonderful experience or a miserable one. So, make sure you pack everything you need, but don't overpack.
Additionally, if you plan on going hiking during your camping trip, it's important to have the right hiking essentials. Check out our beginner's hiking essentials checklist to make sure you're prepared for any adventure. And, if you're planning on spending time in the wilderness, consider purchasing a wilderness survival kit to stay safe in any situation.
Shelter and Sleeping Gear
Tent
Tents are essential pieces of camping gear. They come with poles pre-attached and hence it is easy to assemble them within a short duration. You can never waste time when setting them up. This means that all you need to do is to find a nice camping spot, set the tent up, and enjoy outdoor activities just almost immediately you arrive. Some tents can accommodate up to 10 people and hence you can enjoy your trip outdoors with family and friends with just one tent. A good tent should be durable, comfortable, and have no leakages.
Sleeping bag
You know very well that a sleeping bag is essential while you go camping because after all, you have to sleep, isn't it? A good sleeping bag should be adaptable to both cold and hot weather and hence you can use it in all seasons. Adaptable sleeping bags usually block excess heat while it is too hot and trap heat while it is too cold. Sleeping bags made of a combination of both cotton and polyester are an excellent choice for their softness and you can get a peaceful sleep with a favorable temperature.
Sleeping pad
Sleeping pads are necessary since they support your back while you sleep. A good sleeping bag will provide support to your lumbar region, neck, and spine. Most of the sleeping bags can deflate and inflate as desired and hence they require just a little space in your backpack.
Pillow
The use of a pillow is self-explanatory since you already know that you will need it to support your head when sleeping.
Cooking essentials
Most campgrounds have excellent camp kitchens that may have tools such as communal fridges, microwaves, kettles, and ovens. However, it is always good to be self-sufficient. This way you can cook while in your tent without the need to carry everything into the camp kitchen.
Again when you are self-sufficient, you don't have to wait in a long queue for your turn to use the camp kitchen. It is possible to bring the comfort of your home kitchen to the outdoor kitchen by carrying the following essentials:
Stove: It is good to carry a small stove when you go camping. A stove allows you to prepare basic food at the comfort of your tent site.
Portable fridge: This is necessary to keep your food cold and fresh. However, a portable fridge will require electricity or either solar panels to power it up.
Gas cylinder important for powering your stove up
Saucepan or fry pan
Water storage container which can carry at least 5 gallons of water
Kettle, plates, and bowls: Each person should have his plate or bowl preferably made of plastic to avoid breakages.
Cutlery which you will require to use when eating
Cutting boards and a knife
Tea and coffee for energizing and warming up when it is cold
Cooking oil, salt, and seasonings
Trash bags for storing trash and avoid littering all over the campsite
Personal water bottle
Fire tools
Campfires especially at night make your stay at a campsite memorable and they also keep you warm. If campfires are not banned for reasons such as drought, they can make your outdoor adventure special. To start the fire all you need is to stack dry woods together then place a Firestarter underneath the stack and light it. Below are the fire tools that you need:
An ax, shovel, and a saw for preparing and chopping woods into pieces that can easily catch fire
Firestarter: This can either be old newspaper or lighter fluid like the kerosene
Fire extinguishers for putting off the fire especially for campers with indoor kitchens.
Matchboxes
Camping comfort
If you are planning to camp for a couple of days or weeks, camping comfort essentials will make your stay outdoors quite pleasant. Essentials that add to your comfort include the following:
Camping chairs: Portable camping chairs are important especially if you are a veteran camper. They help you relax better than sitting on the floor or mats after spending your day in different activities including hikes. A good camp chair should fold up easily.
Hammock: a hammock is an essential gear that helps you experience nature in a comfortable posture especially gazing at the sky during the night.
Camp blanket and sheets: These help to keep you warm
Camp games
Health, hygiene, and safety
Your health and hygiene kit will vary from that of another person. Some people will carry just a few essentials such as toilet paper and a toothbrush while others will carry more items. Below is the list of the common heath and safety essential camping gear:
First aid kit: A first aid kit is very important and you should not go camping outdoors without it. You can use the kit when you or one of your colleagues suffers falls, bites, or cuts. These kinds of accidents are very common outdoors.
Toilet paper
Sunscreen
Toothpaste and toothbrush
Hand sanitizer and soaps
Sanitary pads
Electronics
You will need power and lighting while camping. For you to meet this need you will require the following essentials:
Headlamp: Headlamps are great especially when you are using both hands to do something else. You just need to set them up on your forehead.
Torch
Camp lighting: You will require excellent quality lights for your tent so that you are not frustrated in darkness or dim light. You can light your camp either using lanterns or string lights.
Cellphone and a portable charger
Spare batteries and solar panels especially if you are camping in a place that has no power.
Powerboards and extension lead for you to plug in all the devices that need to be powered.
Speaker for you to enjoy your favorite playlist