Best Survival Blankets
If the recent event in Texas has shown us anything, it's that, no matter where you are, being prepared is always the best option. Whether creating a survival kit, planning an outdoor camping trip, or simply wanting a small emergency kit in your car, having a survival blanket is incredibly important. While they may take a bit of space, depending on the size, these amazing blankets can legitimately be the thing that saves you from freezing while out in the wilderness or in a house that has lost all of its power.
In this review, we have found 5 of the best survival blankets available. Each is great in their own right and this list is in no particular order. Be sure to go over each on this list and pick the one that is right for you and your family.
A List of Top Best Survival Blankets
US MILITARY PONCHO LINER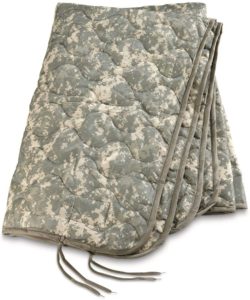 Also known as "the Woobie", this poncho liner is easily one of the better options available in terms of a high-quality emergency survival blanket. As the name implies, it is standard use in the US Military, being used by both the US Army as well as the Marine Corps.
The material is both very durable as well as lightweight and is made from 100% rip-stop nylon. It can be folded and made compact and has a waterproof lining, making it effective in both rain as well as snow.
While certainly there are others on this list, this is definitely an option that everyone should at least consider, especially if they plan on spending time outdoors and in harsher environments.
ARCTURUS HEAVY DUTY SURVIVAL BLANKET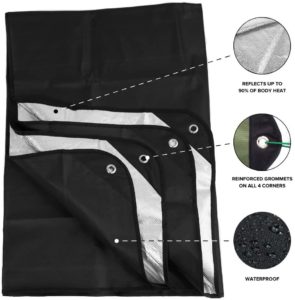 If you are looking for something that is both, light enough to be taken with you no matter where you are but heavy enough that it works as an effective form of protection in any environment, the Arcturus Heavy Duty Survival Blanket may just be something worth looking into.
This amazing survival blanket is incredibly versatile to the point that merely calling it a "blanket" is somewhat of a disservice. It can be made into an emergency shelter, a tent, or even act as a ground tarp, all in addition to its innate blanket qualities. It is made with two layers of polypropylene, making it almost entirely waterproof while also featuring a Mylar reflective side that can be used to reflect heat and winds, effectively insulating you from the outside elements.
It is because of its incredible versatility and overall effectiveness that it easily makes its way on this top 5 as something you should look into.
SNUGPAK JUNGLE SURVIVAL BLANKET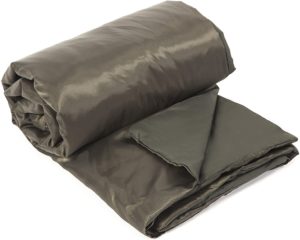 The Snugpak Jungle Blanket acts not only as a highly effective emergency survival blanket, but is also incredibly comfortable and cozy as well. It can be carried across long distances and is completely water-resistant and windproof.
One thing that makes it stand out from other survival blankets is its antibacterial and antimicrobial properties. Not only does this make it more difficult for you to get sick while using, but it also keeps the blanket fresher for longer periods of time.
GO TIME GEAR LIFE – EMERGENCY THERMAL BIVY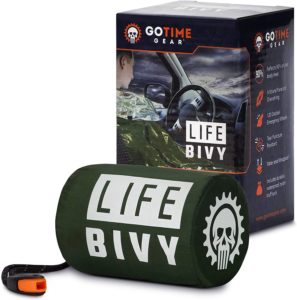 The Go Time Gear Life Thermal Bivy is an amazing survival blanket that also functions as a sleeping bag. As the name implies, it is completely thermal with high levels of performance insulation, meaning that you will stay cooler in the hotter temperatures and warmer in the colder ones.
The blanket is made with a puncture and tear-resistant material known as polyethylene as well a molar coating, making it completely waterproof. Whether you are out camping or stuck in a powerless home, this blanket does its job wonderfully.
TITAN TWO-SIDED EMERGENCY SURVIVAL BLANKET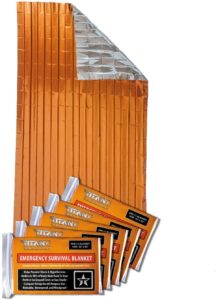 By far and away one of the premier survival blankets that everyone should have at least one of, the Titan Emergency Survival Blanket was originally designed for NASA and potential space expeditions. As such, its popularity has only grown as more and more survivalists and outdoor campers have made it their blanket of choice.
The blankets are coated with a Mylar material that makes it water as well as windproof in addition to being highly durable. The blankets are highly insulated, retaining up to 90% of your body heat in places where it is especially cold.
So, no matter if you are going out camping or heading out into space, these blankets are worth the investment.