When it comes to purchasing Pilates chairs, there are a plethora of options available on the market. Choosing the best one can be overwhelming, especially for first-time buyers. While price is an important factor, it should not be the only consideration. Quality and performance should be the primary focus when making a decision.
It is worth noting that the most expensive option is not necessarily the best one. To help you make an informed choice, we have compiled a list of features to consider.
Intended Use
The first thing to consider is where you intend to use the Pilates chair. Will it be used at home or in a gym? If space is a concern, then look for foldable options that can be easily stored away when not in use.
Weight and Portability
Consider the weight of the Pilates chair if you plan to transport it from one place to another. Compact and lightweight options are recommended, as they are easier to move around. It should also be portable, foldable, and easy to store.
Durable Construction
Since the Pilates chair will be used frequently, it is essential to choose a sturdy and durable option. Investing in a high-quality model can save you money in the long run, as it will last longer and require fewer repairs.
Variety of Exercises
Choose a Pilates chair that allows for a variety of exercises. This will ensure that you get the most value for your money and can achieve a well-rounded workout. Don't limit yourself to a chair that only allows for one type of exercise.
Comfort
Lastly, it is important to choose a Pilates chair that is comfortable to use. If it is not comfortable, then it defeats the purpose of purchasing it. Look for models with comfortable padding and adjustable features to suit your needs.
A List of Top Best Pilates Chair
Balanced Body EXO Chair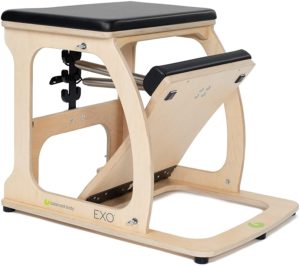 The model is a full-body workout Pilates. It can be used to achieve different exercise purposes which include fluidity, stability, strength, and complete body workouts. If you are looking for that full-body workout machine, then you can always consider this model. It tops the list because of the quality and wonderful performance.
It is user friendly since it is lightweight and compact. The implication is that you can use it in your home with ease. It is easy to move along from one place to another. Because of the compact design, the model is a great addition to your home. It is stackable and portable. Most importantly, you can easily use this for a customized exercise. It is highly versatile. This is customizable because of the accessories. This comes with 2 springs, an adjustable bench with eight resistance levels. You can rely on this for such exercises as core workouts, sculpting as well as cardio exercises, and so on.
A professional chair Pilate, you can also use it to tone your muscles and to burn excess weight and other useful purposes.
Pros
It has multipurpose use
Most people use this for resistance band exercises
It is durable and can last you for many years
This model is lightweight, portable, and compact
Cons
It is not easy to move about because it does not come with a handle.
Elina Pilates Elite Wood Stability Chair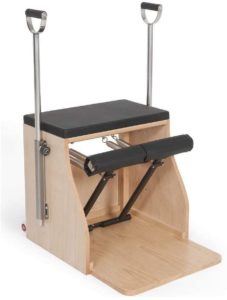 Another great product for those who rely on Pilate chairs for their workout. It is a premium quality product and it is rated high because of the fantastic design. Among its innovative features include the split pedal design. This makes a difference in the way you do your workout. You can use this individually or you can use them collectively to achieve your objective. It all depends on your choice. If you want to switch from one model of exercise to another, it is possible and it is a question of using the locking slider which is under the pedals.
Besides, it comes with handles that are fully and highly adjustable. It is available in four spring positions and you can choose between the four spring positions. Apart from that, it is available in two spring lengths which you are free to select from. Because of that, it is good for different resistance levels. The model is there to take care of your specific work out needs since it comes with two heavy springs as well as two mediums. If you want to remove the handles it is easy and simple to do and it is a question of twisting as well as pulling the handle to remove them. There is no learning curve associated with this before you can remove and reinstall the handle. Another thing you can easily fix here is to adjust the handle height and the adjustable length ranges from 44 to 47 as well as 50 inches and so on.
Besides the handle is very comfortable and it can last for a long time. To make it comfortable to use, you observe it is covered using a foam material. This simply makes it easy and comfortable to use.
It is comfortable because of the leather which covers the seat. The leather does not slip which means that you can just pedal the machine to your ability until you achieve what you desire by using it.
Pros
The handle can be adjusted to suit your height
It comes with an integrated transport wheel
This comes with an underneath slide locker
It is very comfortable and very easy to use
Cons
It is a bit cumbersome to transport it from one place to another.
Stott Pilates Split-Pedal Stability Chair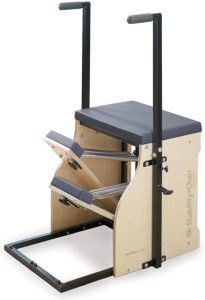 If you are looking for a stability chair, then you can always consider this model. Apart from that, you can use this for other kinds of exercises. It is a versatile product which means that you can easily use it for other exercise purposes. For instance, some people can deploy this to perform some exercises like standing, sitting as well as lying down exercises, and so on.
Most importantly, it comes with adjustable handles. If you want to remove these handles, you can do that with ease. You can change it for lunges and dips and other purposes.
Furthermore, it features a split pedal and because of that, you can engage in this exercise like lower body as well as upper body workouts. Most importantly, it is compact enough and this means that you can easily use this in a small space.
You can use this in your home and you can use it in the gym and other places including the gym. Moreover, it comes with a DVD which can serve as a guide and you can rely on it for other exercises which you can do in the comfort of your home. When you finish with the exercises, you can simply remove the chair and put it back from where you picked it.
You can get other information about the product by visiting the information section where the manufacturers provided comprehensive information about how best you are going to use this wonderful product.
Besides, it is usable for expandable programmable options. If you want to rebalance your muscles, you can also rely on this equipment. The design is such that it can provide you all the kind of support which you require for your exercises. Apart from the DVD, this product features 2 heavy chair spring as well as two light chair springs and three hooks on spring as an attachment and so on. The high-density foam and pedal make all these possible.
Pros
Springs is easy to swap out
Perfect for different workouts
It comes with cushioning foams
Good for different kinds of exercises
Cons
It is not easy to assembly because it requires your assembly
Balanced Body Combo Chair with Handles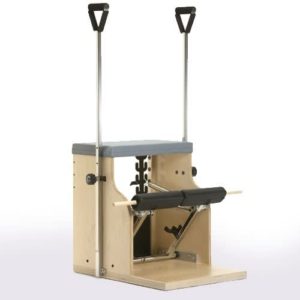 Another superior quality product. It can provide well over ninety pounds of resistance and because of that, you can always get what you want because it offers them to you. The resistance levels include heavy and lighter ones. If you are a beginner, you should start from the lighter one. As you advance you can continue to improve.
In the same way, you can make spring changes without difficulties by using this fantastic. It makes it easy to focus on what you are doing and achieve your workout with ease. The handles are also heights adjustable and there are three levels of adjustment of that handle that you can do. Furthermore, it is lockable and that makes it more stable. The implication of this is that you can use it with confidence. Also, it is easy to choose between split and single pedal and that depends on what you want to achieve and what is good for you.
Most importantly, it comes with a seat that is comfortable and padded. This makes it convenient and very comfortable to use. Pilate comes with everything you need and it is not surprising that it makes the list of the best five.
Pros
It is easy and simple to change the springs when you want to
The equipment comes with an upholstery seat which is durable and comfortable
The product is compatible with trapeze table
It is suitable for multiple exercises
Cons
The model is also heavy and does not come with transport wheels
Life's A Beach Pilates PRO Chair
This is another wonderful product which you can use for different kinds of exercises such as low body and body exercises and you can do these exercises separately. It comes with an innovative split pedal and that maximizes the workouts you do with it. Moreover, this product is adjustable and because of that you can comfortably achieve the exercise you want and you do that by adjusting its resistance level. It is easy to do by using the product spring level. Whether you are a beginner or an advanced user, you will not find it hard to use this great product.
The chair is also versatile because you can comfortably use this for other exercises. It is not restricted to Pilates exercises, it is good for resistance, workouts, yoga as well as band exercise, and several other exercises.
To make the exercises easier, this comes with instructional DVDs which can be useful in all the exercises you want to do with this product. This can equally serve as an exercise guide.
When it comes to longevity, this product is durable. Every component is durable because of the quality materials used to make it. The seat for instance is very durable and it is smooth. Thanks to the vinyl quality materials that are used in making it. There are several colors out there in the market and that means that you can easily make a choice. If you are within 300 pounds of weight, you can use this product without difficulty.
You are going to train to the maximum and you will train to satisfaction when you use it. It is a good different kind of exercise including arms, legs, and other workout exercises. The resistance level will keep on adjusting until you get what you want. This is exercise equipment for everybody. Whether you are a professional or an amateur, you can comfortably use this product.
If you continue to use this for a long time, you soon turn into a professional. This item was tested and found to be one hundred percent perfect and that is why it makes the list.
Pros
It is good for the whole-body workouts
This comes with a resistance level you can comfortably adjust
It is good for multiple exercises
The product features different DVDs
Cons
Rubber handles can tear easily