Are you a beginner climber searching for the perfect harness? Choosing the right harness can be overwhelming as there are many factors to consider. Making the wrong choice can be dangerous. To ensure you make the best decision, you need to understand how to choose the best harness and the top brands in the market.
For beginner climbers, comfort and adjustability are crucial factors to consider when selecting a harness. To make it easier for you, we have compiled a list of qualities to look out for when making your decision, as well as the best five harnesses available.
Qualities of a Good Harness:
Durability: A durable harness should be able to last for years and distribute weight evenly.
Strength: All parts of the harness should be strong to prevent life-threatening risks.
Comfort: A comfortable harness is crucial for safe and enjoyable climbing. It should fit snugly but not be too tight.
Type of climbing: The type of climbing you plan to do determines the harness you need. Choose between sport and gym harnesses, alpine harnesses, or traditional harnesses.
Load distribution: Weight must be equally distributed through the harness for safety and comfort.
You may also want to read my reviews of the best road bike wheels for climbing.
A List of Top Best Climbing Harness for Beginner
Mad Rock Mars Climbing Harness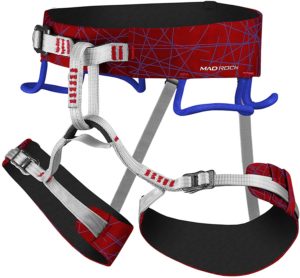 If you are looking for the perfect entry-level climbing harness, you can start with this model. It also comes with important features such as a Mad Rock Mars harness as well as a kangaroo chalk bag as well as small loose. The model is also one of the most comfortable to use and it looks great and highly attractive and comes with adjustable leg loops as well as a waist belt which makes it the most user-friendly product in the market.
The most interesting part of this product is the three buckles harness as well as auto lock buckles. The padding system makes it more comfortable than several others out there. This also makes it more durable than others. To make it more comfortable to use, this product also features air pockets and the aim is to provide sufficient air when you are the inside product. They are interested in the comfort of its users. It is perfect all around and the comfort, as well as the safety of the user of this product, is one hundred percent certain. There are at least five sizes in the market and make your choice based on your size.
Pros
It features two gear loops
The padding is superior
Available in five sizes
Comes with the best safety and comfort features for its users
Cons
EDELRID Fraggle II Children's Climbing Harness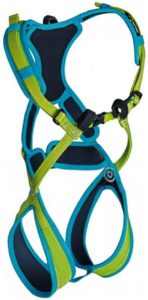 Many people especially kids and learners feel very comfortable when they use this product. This model is meant for especially for kids who want to enjoy the sports of climbing. Even kids who are as young as ten months can use this product. This climbing harness is perhaps the most user-friendly in the market and it is widely accepted across the world.
Because it is meant for kids, it is not expected to take a large load and, it can take 40 kg. The product is fully padded and that is why it can provide maximum comfort for the users. Besides, this product is also stable. Moreover, this product does not tangle because it can hardly twist.
At the back of that harness is where the second loop is located. It is good for kids because they can rely on it when they are stuck on the way up when they are climbing. This loop will simply bring them down from where they started.
The design also makes it more attractive to kids who like the colors. This alone attracts the kids to use it. Furthermore, you can practice with this and use it indoors.
Pros
It is a full-body harness
This comes with a second loop at its back
It does not tangle nor twist
It is lightweight and meant for kids
Cons
Klein Tools Tree Climbing Harness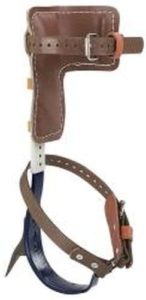 When it comes to fitness equipment, Klein is the clear leader and this climbing harness is one of the best from the company. Because of the simple design, it is good for beginners. It is a top-quality tool. The company paid attention to details and displays the best-known workmanship. It is good for tree climbers. Because of the quality design, this product is highly expensive and many people may not afford the cost. However, nobody is going to worry about the price tag because it is worth it.
This product meets the desire of most harness climbers and when it comes to quality, it is one of the best. For tree climbers, this product is the best since it is not going to disappoint you, since it is designed with the finest quality materials.
When it comes to the quality of materials, it is designed with the finest quality materials available in the industry. The leather is the best quality and it comes with a climbing pad which makes it very comfortable to use. Users of this kind of product are interested in comfort and there is no doubt that this is one of the most comfortable in the market. Furthermore, it comes from extra long gaffs and this makes it to penetrate when you are climbing. The implication is that it is not going to fall and will not slip.
Moreover, this product is also adjustable. The adjustability feature makes it easy for use by more than one person. Furthermore, it comes with contoured leg irons and the aim is to provide support and make it comfortable to use it. It is good to state that the maximum weight this can take is 300lbs. It comes with everything you want.
Pros
It is highly adjustable
The model comes with extra-long gaffs
Designed with the best quality materials
It can be used by more than one person
Cons
The product is also highly expensive
Xben Portable Climbing Harness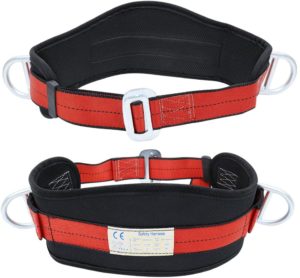 Some people refer to this as a safety belt but it is one of the best climbing harnesses you can buy with money. The product has lots of interesting features such as lightweight and portability. Professional climbers like this. Since it is portable, learners will not find it hard to use the model.
It is safe to use because of the safety belt. Learners can use this with confidence knowing that its users will not find it hard to use it. most importantly, this product is very easy and simple to use. Even if it does not fit or size you, it is highly adjustable to make it fit you very well.
The product is universal and versatile because anybody can use it with ease. Something was said about adjustability before. You can easily adjust it within the weight of 32 inches to 50 inches. Moreover, this model is good for general use. If you like you can use it in the home as well as the garden. Besides, it is not restricted to only one user
The weight limit of this product is 200Kg and you must consider the weight of the user when you are making a choice. The breaking strength of this product is put at 22KN. The total width of this belt is 4.2cm.
Most people rate this product high because of the unique adjustment system as well as the special buckle. These make it safe to use. You can comfortably use this with confidence. The safety belt is not good for climbing and it is good only for home use. It is not meant for professional use which means that you cannot take it to the mountain.
Pros
The product is easy and simple to use
It is highly adjustable
The product is also lightweight and compact
It comes with safety features
Cons
It is not the best for harness climbing
Lewong Chest Climbing Harness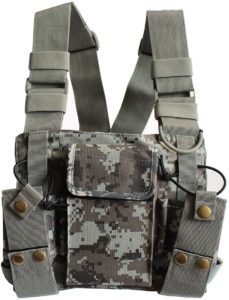 One of the best climbing tools out there for beginners. It is a universal hands-free chest harness. Since climbing is a dangerous sport, it is necessary that when one is embarking on this kind of sport that he becomes prepared for it.
The product comes with everything that makes for safe climbing and one of them is the ability to communicate quickly and promptly. When you climb your hands are free and that makes the climbing easy.
If you are a rescuer or a responder to an emergency climbing call, you can use this model, it is suitable for that purpose. The hands-free functionality makes it universal and versatile for climbers, bikers, fishers, campers as well as hikers, and so on. Besides, it comes with everything you need for travel.
Pros
Great storage
Unisex
Universal use
Adjustable
Cons