If you're someone who works in an environment that requires multitasking with multiple computers, you might benefit from using a dual monitor stand. These stands are designed to sit on your desk and can mount two monitors at once, providing you with the flexibility to support two screens from one stand.
Not only do dual monitor stands help enhance ergonomics, but they also help keep your workspace organized and save space. By elevating your monitors to a comfortable viewing height, you can reduce strain on your neck and eyes.
When looking for the best dual monitor stand, it's important to consider a few key factors. Firstly, make sure it is durably constructed and equipped with a stable base to prevent wobbling or tipping. Additionally, you'll want to find a stand that is reasonably priced and designed to offer a wide range of adjustments to ensure you can find the perfect viewing angle.
There are many top-rated dual monitor stands on the market, so it's important to do your research to find the one that's right for you. By investing in a high-quality dual monitor stand, you can improve your work experience and boost your productivity.
A List of Top 5 Best Dual Monitor Stands
VIVO Dual LED LCD Monitor Free-Standing Desk Stand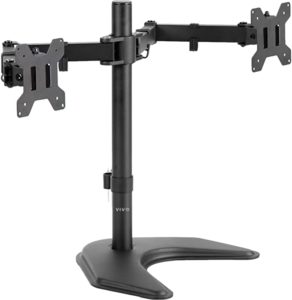 This is a free-standing desk stand. It is suitable for use with screens from 13″ to 27″ and those with a 22lbs weight. The desk stand features a heavy-duty base to provide reliable stability by holding the monitors within the center of gravity. Also, it features an integrated cable management system for easy organization of the power and AV cables.
The desk stand is easy to install, thanks to the removable VESA plates and the included tools and hardware. Also, it integrates 75x75mm or 100x100mm backside mounting holes on the backside for effortless installation. The bottom of the base features padding that protects the desk from scratches. Also, the desk stand features arms that swivel, tilt, and rotate for easy adjustment of the screen positioning.
Pros
Heavy-duty base for stability.
Sturdy and sleek desk stand.
Easy to mount.
Nice and quality finish.
Cons
The articulating arms are a little bit tough to adjust.
The locking screw that connects the VESA adapter to the stand
is quite challenging to install.
Huanuo Dual Monitor Stand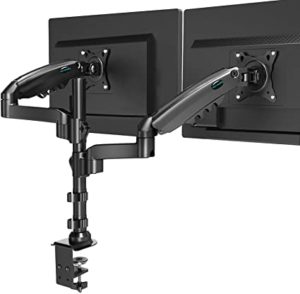 The Huanuo Dual Monitor Stand is an ideal option for anyone who needs a desk stand that will allow you to maximize the desktop space. This stand integrates an upper articulating gas spring arm. The arm's height is adjustable to 26.18″, enabling you to choose an ideal height for a comfortable posture at work. Adding to that, the arms and the stand can allow you to stack two monitor up to 27″ with an assurance of stability of safety.
The monitor stand includes an integrated cable management system. Using it, you can organize the power cable and other cord that reach the computers to maintain a neat and organized desktop. Besides, the motor arms present a full-motion by allowing you to swivel, rotate, or tilt the screen for an optimal view angle. The Huanuo Dual Monitor Stand can support VESA 75mm x 75mm and 100mm x 100mm.
Pros
The mount can fit 17″ to 32″ monitors.
Easy to put together.
Sturdy and stable monitor stand.
The arms provide a wide range of motion.
Cons
ErGear 22-35" Premium Dual Monitor Stand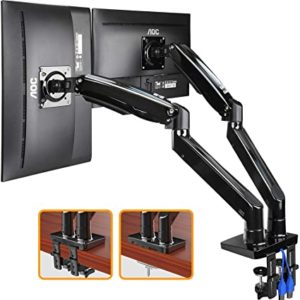 Maximize the space on your desktop with the help of the ErGear Dual Monitor Stand. This stand is suitable for mounting two 22′ to 35″ screens. The stand integrates heavy-duty arms. The arms are height adjustable and designed to extend to 25.6″ so that you can get an ideal height to guarantee your comfort. What's more, the arms can swivel, tilt, and rotate to fit different requirements and improve work efficiency.
Something else that makes the dual-monitor stand an excellent choice is the versatile mounting options. You could use a dual side clamp base when you do not want to drill a hole on the desktop or opt for the grommet mounting option for a tabletop where a mounting hole exists. The integrated cable management is another addition of this stand to help you organize the cords and cables.
Pros
Supports ultra-wide monitors up to 35".
High-quality design.
Clear and easy to follow instructions.
It includes two USB ports at the base.
Cons
Takes time to mount and adjust the angles.
EleTab Dual Arm Monitor Stand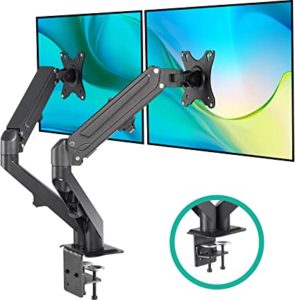 The EleTab Dual Monitor Stand serves as an excellent way to help you maximize your comfort and viewing experience. It is designed for mounting 17″ to 27″ screens and those with a 14.3 pounds weight limit. The monitor stand supports VESA 75 x 75 mm and 100 x 100 mm for effortless mounting. Additionally, the stand can be mounted using a desk clamp or grommet mount for customized mounting options.
The monitor stand integrates gas spring arms. These arms are height adjustable from 6.3″ to 16.1″ to provide an ideal height that will enhance your comfort and viewing status. Better still, the mount integrates a cable management system. With this system, you can organize the cords and cables to maintain a neat and organized tabletop. The monitor stand comes with a step by step manual and necessary tools and hardware for smooth installation.
Pros
Easy to install.
Heavy-duty construction.
Sturdy and stable base.
The cable management fits multiple cords.
Cons
Adjusting the tension is not easy.
HUANUO Dual Monitor Stand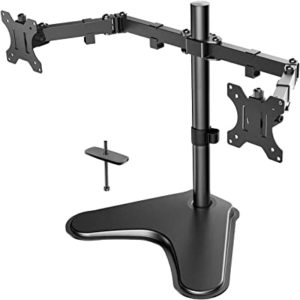 Improve your posture while working so that you can maximize the results after getting the Huanuo Dual Monitor Stand. The monitor stand integrates height adjustable arms. As a result, you can raise or lower the monitor for a comfortable viewing experience. What's more, the arms can swivel, tilt, and rotate for effortless customization of the view.
The dual monitor stand is compatible with VESA patterns of 75mm x 75mm and 100mm x 100mm. It fits two 13 to 32″ flat or curved LCD computer monitors. Featuring a solid and sturdy construction, this stand features steel poles and a heavy-duty base. Additionally, the mount integrates a cable management system for the effortless organization of the cords and cables.
Pros
Heavy-duty base.
Sturdy and solid construction.
Tilt mechanism to reduce the glare for a better view.
Removable VESA plates for easy installation.
Cons
Quite challenging to install.