Choosing the right outdoor pickleball balls can be a daunting task, as they all seem to look the same. However, there are significant differences that set the best ones apart from the rest. Outdoor pickleball balls are particularly prone to degradation, especially from exposure to harsh UV rays.
To help make your decision easier, we have researched and tested various brands of pickleball balls that can withstand tough outdoor conditions. We understand that there is a wide range of options available on the market, and it's essential to find the right one that meets your budget and requirements. That's why we have compiled a list of the top-rated outdoor pickleball balls with detailed specifications to guide you through the selection process. With this information, you can be sure to find the perfect outdoor pickleball balls that will last longer and perform better.
A List of Top 5 Best Outdoor Pickleball Balls
Dura Fast 40 Pickleballs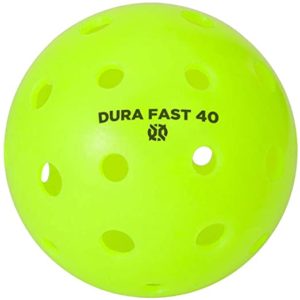 Dura Fast 40 Pickleball balls are designed with a well-spaced 40 drilled holes that offer consistent flight. They can be comfortably used in a hard court as it does not wear easily and can withstand the effects of UV exposure. Dura is engineered to bounce up to 34 inches when you drop it at the height of 78 inches; therefore, it meets the USAPA's criteria. The material doesn't change the shape regardless of how many games you play, and its bright color of the Dura provides a good tracking of the ball. Durability is a crucial consideration met by the manufacturer; regardless of how you hit the Dura Fast 40 pickleball balls, they can withstand the effect.
Pros
Durable
Meet USAPA standards
Proper size and weight
Great bouncing height
Cons
May not offer good play during extremely windy conditions.
Onix Pure 2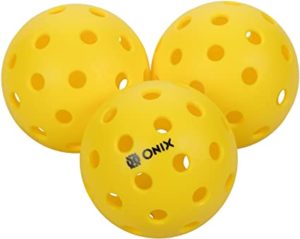 The Onix Pure outdoor pickleball balls are constructed under seam welding that makes it durable. The wight and the size are structured to honor the USAPA directives; therefore, you will enjoy the ball's authentic bouncing. Similarly, true flight technology facilitates consistency in bouncing the ball even in unfavorable outdoor weather conditions. The Onix Pure 2 possess proper drilled holes that ensure that the ball remains balanced throughout the game. Similarly, with this brand, you don't need to worry about playing on a hard court since its shape cannot be affected in any way and cannot wear easily, making it more preferred for you.
Pros
Durable
Approved by USAPA
Excellent ball weight
cons
Top Ball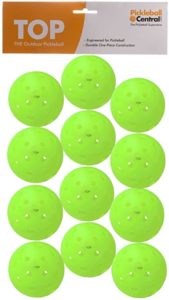 Top Ball outdoor pickleball balls are constructed based on the seamless construction that enhances its long term use since there are no weak points.it is designed to offer great bouncing whenever dropped such that if drop it at the height of 75 inches, it will probably bounce up to 32 inches, therefore, making it preferred for the game tournament. Similarly, it is designed with bright colors that facilitate easy tracking of the pickleball and has 40 perforations, enhancing its bouncing. Also, since outdoor conditions might constitute the wearing, Top Ball is structured to resist any form of wearing hence favorable for any outdoor pickleball court. With this brand, you are guaranteed the best outcome.
Pros
Resistant against outdoor corrosion
Durable
Great bouncing power
Cons
Can be affected by extreme weather condition such as windy
Franklin Sports X-40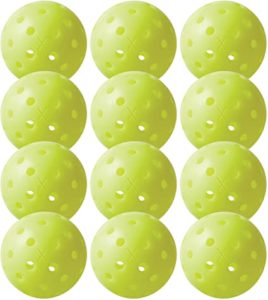 Franklin Sports X-40 offers a balanced flight since it is engineered with 40 drilled holes. Its weight adheres to the USAPA guidelines as it weighs 25 grams and a diameter of 74mm. Similarly, it is made of a hard material that lasts longer to withstand all the outdoor conditions. Regardless of how hard your pickleball court is, Franklin Sports X-40 won't undergo any form of scratching since it will remain in its original condition. This makes it favorable for the tournament games. If you drop it at the height of 78 inches, it will bounce up to 34 inches consistently, making it unique.
Pros
USAPA approved
Durable
Weather-resistant
Cons
May not withstand extreme weather conditions.
IUZIT Outdoor Pickleballs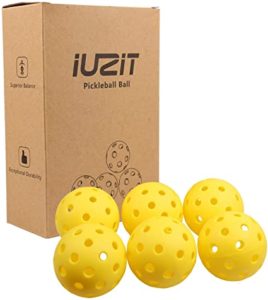 IUZIT Outdoor Pickleball balls are made to meet the USAPA guidelines. It is designed with a heavier material that makes it usable in outdoor conditions such as withstanding the wind's effect. Similarly, IUZIT Outdoor pickleball balls have 40 drilled holes that are properly aligned to offer a great balance. Also, the material used to design is aimed at providing authentic bouncing. However, the size and weight adhere to the current laid standards; hence you will probably enjoy proper gameplay, therefore suitable for any competition. IUZIT outdoor pickleball balls are durable; therefore, it can be used in any pickleball court.
Pros
Durable
USAPA approved
Weather-resistant
Cons