If you keep chickens, investing in an electric chicken fence can be a great way to protect them. These fences can repel animals that might attack your poultry, and choosing one that suits your needs is crucial. A well-made electric chicken fence is an essential piece of equipment for raising chickens.
To keep chickens safe from predators, electric fences can be a helpful solution. These fences are low maintenance as they require little energy to run. Our list above offers a great selection of electric chicken fences for you to choose from.
The benefits of using an electric chicken fence
Protection from predators: Electric fences can help to keep your chickens safe from predators such as foxes, coyotes, and raccoons. The electric current will deter these animals from approaching your chickens.
Containment: Electric fences can also be used to contain your chickens and keep them from wandering off. This is especially important if you have a large flock of chickens or if you live in an area with a lot of predators.
Ease of use: Electric fences are relatively easy to set up and maintain. You will need to purchase an electric fence energizer, posts, and fencing wire. Once you have these materials, you can easily set up your fence in a matter of minutes.
Cost-effectiveness: Electric fences are a cost-effective way to protect your chickens. The initial cost of the fence and energizer may be high, but the long-term cost of maintenance is very low.
When choosing an electric chicken fence, it is important to consider the size of your flock, the type of terrain, and your budget. With so many great options available, you are sure to find the perfect fence to keep your chickens safe and secure.
Also Recommended: Best Chicken Feeds for Laying Hens
A List of Top 10 Best Electric Chicken Fences to Buy
Premier-48″ Electric-Chicken Net-Fence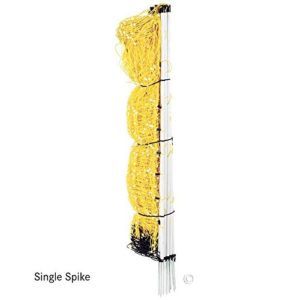 This electric fence is quite visible from afar to both humans and animals. It is very easy to install as it only takes approximately 15 minutes to set up. The twelve horizontal strands it comes with a made from stainless steel woven in polyethylene plastic which makes it durable.
Complete with PVC posts pre-fitted into fence at 13.5′ intervals with 6″ spike at the bottom
Recommend using non-conductive support posts at corners and ends
Multiple rolls of net are easily clipped together by power clip at end of net
Premier PoultryNet Electric Fence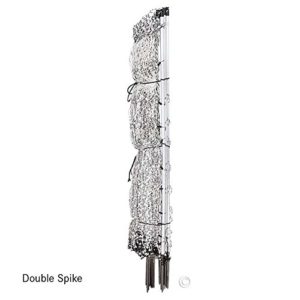 Best for keeping out dogs, the fence is easy to set up. It uses copper super conductor in the fence along with the stainless steel. If you are situated in a moist or soft area.
Electrifiable prefabricated fence
Easy to install: takes approximately 15 minutes
Double spiked posts for added stability
Double spikes work best in moist and/or soft soil
Premier 48″ PoultryNet Plus Starter Kit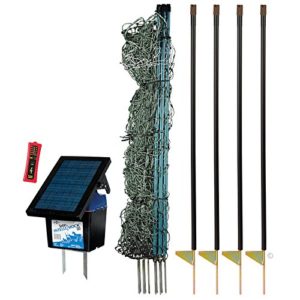 This can be used as a temporary electric fence for your chickens. Easy to install and move, it only takes 10 minutes to do it. It comes with poultry net. It comes with a 2-year warranty for energizers and solar panels and 30-day warranty for all the batteries.
Misuse and flood damage are not covered
30-day warranty for all batteries
FiberTuff posts provide additional support around curves, corner and other major directional changes.
Powerfields-P-89-G Electric 40″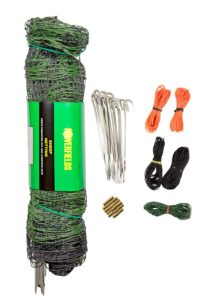 This product is proudly made in the USA. It is 40inches high and 165 feet long. Also, it works effectively and protects your farm chickens to large predators that roam around. It comes with a repair kit, which contains Brass Ferrule connectors and polywire for repairs and fixing breaks. The vertical and horizontal strands are wireless, this is important as it helps prevent arching to the ground.
Easy to setup: in 15-20 minutes
Comes with the necessary stakes and cords for installation
Repair kit included for on-site repairs
Ready to install for immediate application
A low-impedance energizer is required to electrify the netting
A universal net for containment or exclusion of all animals with
Made in USA
Premier-Enhanced 42″ Electric-Poultry Net-Fence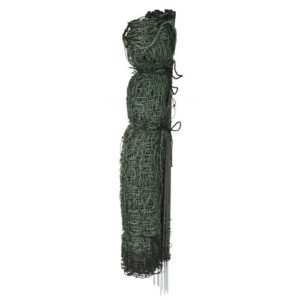 The premier green electric fence for chickens blends in with the surrounding grass and trees. This particular fence is 42 inches tall and 120feet long. It has PVC posts, which have a long spike at the bottom so that it can easily be fitted into the ground. It is easy to set up as it only takes 15 to 20 minutes for the whole process.
Installs in approximately 15 minutes
Use only low or wide impedance intermittent pulse energizers
Complete with PVC posts pre-fitted into fence at 10′ intervals with 6″ spike at the bottom
Kencove Electric Net Fence

This lightweight is portable and easily movable which comes in handy if you try to change the position of your fence with no tools required. The highly conductive stainless steel conductors ensure durability and years of reliable services. Only 0.25 joules required to electrify the nets makes it not only portable but not energy consuming. It also contains built in 13 double-spiked step in posts for easy installation.
Highly conductive, 304 stainless-steel conductors
Braided top strand provides unparalleled strength 13 double-spiked step-in posts
Premier-42″ PoultryNet-Plus Starter-Kit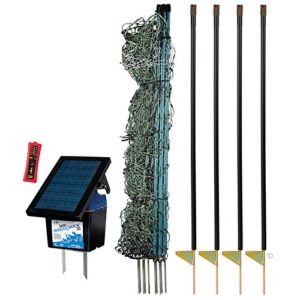 Includes White-PoultryNet Plus Net-Fence – 42″ H x 100′ L, Double-Spiked, Solar-Fence Energizer, FiberTuff-Support Posts & Fence-Tester
This is a convenient package that comes with a fence including solar pack and its double-spiked. It is so portable and easy to assemble and dissemble. The fiber tuff contained helps with setting up the electric fence on curves, corners and many different direction changes.
Premier-PoultryNet-Electric Net-Gate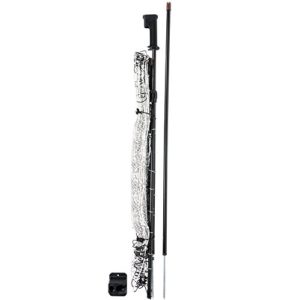 This item weighs only 4.7 pounds. It has drivable posts that can be inserted into hard soil using hammers. Stainless steel clips at each end provide conductivity throughout the fence. It comes in handy as it can be set up on rocky soils and it is very light.
Kencove Electric-Net-Fence

This electric fence is low maintenance and only 10 pounds in weight. The twine horizontal lines contain stainless steel wires that provide reliable and consistent electrical current. This electric fence has single spikes that allow it to be very easy to set up in dry soils.
Powerfields-P-75-W Electric-32-Inch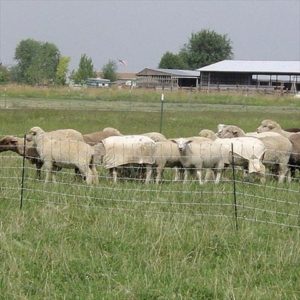 This product has a 5 year warranty. Installation manual is available in each box. This makes it very convenient to use. Its is 32 inches tall and 164 feet long with a single post spike fitted every 12.5 feet distance.