Keeping chickens as pets or for meat production has gained popularity among many individuals. However, processing chicken meat can be a labor-intensive task, especially when it comes to de-feathering. Fortunately, mechanical chicken pluckers are available to simplify this process. These machines are designed to efficiently and quickly remove chicken feathers without damaging the skin, saving you time and energy.
If you are looking to purchase a chicken plucker, you can choose from a variety of top-rated options. These machines vary in size, capacity, and cost, so it is crucial to identify your specific needs before making a purchase. Some of the best chicken pluckers available on the market include the Featherman Pro, Kitchener Chicken Plucker, EZPLUCKER EZ-151 Stainless Steel Chicken Plucker, and Yardbird Chicken Plucker. These options are highly efficient and offer excellent performance, making them popular among chicken farmers and hobbyists alike.
Ultimately, investing in a quality chicken plucker can help make the meat processing process easier and faster, saving you time and effort. By researching and choosing the right machine for your needs, you can ensure that your chicken plucking experience is smooth and hassle-free.
A List of Top Best Stainless Steel Chicken Pluckers
Rite Farm pro quail plucker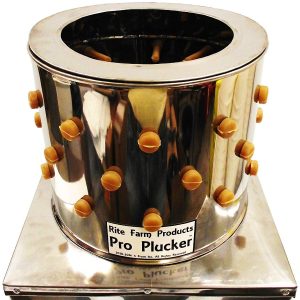 Made from stainless steel, the Rite Farm pro quail plucker is resistant to corrosion and rust. Then the small size plucker is suitable for de-feathering quail, hens, and chickens. Also, this chicken plucker features a feather discharge chute. You can clean the feathers can with just one wash.
The Rite Farm Quail plucker comes complete with ninety-eight plucking fingers. It's best for small birds. Powered by a nearly silent 110-volt motor, this chicken plucker's engine has ½ horsepower. And this quail plucker only weighs 37 pounds.
Pros
Stainless steel build
Uses 98 small plucker fingers
110 volt standard US Plug
Lowest price
Cons
Popsport Chicken Plucker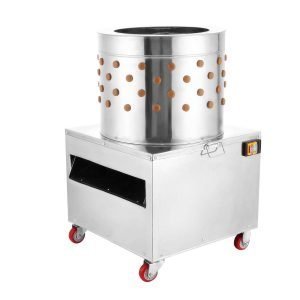 The Popsport Chicken Plucker uses 24-inch stainless steel, which is rust and corrosion-resistant. This chicken plucker comes with a waterproof on/off switch. The Popsport chicken plucker can de-feather up to six chickens at a time. The 110v/60Hz machine voltage power and 240r/min motor speed reduce the plucking time by a great deal.
You can alter the rotation speed of this plucker can by loosening or tightening the belt nut. The Popsport plucker features a built-in water pipe that connects to water supply. This pipe allows the plucker to rinse the removed feathers from inside the tub. This chicken plucker is suitable for chickens, turkeys, geese and other large birds.
Pros
Cons
Bestequip Chicken Plucker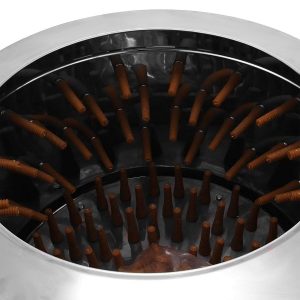 Using stainless stell, the Bestequip Chicken Plucker is resistant to rust and corrosion. This chicken plucker features a waterproof on/off switch and four mobile wheels. Moreover, the heavy-duty 2200w, 240r/min motor can handle up to six chickens in one spin.
This plucker comes complete with 64 fingers on the barrel and 55 on the chassis. The 119 designed plucking fingers allow for fast and efficient plucking. This chicken plucker is suitable for poultry farms or supply shops. The 23.5-inch diameter tub is great for the Bestequip plucker to handle chickens and quails.
Pro Scalder chicken plucker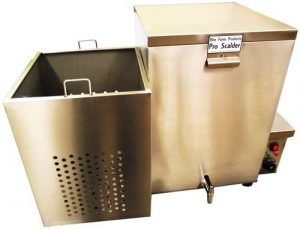 The Pro Scalder plucker features a stainless steel build to resist to corrosion and rust. This plucker comes with a dunk basket, thermometer and LED indicator lights. Last but not least, the 240 volts, 3,00-watt heating element for heat recovery and heating.
The full-size Pro Scadler chicken plucker can hold up to 18.5 gallons. It includes a stainless steel drain. As well as, the large diameter of the tub allows this chicken plucker to hold up to 3 giant chickens.
Stainless steel construction
240 Volt 5000 Watt heat element
Best for home use scalder
YARDBIRD 21833 CHICKEN PLUCKER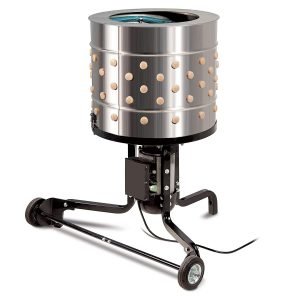 The stainless steel construction makes this chicken plucker resistant to rust and corrosion. A market-leading 1.5 hp and 300 r/min motor allow the Yardbird to de-feather geese and ducks in under 15 seconds. And the 20-inch diameter drum allows many de-feathering at once.
The 110 plucking fingers ensure quick and efficient plucking. Also, Yardbird features a built-in tub-proximity sensor and over current protector for safety. Furthermore, an integrated irrigation system allows for hands-free cleaning of the feathers. The Yardbird is compact and portable.
Pros
Heavy duty 1.5 HP motor and 300 RPMs of spinning force
A drum-sensing safety switch and GFCI
An integrated irrigation ring with standard garden hose connector
Easy to assemble
Cons
Conclusion
Before buying your first chicken, what should key features you should look into? Read my explanation here before you decide.
1. Power
The de-feathering process involves uneven force and weight distribution. This can break the motor of your chicken plucker if it is weak. Having a high powered plucker will ensure high-performance and durability. The power of your engine also contributes to the de-feathering time.
2. Tub
Most chicken pluckers come complete with a built-in tub. When judging the container, we usually look at the size. A large tub means it has more plucking fingers. And more plucking fingers means reduced de-feathering time. Made from corrosion and rust-resistant materials, a large tub can de-feather more chickens. And there is risk of damaging the chicken skin.
3. Fingers
The plucking fingers determine the speed and effectiveness. The more plucking fingers, the quicker the chicken plucker will operate. For optimum functionality, the fingers need to be soft enough not to damage the meat. It will be stiff enough to provide resistance to the feathers.
4. Irrigation
Plucking chicken feathers is a messy job. Easy to clean and maintain a plucker with a built-in irrigation system is very useful for most people.
5. Portability
We recommend picking a chicken plucker, which is portable. The portability is easy to carry the plucker to de-feather your chickens anywhere.
The growth of technology has brought more manufacturers offering attractive features. Having some knowledge of the machines will help you select the right chicken plucker. The best chicken plucker is a must have machine if you are into poultry farming. Take your time and compare the above chicken pluckers.