Are you in the market for a new mobility scooter and looking for the lightest folding option available? Look no further than this comprehensive review, which will guide you towards the best folding mobility scooters on the market. Whether you have a strong desire to purchase one or are simply curious about your options, this review is sure to provide valuable insights and help you make an informed decision.
A List of Top 10 Best Folding Mobility Scooters
Recreational EFORCE1 Mobility Scooter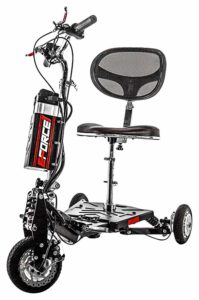 Going to your local grocery store? The 3 wheel scooter comes with armless chair. It feature a super long battery life, extra portable build, and a high and top speed. We really love how easy it is to assemble the scooter. Very responsive, it's yet heavy for some people.
Lightweight and portable
Front and Rear Suspension system
Compact folds into itself and fits in most automobile trunks
Cruise control, safety horn and LED front light
Lithium SmartScoot Scooter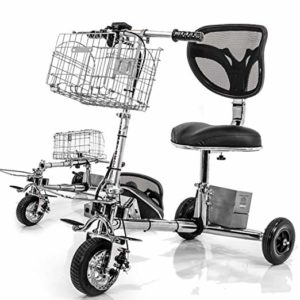 Speedy, durable, and lightweight, the scooter is compliant with FAA. Airline-friendly, it's one of the best scooters for travel. You can remove the Lithium Ion battery.
Lightweight under 40 lbs
Easy to fold, no tools required
Easily breaks apart into 3 sections
Stainless steel frame
Rust proof
Rechargeable Lithium Ion Battery
Folding Travel Transformer Automatic Scooter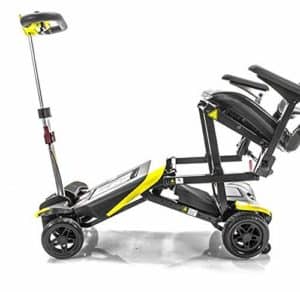 Rider EV Transport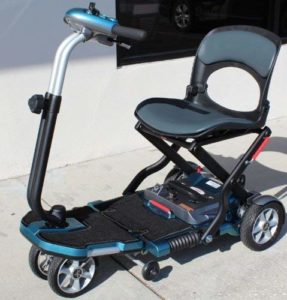 If you're looking for a scooter for an elder with limited mobility, we recommend this EV Rider. You can use it to go shopping and have some outdoor activities. Small and strong, you can unfold and fold it whenever you want. It fits well into the back of a family car hatchback.
Powerful 270 Watt 4-pole motor
Digital display, removable seat, unique design
Removable seat to make the scooter even lighter
GLION SNAPnGO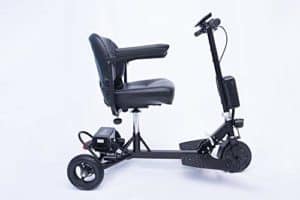 Our favorite features in this scooter are the weight, folding and storage capability. Also, it's one of the best lightweight scooters. The seat is so comfortable.
Lightweight and portable
Comfortable seating
Medical Drive Folding Mobility Scooter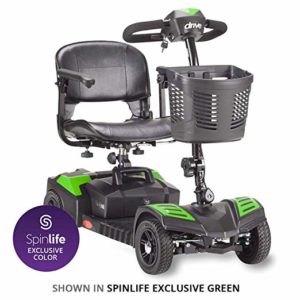 Quick and easy install, this scooter works well to get around a less than smooth surface. We love how the battery can last all day long. You can charge every night.
Interchangeable color panels hide scuffs and scratches
Height-adjustable swivel seat with fold-down backrest
Armrests are padded and adjustable
Ergonomic throttle control with easy freewheel operation
Transformer Solax Automatic Folding Scooter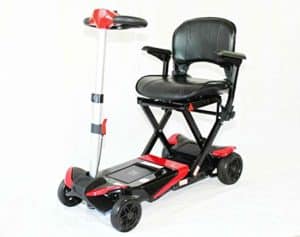 It is folding in a single button click and even unfolding the scooter.
Easy to fold
Airline friendly scooter
Foldable Transport Mobility Scooter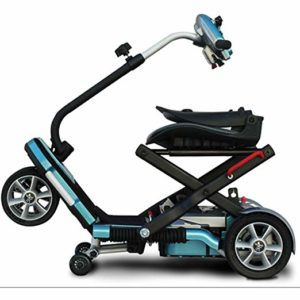 It is a perfect scooter, especially for use by active travelers. Besides, this is a product will give individuals an active lifestyle.
Very portable
Easy to lug around at home, hotels or airports
Powerful 270 Watt 4-pole motor10 to 15 mile range per charge
Can be stowed upright in any closet or corner
Go-Go S19 Prided Folding Mobility Scooter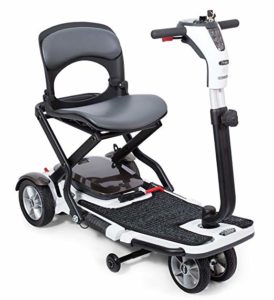 It is a travel scooter that is compact as it is folding in a few seconds for storing in the trunk. Besides, you can fold it to even 13 kilometers for every load.
Folding design: in just three easy steps
250 LBS weight capacity, 4 mph speed, Up to 9.3 miles range per charge
Front and rear LED lights
Easy Move Passport Mobility Scooter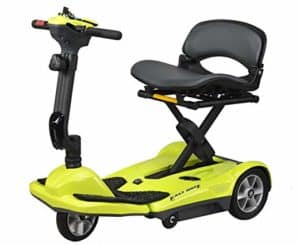 It is a scooter that is FDA approved and also has a remote control folding. Besides, it is ideal for retiring, traveling, and cruises of the car trunk. More also, the scooter is weighing 420 lbs. The product has 250 pounds with a small turning with a radius of 30.7 and 250 pounds' weight capacity.
Automatic folding & unfolding with one touch on a remote control
Powered by 8.7AH lithium battery and ultra lightweight
LED headlight; height adjustable tiller; key ignition and dual hand two way throttle control