Limited living space is a challenge faced by many people in the 21st century. Various factors contribute to the limited availability of living space, such as rising housing costs. For those who are dealing with limited living space, futon sofa beds can be a practical solution.
As the cost of housing continues to increase, many middle and low-income families are forced to make the most out of their limited living spaces. Fortunately, futon sofa beds are a versatile and space-saving furniture option that can help maximize the use of your limited living space.
With a futon sofa bed, you can have a comfortable place to sit during the day, and a cozy bed to sleep on at night. This dual functionality makes it an excellent choice for small apartments or studio units. Plus, futon sofa beds come in various styles and designs, making it easier for you to find one that fits your personal taste and home decor.
So, if you're dealing with limited living space, consider investing in a futon sofa bed to make the most out of your available space while still having a comfortable place to sit and sleep.
Also Recommended: Best Bunk Beds for Kids
A List of Top 10 Best Futon Sofa Beds
DHP Emily Futon Sofa Bed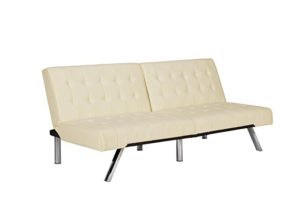 This modern convertible DHP Emily Futon Sofa Bed has a modern design and look. There are chrome metal legs instead of the usual wooden ones. It has a split back design, with one half for sleeping or lounging, while the other half can be used for sitting. Also, it has full and firm cushions made from polyester materials and filled with foam filling.
Colors, grey and navy, vanilla and black
a warranty of 1 year
Modern look and design with chrome metal legs
Split-back to suit your needs
Easily converts from sitting to lounging and sleeping
Pair the futon with the Emily Chaise Lounger for a queen sized sleeping space
Milemont Futon Sofa Bed with Removable Memory Foam Armrests
This Milemont Futon Sofa bed is very convenient. You can adjust whatever activity you wish to. Also, there is the fold-down middle armrest with 2 cupholders allows you to enjoy a drink while relaxing.
Durable polyester fabric and comfortable foam filling.
High-quality modern look.

Space saving
Full Frame Stanford Futon Set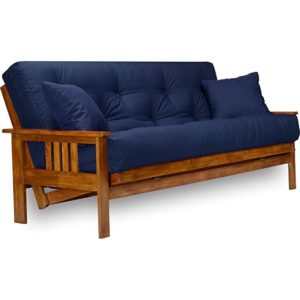 This full size futon sofa bed is convenient and comfortable as a guest bed. It is made with 100% hardwood and tilts in 3 different positions, flat for sleeping, upright, and reclined. So, it can easily match with other furniture and décor in your home.
The mattress fabric comes in 10 different colors
100% solid hardwood futon frame
Finished seat and back decks
3 position frame easily goes from upright to reclined to bed
Complete futon set:futon frame and solid covered futon mattress made in the USA
A 5 Year Limited Manufacturer's Warranty
Premium Upholstery Novogratz Brittany Futon Sofa Bed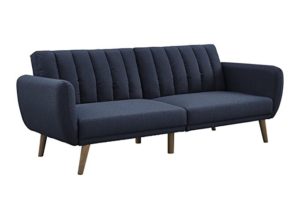 Buy it on Amazon.com
This twin size futon sofa bed is available in grey, blue, pink, green and mustard colors. And you can easily turn your living space to either a home office or a guest room. The sofa bed has wooden legs and frames. Its cushions is made with polyester material and stuffed with foam filling. Unlike others, this is shipped in a single box and can easily be assembled at home.
Edenbrook Gilman Convertible Folding Futon
This futon sofa bed is made with a solid wood frame. Also, there are black plastic legs, and thick cushions finished in your choice of linen fabric, velvet, or faux leather. And the futon sofa bed is perfect for homes with small space.
Classic with modern design
Compact size
Durable construction
Milemont Futon Sofa Bed Memory Foam Couch Sleeper
Investing in a sofa bed won't just help your friends and family be more excited about visiting you. It also means that you never have to stress about where to put your guests the next time they stay at your place.
With this sofa bed, you can easily convert it to a comfortable full size sleeper. You'll find also find that this futon sofa bed can give you the best value for your money.
PU leather
Adjustable handrest and thickly cushioned back
Firm padding provides maximum support
Stanford Futon Set – Full Size Futon Frame with Mattress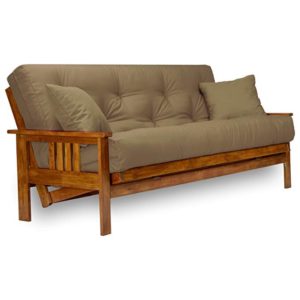 Buy it on Amazon.com
What we love about the Stanford Futon set is its eco-friendly futon frame. It uses only hardwoods from sustainable plantations.
Solid hardwood futon frame
Three position frame
Futon frame and solid covered futon mattress
Milemont Futon Sofa Bed Convertible Folding
This modern futon comes with 4 black heavy-duty plastic legs and 2 middle metal legs with a black powder-coated finish. Also, there are pads under the legs to prevent it from scratching your floors or carpet. Importantly, it is sturdy and long lasting due to the hard wood construction which can withstand up to 600 pounds.
Durable fabric
Premium foam filling
DHP Aiden Metal Futon Frame
Besides, recommend you the best futon sofa bed, I would like to introduce the DHP Aiden Futon Frame. First, it has round arms and metal mesh frame together. Therefore, it provides a comfortable and stylish piece that works with all furnishings. Importantly, it is quickly and easily convert from a sofa to a comfortable full-size bed. Also, the frame allows for flexible use of floor space. Whether used as a sofa or as a bed, the DHP Aiden Futon Frame is ultimate in functionality.
3-in-1
Strong and sturdy
Easy to assemble
Best Choice Products Convertible Lounge Futon Sofa Bed
Also one of the best futon sofa bed on this list is the product from Best Choice. Durability, affordability and functionality are the top reasons to recommend. Time to bring "energy, comfort and cool into your home"!
3 adjustable positions
Quality design