The Best Handheld Seed Spreaders
There are various methods available for spreading seeds, with one popular option being a shoulder seed spreader. However, if you have a lovely garden that requires tending, using a handheld seed spreader may be more suitable. In this review, we will guide you through our top recommended handheld seed spreaders.
Best Automatic Water Hose Reel
A List of Top 10 Best Handheld Seed Spreaders
Stalwart Handheld Spreader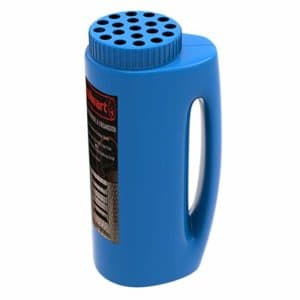 Made of durable plastic, the portable seed spreader is a multi-functional tool. The spreader is easy to use as it has a twist-off lid to fill the salt and seed shaker with your desired content. It has an ergonomic handle to accommodate larger hand sizes. The seed shaker holds a capacity of up to 2.3 L thus covering a large distance without making many returns to refill. Overall, we recommend this product for its best uses for seed or fertilizer.
Made from durable plastic
Twist off lid
Scott Wizz Handheld spreader
This is a battery-powered spreader. So you don't have to hand crank so you can hold the spreader down by your side hence automated. It has a handle with a trigger to start spreading. It has a large dial on the end of the unit where you can set your flow rate. It is easy to use and highly versatile.
Battery-powered spreader
Designed to cover up to 2,500 sq. ft. using Scotts lawn care product
5-foot broadcast with control of EdgeGuard Technology
Powered by 4 AA batteries with 23 settings for unbeatable accuracy
Chapin 8415OA AII season Poly Hand Crank Spreader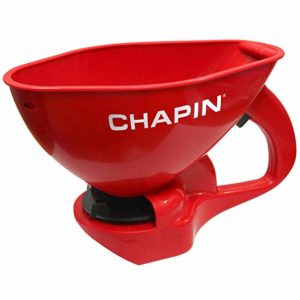 The spreader has a lightweight construction so it suits to be ergonomic and perfect for long use. It is ideal for small yards. It is versatile for use in spreading seeds and ice melt. Chapin 8415OA is a durable product and comes at an affordable price.
1.5-Liter / 92-Cubic Inch capacity scoop spreader
Compatible with fertilizer, seeds and salt / ice-melt
Easy-crank design
Lightweight and easy to maintain
Best for small areas
Yard Tuff YTF 25SS shoulder spreader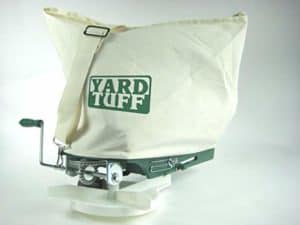 The seed spreader features a high capacity of 25 lbs. It is a lightweight product which makes it convenient and comfortable. Made of metal, this product is also durable since all gears. It has a calibrated flow rate adjuster which allows it to meet various needs. Yard Tuff YTF has a bag made of canvas material that is easy to close and has an adjustable strap that can suit any user.
Made of all metal gears and tough canvas material
Built to last
Easily zips and has an adjustable strap
The calibrated flow rate adjuster
Assembly is fast and easy
Buyers ATVS100 Spreader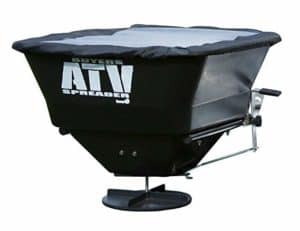 Made of rustproof poly hopper with a capacity of 100 lb, it is highly versatile. It can distribute free-flowing materials like seeds and fertilizers. It has a rain cover which makes it usable even when it is raining. This product is ideal for farming, hunting, landscaping, or grounds maintenance.
Durable, rustproof poly hopper has 100 lb capacity
12V motor is mounted inside the hopper to stay protected while in use
Distributes free flowing materials such as seed, feed, and fertilizer
Earthway 2750 Hand Operated bag spreader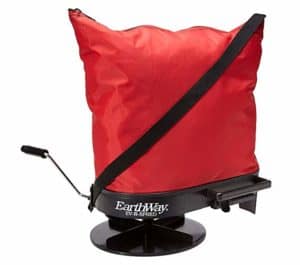 The product features a contoured molded base together with adjustable shoulder straps. Thus, it is easy to use. It comes with a rocking agitator which gives an easy feeding to the distribution plate. The Hand-operated bag spreader is versatile for various seeding activities. You can easily fill and close the spreader since it has a zippered top. It has an oscillating shut-off plate that ensures smooth operation.
Weather-resistant nylon build
Sturdy and collapses
Flow-rate adjustment and on-off control switch
Adjustable shoulder strap and a long crank handle
Scotts Snap System Spreader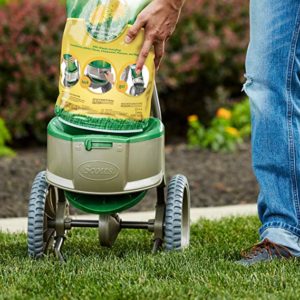 The spreader is simple to operate since it is simply snap, lock and go. It is of lightweight hence easy to handle. This is a versatile tool for the distribution of a variety of products such as seeds and fertilizers. Scotts Snap System Spreader is convenient to store since it has a folding handle design. Once a task is completed you simply fold the spreader and store. It features Scotts Exclusive EdgeGuard and Handylock technologies.
Features Scotts exclusive EdgeGuard and HandyLock Technologies
Fold-down handle makes storage easier
For use only with Scotts Snap Pac
Morata Best Seed spreader with scooper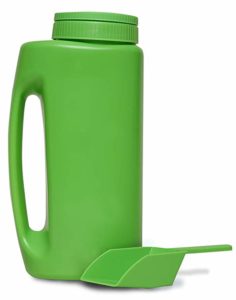 This is a versatile tool to spread seeds, fertilizer, rock salt and pesticides. It has a handy scoop to fill the seed spreader hence no burden of lifting the heavy bags. It has an adjustable hole size for spreading seeds during the summer and rock salt during winter. Morata Best Seed spreader has an ergonomic handle. Hence, it's easy to carry and can accommodate different size hands. It has fewer refills with a larger dispenser.
Scott Easy Hand-held broadcast spreader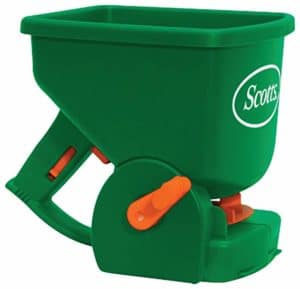 The spreader is durable due to its rustproof nature. Pre-assembled, the spreader is easy to use. It is a multi-purpose tool for spreading seed and ice melts on small yards.
Scotts Handy Green II Hand-Held Broadcast Spreader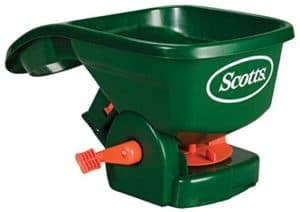 It comes when completely assembled thus is convenient and easy to use. It has an ergonomic design which reduces wrist fatigue while working. Made of a rustproof material, the product is durable.