Technology has made it easier and faster to work from home. Imagine having a single piece of equipment that vacuums and washes your floor at the same time! This would make cleaning a more enjoyable chore and save you time to focus on other things.
In this article, we will review the top 10 vacuum and mop combos for hardwood floors. It takes time to find the best hard-floor vacuum and mop, but we've made it easy for you by compiling this list of the best options on the market.
When choosing a vacuum and mop combo, there are a few factors to consider:
Price: Vacuum and mop combos range in price from a few hundred dollars to over a thousand dollars. Choose one that fits your budget.
Size and weight: Some vacuum and mop combos are bulky and heavy, while others are lightweight and easy to maneuver. Choose one that is the right size for your home and needs.
Adaptability: Some vacuum and mop combos are only compatible with certain floor types. Make sure to choose one that is compatible with your floors.
Pet-enhanced cleaning: If you have pets, you'll want to choose a vacuum and mop combo with pet-enhanced cleaning capabilities. These combos will help to remove pet hair and dander from your floors.
No matter what your needs are, there is a vacuum and mop combo out there that is perfect for you. With one of these combos, you can keep your floors clean and looking their best without having to spend hours cleaning.
A List of Top 10 Best Hardwood Floor Vacuum and Mop Combo
Bissell Crosswave Cordless Max

This machine vacuums and washes at the same time. It has multi-surface cleaning capabilities. In addition to cleaning hardwood floors, it can clean tiles, vinyl surfaces, and area rugs. It is cordless; so, no more entanglements with wires or switching sockets to clean other rooms. It has 2 tanks for clean and dirty water, so there is no mix-up and a self-cleaning cycle. It has wifi you can connect to the Bissell app for maintenance tracking alerts. This is an all in one machine; you can't go wrong with this buy.
Roborock S5 Robotic Vacuum and Mop Cleaner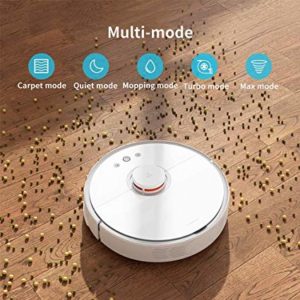 This machine revolutionized cleaning. It is a smart, hands-off device that vacuums and washes your house in one go. It uses LDS navigation to move room to room, mapping the entire house as it goes and cleans it. If it runs low on power, it returns to its charging port, fills up, and then picks up where it left off. It uses a cyclone 3D cleaning system with suction pressures of up to 2000pa and a bionic mopping system. It has self-adjustable brushes, washable filters, and advanced climbing abilities. You can call it a home cleaning robot.
Bissell Crosswave Cordless 2551

The Bissell crosswave cordless can vacuum and wash all at once. Fitted with two tanks, you can clean and dirty water doesn't mix. It comes with a multi-surface brush roll for proper cleaning. It also has a manual clean out button for easy clean-up after cleaning. Moreover, it is cordless, packed with 36V lithium batteries that last for over 25 minutes.
Bissell Crosswave Pet Pro 2306A

The Bissell pet pro washes and vacuums all at the same time. It comes with a multi-surface pet brush roll with microfibre and nylon brush to mop and pick up messy debris. Additionally, it has a pet hair and large debris filter to avoid clogging the sinks. It also comes with a specialized pet cleaning solution to help remove pet odors. This is the perfect assistant to pet owners.
Bissell Symphony Pet Steam Mop and Vacuum Cleaner

This equipment also vacuums and washes your hardwood floors at one go. It has an exclusive drop its tank system, which prevents your hands from getting dirty. To add on, it comes with disposable pads for the horrible messes and washable microfiber pads. It uses a powerful cyclonic vacuum system to help capture the messy pet hair and debris.
Bissell Symphony Vacuum and Steam Mop

This machine steams and vacuums at the same time, saving you time. It comes with washable microfibre pads and a mop pad tray that helps in cleaning. It also consist of drying tank technology helpful during steaming. The steam functions on-demand and sanitizes your floors up to 99% clean. Furthermore, it is easy to use with digital controls and an adjustable handle.
Bissell Powerfresh Vacuum and Steamer

The Bissell power fresh steams and vacuums at once, making cleaning less of a hustle. The steam function is on-demand and sanitizes the floors. It also uses dry tank technology and a quick-release mechanism for easy cleaning. It comes with a washable microfiber that cleans the hardwood floors well. The best feature of this device is that you can digitally.
Bissell Crosswave Floor and Carpet Cleaner
This Bissell crosswave also vacuums and washes at the same time. The key feature is that it has a brush that is double action roll, which is removable. It uses an established microfiber with a brush to help in mopping and picking of debris. Besides all this, it has a 2-tank system, a storage tray, and a removable brush for easy cleaning. It comes with a smart control switch on the handle to switch functions.
Tineco iFloor Cordless Vacuum and Steam Cleaner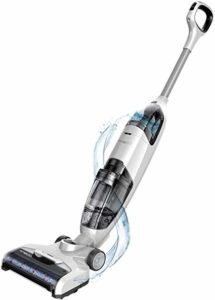 The Tineco iFloor cleaner's most notable advantage is that it is portable. It is cordless; so, no more entanglement messes and very lightweight. You carry it up and down the stairs with no worries. It vacuums and washes all at once, saving time. It cleans many surfaces, including hardwood floors, tiles, and even rugs. Moreover, it has a self-cleaning button.
Hoover One power Cordless Floormate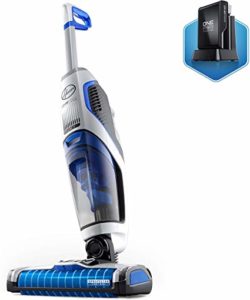 This piece of equipment vacuums and washes at the same time. It comes with a powerful lithium battery that can last you for up to 25 minutes. It is multi-surface, cleaning hardwood floors, tiles, and even area rugs. It has a spray clean solution control nozzle and also refreshes area rugs. Also, it has a rinse and storage tray that keeps your hands from getting dirty after the clean-up.
Cord-free convenience
Powered by the removable and rechargeable ONEPWR Battery