Do you have a hearing problem? If so, you're not alone. Millions of people around the world suffer from hearing loss, and it can be a very frustrating and isolating experience. But there is good news: there are many different types of hearing aids available, and with the right one, you can regain your hearing and enjoy life again.
What is a hearing aid? A hearing aid is a small electronic device that amplifies sound. It is worn in or behind the ear, and it works by picking up sound waves and converting them into electrical signals. These signals are then amplified and sent to the eardrum, which helps you to hear better.
There are many different types of hearing aids available, and each one has its own advantages and disadvantages. Some hearing aids are very small and discreet, while others are more powerful. Some hearing aids are designed for people with mild hearing loss, while others are designed for people with severe hearing loss.
The best way to find the right hearing aid for you is to talk to a hearing healthcare professional. They will be able to assess your hearing loss and recommend the best type of hearing aid for your needs.
Here are some of the things to consider when choosing a hearing aid:
Your level of hearing loss: The severity of your hearing loss will determine the type of hearing aid that you need.
Your lifestyle: If you are active and on the go, you will need a hearing aid that is durable and easy to use.
Your budget: Hearing aids can be expensive, so it is important to set a budget before you start shopping.
Once you have considered these factors, you can start shopping for hearing aids. There are many different brands and models available, so it is important to do your research and compare prices. You can also ask your friends, family, or doctor for recommendations.
Finding the right hearing aid can be a challenge, but it is worth it to regain your hearing and enjoy life again. With the right hearing aid, you can communicate better with your loved ones, participate in activities that you love, and live a more fulfilling life.
Best Lightweight Wheelchairs for Elderly
A List of Top 10 Best Hearing Aids for Seniors
Widex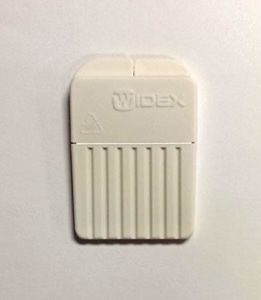 Widex is a hearing aid designed to give excellent sound in a variety of environments. Using this type of hearing aids you can make adjustments to get a perfect sound for yourself. No matter where you are and what you are doing. Widex has 2 major offerings. Evoke is a smart hearing aid. And Beyond fusion two which is a hearing aid designed to be compatible with iPhones. Evoke learns from a particular individual situation. And it uses this information to create a personalized hearing experience.
Widex hearing aids operate on low power. In the event where you run out of charge, you can swap the rechargeable battery for a zinc-air one. The hearing aid offers accessories to help you in streaming sound from audio devices.
Pros
It has great sound quality
Widex is comfortable to wear
Cons
Must be fitted by a professional
MD Hearing Aid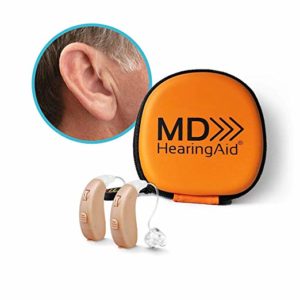 This hearing aid offers very affordable hearing aid without sacrificing sound quality. It can give four hearing aids: air, core, pro, and volt. Pro is a model put behind the year and design for a larger percentage of people with hearing loss. It offers powerful hearing aids in a light and easy to wear model. The core is designed to operate with smartphones. It offers customized listening profiles. The core is mostly preferred since it uses Bluetooth and a smartphone app.
With this advancement, clients can create their own sound profiles. The core can auto-adjust as you go about your daily chores and you can change the profiles any time. This results in a clearer hearing experience that filters the sound you want to hear from those you don't. With the MD Hearing, only the volt is rechargeable and the rest are battery-powered.
Pros
45-day risk free trial
FDA-approved
Cons
Has no in-person hearing evaluations
Eargo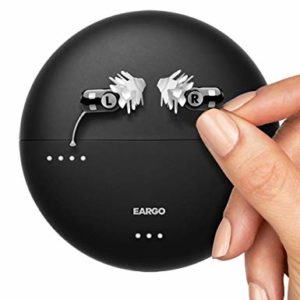 Designed to be comfortable, you can recharge it. Affordable, the Eargo gives a variety of hearing aids with the same discrete designs. The differences come in the sound quality. For Neo, it offers the best sound while Max offers enhanced sound. Neo is much preferred since it has a quality sound profile. It also has four different sound profiles. So you tap your ear to change the profiles. All the Eargo models are rechargeable. It is ideal for seniors who prefer the high-quality sound.
Pros
Great sound quality
Light and comfortable
Cons
They are only preferred for mild to moderate hearing loss
Signia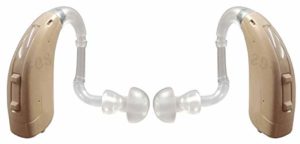 Signia has a good mix of in-ear models and behind the year models. There are a variety of Signia hearing aids. Some have the design to focus and pick out speech. Others are connected to Bluetooth devices. Others are for people on budgets. For seniors who don't want to wear a hearing device, Signia has a pure 312 model. It's very tiny and discreet thus it is hard to notice when someone is behind your ear. Also, it packs a lot of power in that setup. It can be controlled using a smartphone. Signia gives both traditional battery and the rechargeable ones. Signia also has an advantage in that it has hearing centers.
Pros
It has a variety of models for behind the ear and in the ear
It has great customer care
Cons
It can only be bought through a professional
Phonak
Has a great hearing aid for a variety of situations. It includes marvel hearing aids for connection to smartphones and other electronic devices. Some of the Phonak varieties are the audio v which is ideal for music. The cross b that is a single-sided, and the Virto-B. Phonak has notable models which are the marvelandcrossB. Marvel is rechargeable. It features Bluetooth to provide a simple and powerful hearing solution. Cross B detects the ideal sound and then transmits the sound from your sick ear to the ear with no problems to hear clearly from both ends. The good thing about Phonak is that you can communicate with their experts through their website.
Pros
It has a one-year international warranty
It has a range of hearing aid depending on the needs
Cons
There must be a professional to help you with purchasing.
Oticon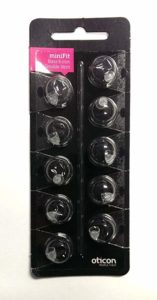 This uses the latest technology to create hearing solutions in cases of hearing loss. This hearing aid offers three main types. There is opn which is an ear model with a design to select speech and give good sound quality in any environment. There is siya which has wireless connectivity and has a design of both in-ear and behind the year. The third is dynamo which gives the clearest sound. Dynamo is a notable model. It captures a wide range of these sound frequencies and processes them in an easier way for the brain. It's a favorite among people with severe hearing problems.
Pros
It has excellent sound quality.
It comes in different ear styles to fit the user.
Cons
Must be purchased through a hearing aid professional.
Otofonix Elite Hearing Amplifier
This hearing aid device is easy to adjust. The Otofonix unit displays four preset configurations. It has a standard-setting meant for regular listening in quiet environments. It also has a noisy setting that reduces the background noises using the noise reduction system and a treble setting for reducing the intensity of high pitched sounds. At a point where you need no attention to any sound, you use the quiet mode setting as a battery saver.
Pros
It features different configurations suitable for particular noise environments.
It has a battery saver mode setting.
Cons
There are complaints of sound quality not being so accurate.
Sentire Med SM-300 Rechargeable Digital Hearing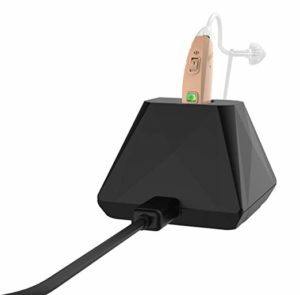 It is a cheap hearing aid. It has good quality and is reliable. It portrays a 2-channel range with a dynamic wide range. It can step up your listening environment so that you can get a crystal clear sound. It has a digital chip circuit that controls or reduces noise on both sides. The hearing aid is able to isolate the tiniest voice and enhance it which ignoring background noises.
Pros
It is cost-effective
It offers high quality and reliable sound
Cons
With time the battery wears out and will need to be charged more often
UnitronZeil P Beige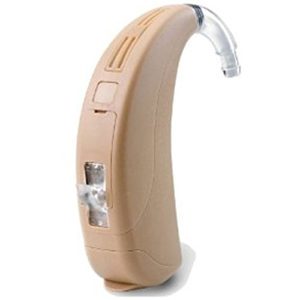 This device is comfortable affordable and with good performance. With these properties of easy select technology, finding one that best suits you is easy. With this device, sounds that were initially imperceptible are now loudly and clearer. This product weighs just a hundred grams. So, wearing it is much more comfortable that you forget that you are wearing it.
Pros
This product offers good performance, is comfortable and cost-effective.
It has an efficient feedback management system.
Cons
In case of intense use, the batteries may need replacement.
Empower Hearing Amplifier Digital Noise Reduction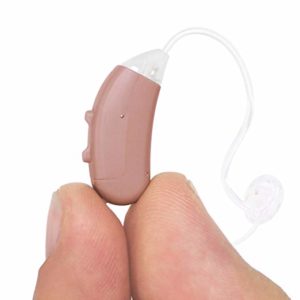 Small size and light, it's very comfortable. With eight batteries, it last very long. It has an advanced processing technology to boost frequencies associated with human voice. This will also filter the unwanted background noise. Tiny and thin, it almost becomes invisible when put behind the ear.
Pros
It is affordable
It is comfortable
Cons
The device is quite fragile and should be handled with care