As we age, our bodies change, and some of us may need mobility assistance to maintain an active lifestyle. Wheelchairs can be an excellent solution for the elderly to stay mobile and independent for longer. However, not all wheelchairs are suitable for seniors. For most elderly individuals, lightweight and durable designs are essential.
If you are searching for the best wheelchair for the elderly, you have come to the right place. Our guide provides you with a comprehensive list of the top lightweight wheelchairs designed specifically for seniors. These chairs are easy to maneuver and offer a comfortable and safe experience for the elderly. With our guide, you can make an informed decision and find the perfect wheelchair for your loved one.
A List of Top 10 Best Lightweight Wheelchairs for Elderly
Drive Medical Lightweight Steel Transport Wheelchair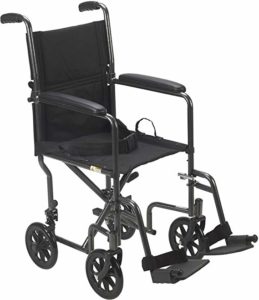 Well built, this is a steel-frame wheelchair for people with a 250-pounds weight. The wheelchair includes cushioned armrests to guarantee comfort. Its footrests can swing away to ensure comfort. Because of the nylon seat, you can get the chair when looking for a wheelchair that is easy to maintain. Also, the composite 8″ wheels are maintenance-free and lightweight. The chair and backrest can fold down to ensure secure storage and transportation.
Cushioned armrests and swing away footrests
Chair and backrest fold flat for easy transportation
Nylon seat upholstery is simple to clean
8 inch wheels
Lightweight and maintenance free
Medline Lightweight Transport Wheelchair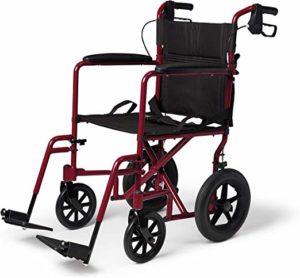 The Medline Transport Wheelchair is lightweight at 23.5lbs. The chair features a powder-coated aluminum frame that is lightweight and durable. The frame's weight capacity is 300lbs for use by different people. You can expect the back to fold down for compact storage. Also, the footrests are detachable, which makes it easy to store. The wheelchair includes a seatbelt to guarantee safety. Also, it features 12″ rear wheels designed to perform well on uneven outdoor surfaces. The loop-style manual handbrakes are easy to use. The rear wheels lock is user safety.
Powder coated aluminum ultralight frame
Portability for easy storage, transport and travel
Back folds down to make the chair more compact
Full length permanent armrests
Drive Medical Fly Lite Ultra Lightweight Transport Wheelchair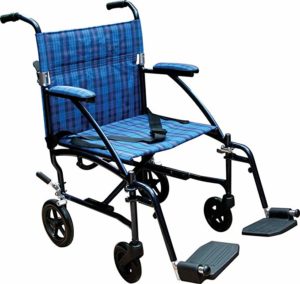 Taking the third position is Drive Medical Fly Lite Transport Wheelchair. The chair includes a seat belt to guarantee safety. Furthermore, it features a carry pocket on the back to ensure secure storage of handy items. The back can fold down to provide for easy storage and transport. Also, the footrests can adjust in height and swing away for easy customization. The wheelchair's weight capacity is 300lbs. It includes 6″ front casters and 8″ rear casters with aluminum rear wheel locks to enhance safety.
Karman 24 pounds LT-980 Ultra Lightweight Wheelchair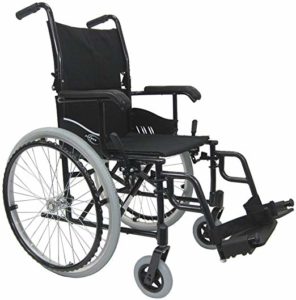 With a 24-pounds weight, this is one of the best lightweight wheelchairs. The chair comes with an adjustable seatbelt for safety. Also, it includes adjustable-height footplates and heel loops to guarantee comfort. The compact frame is foldable, which makes it easy to store. Furthermore, the rear wheels and front casters use solid polyurethane for smooth gliding. Because of the built-in pouch, you can use the chair to store frequently-used items.
NOVA Lightweight Transport Chair with Locking Hand Brakes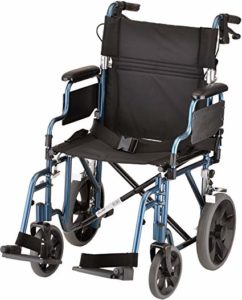 NOVA Lightweight Transport Chair is travel friendly and safe to use wheelchair. Lightweight, it is easy to maneuver. Also, it is safe to use because of the secondary wheel locks and removable anti-tippers. The included seat belt is adjustable for different-sized persons. Also, there are patented locking handbrakes designed to enhance safety. The chair features 12″ rugged rear wheels for smooth gliding on different terrains. Also, there are padded arms that flip up to ensure easy user transfer. With footrests and heel loops, the wheelchair is comfortable to use.
Karman Healthcare S-2512 Ergo Flight Transport Ultra Lightweight Wheelchair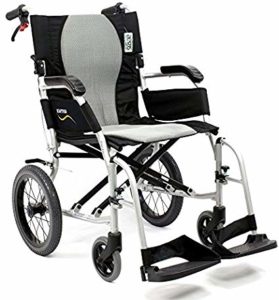 The Karman Healthcare S-2512 is a lightweight wheelchair that weighs 18 pounds. It includes a seat with an 18″ x 17″ width to guarantee user comfort. The seat consists of a seat belt to enhance safety. Also, there is a carry pouch designed to hold frequently-used necessities. The wheelchair's seating frame is patented ergonomic, which is a comfortable chair. Furthermore, companion brakes are featured to ensure user safety. The footrest is removable so you can customize the chair to fit.
Removable footrest and fixed armrest
Companion brakes standard
Patented ergonomic seating frame
Folding backrest and folding Seat
NOVA Lightweight Transport Chair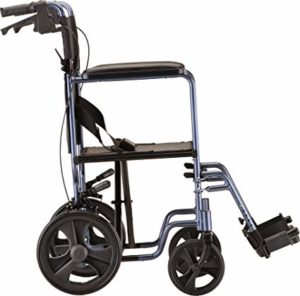 A must-have wheelchair designed for safety on all-terrain is NOVA Lightweight Transport Chair. The chair features a lightweight design so that it is easy to maneuver. Further, it folds into a compact size to guarantee easy storage. The chair comes with an adjustable seat belt and secondary wheels locks. Also, there is a push-button design to ensure easy adjustment. Heel loops are included so that users can rest their feet. Furthermore, the footrests can swing away and lock into place to guarantee user comfort. The wheelchair includes padded armrests to ensure user comfort. You can get this product for use by people up to 300lbs.
Lightweight, simple to maneuver and folds compactly
Patented locking hand brakes and 12" rugged rear wheels
Full length padded arms are fixed and comfortable for the user
Easy to adjust with the push button design
Lumex Hybridlx Rollator & Transport Chair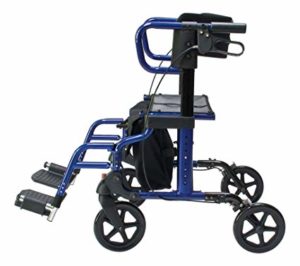 This is a versatile wheelchair designed to convert from a realtor to a transport chair. Its aluminum frame is lightweight at only 22lbs. Also, it includes easy-to-use handbrakes. Because of this, you can be sure to guarantee the safety of the senior. The polyester backrest is soft while the seat is 18″ wide to ensure user comfort. Seniors can take advantage of the included pouch to store personal items. Ultra-compact design, the transport chair is easy to store in small spaces.
Hybrid design: use primarily as a Relator
Lightweight frame: durable, aluminum frame
Ultra-compact design
Easy to install without the need for tools
Comfort and support: soft, polyester backrest and 18″ Wide mesh seat
Drive Medical Cruiser III Light Weight Wheelchair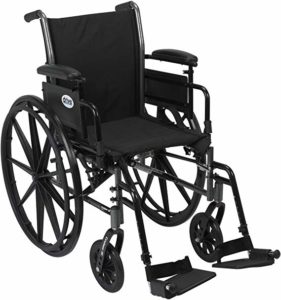 The Drive Medical Cruiser III is a lightweight wheelchair that weighs under 36lbs. It features a carbon steel frame with a silver vein finish to enhance strength. The chair features a nylon upholstery that is attractive, durable, and easy to clean. The padded armrests are another addition of the wheelchair designed to offer comfort. Also, an extendable upholstery and seat rail extensions are easy seat adjustment. The chair comes with mag-style wheels that are lightweight and maintenance free. Also, there are 8″ front casters designed to adjust in three positions.
Carbon steel frame with silver vein finish
Nylon upholstery is durable and lightweight
Easy to clean
Built-in seat rail extensions and extendable upholstery
Padded armrests provide additional comfort
Mag-style wheels are lightweight and maintenance free
Medline Lightweight and User-Friendly Wheelchair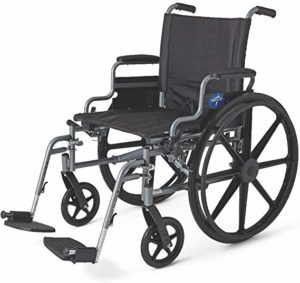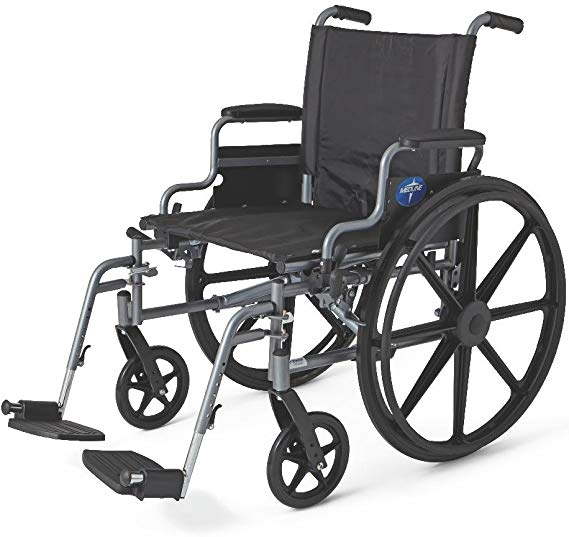 The answer to a durable wheelchair for seniors is Medline Lightweight Wheelchair. Featuring premium welds, you can get this wheelchair for extended use. Adding to that, the chair features nylon upholstery. The upholstery is soft, durable, and easy to maintain. Further, there are mag wheels that feature smooth-rolling flat-free tires for easy maintenance. The wheelchair includes detachable footrests for simple and quick transfer of the user. Better, there are flip-back desk-length arms so that you can use the chair with tables or desks.
Flip-back desk-length arms
Nylon upholstery is soft and durable
Mag wheels with smooth-rolling, flat-free tires for low maintenance
Foot-powered movement increases mobility with 2" seat-height adjustments