Top 10 Best Flip Waffle Makers (2022)
Waffles are the best thing Cornelius Swartwout ever invented. But the waffle iron is even better! Since this creation, there are flip waffle makers that start all sorts of competition. The waffle iron is a metal utensil used to cook honeycomb shaped waffles on the metal plates. You leave the waffle iron on the batter for about 5 minutes to get a golden waffle on the outside, and a fluffy inside. There are tons of waffle makers to choose from, but I have reviewed 10.
A List of Top 10 Best Flip Waffle Makers
Breville No-Mess Waffle Maker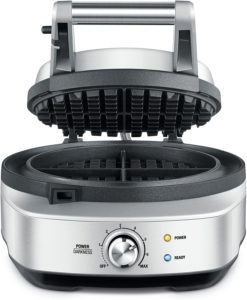 This is a circular classic waffle maker that keeps the batter from splattering everywhere. It has browning control that lets you choose from golden to light and fluffy. It has a ready button to let you know when your waffle is ready, and it is stainless steel so it is easy to clean.
Cuisinart Double Belgian Waffle Maker – Round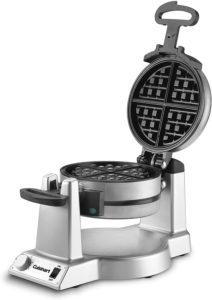 For those who love their Belgian Waffles this is an amazing waffle maker. This bakes two waffles at a time, has 1-inch pockets, browning control, is non-stick, and easy to handle. This has 1400 watts of power and two LED indicator lights. Also when done, this machine beeps three times to let you know your waffle is ready.
Cuisinart Round Classic Waffle Maker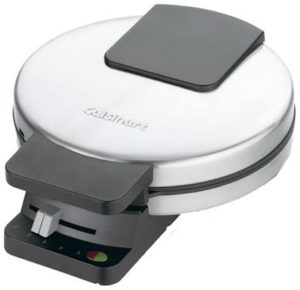 Now this is a smaller waffle maker than the Cuisinart Belgian, yet the features are still about the same. This bakes one large traditional waffle at about 120 volts. It has a red indicator to let you know the waffle is not ready, and a green indicator to let you know it is. This has a 3 year warranty, 5 setting browning control, and is nonstick.
Dash Mini Maker Waffle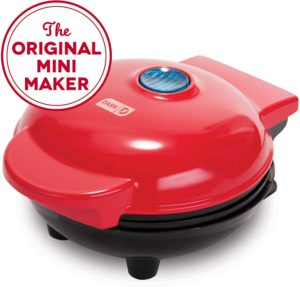 This is a cool little waffle maker for an outstanding price! It is shaped like a mini grill, yet it is a waffle maker. It comes in all types of colors to choose from, and makes the perfect gift. The Dash Mini Maker Waffle is lightweight, compact, and makes more than just waffles. The product comes witha one year warranty, a recipe book.
Presto Flipside Belgian Waffle Maker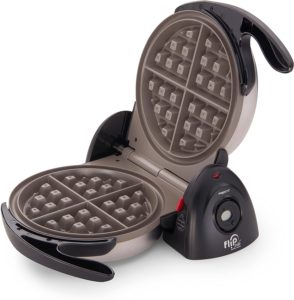 This here is a medium flipside waffle maker that has 120 volts; 1100 watts. It flips 180 degrees to evenly spread waffle batter. It has a user manual that comes with it to help guide you with how to work this machine. The dual function base and locks in space for storage is essential. Presto Flipside Belgian Waffle Maker has a 7-inch diameter with four cut sections to make it easy to either pull the waffle apart or cut it.
Black and Decker Belgian Flip Waffle Maker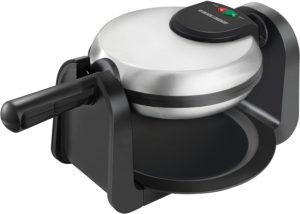 Now this has a cool touch handle lock that makes it easy to touch (without burning yourself) and still be locked into place. It rotates and gets you the perfect even cooked waffle along with letting you know when the waffle is ready. It has a nonstick surface so it removes the waffle with no problem and keeps out any excess oil or butter. The waffle plate is 7 inches, so each waffle creates 4 waffles at a time.
Hamilton Beach Flip Belgian Waffle Maker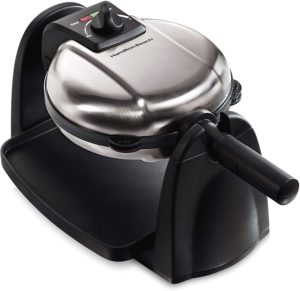 This style is a nonstick with removable plates. The flipping action can do two things: one makes thick fluffy waffles, or two: make crispy waffles on the outside of the waffle. Of course whatever your preference is for your waffle is what you will desire. It has adjustable browning control, easy clean grids, and a drip tray for anything that may drip out.
Calphalon Intellicrisp Waffle Maker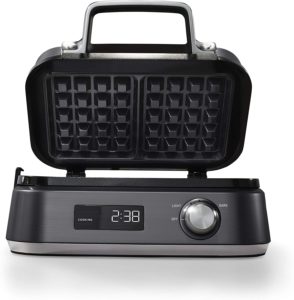 This has ceramic coated cooking plates that deliver 20% more heat on both sides of the waffle to be crispy and fluffy. It has a LCD screen display that is high contrast. You can easily clean it. It's 11x more durable. It locks closed and has a countdown timer to track the waffle that's being made.
All-Clad 4 Slice Belgian Waffle Maker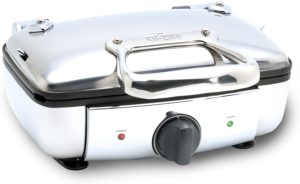 This comes in two different styles: 2-square or 4-square ranging at two different prices. It has 7 different settings to go with taste and steam release. It has an LED indicator that lets you know when it is ready to cook and ready to eat. The flip waffle maker also has a removable drip tray that is easy to clean up.
Krups 4 Slice Belgian Waffle Maker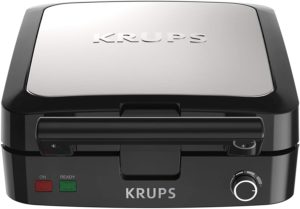 Easy to clean and dishwasher safe, this special waffle maker makes waffles for a family. It makes a total of four waffles at a time. It has adjustable browning choosing from 5 different levels (light to dark). The waffle maker has a steam release system and extra deep pockets that can hold berries, maple syrup, and more.
Also Recommended: Best Wood Burning Pizza Ovens