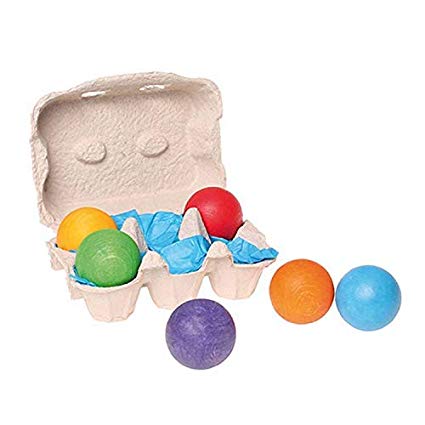 Top 7 Best Grimm's Wooden Toys [2020]
Grimm's wooden toys are educational toys made in Germany using natural colors and oils. It is harmless and safe for kids to play with lovely shine. natural colors and grain on them. Are you looking for best Grimm's wooden toys for your kids? These are educational toys to improve creativity, imagination skills and other soft skills in your kids. You can find some of the best selling Grimms wooden toys described in detail in the section below. Apart from these, there are whole lot of other toys which can be useful as well.
Discover Top 10 Best Play Therapy Toys?
Top 7 Best Grimm's Wooden Toys in 2020: Reviews
Browse our reviewed products
Grimm's Large Four Elements Building Set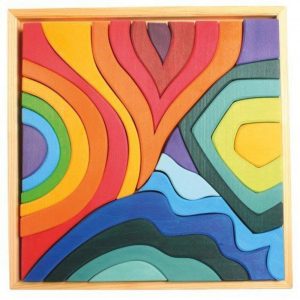 Grimm's Large Four Elements is depiction of four elements of the Earth like air, water, rainbow and waves. It has 23 pieces of wooden block for perfect creative play. You can create stunning landscapes, patterns, creative structures to develop creativity, motor skills. spatial thinking and solving abilities. The wooden pieces are made from lime wood and has child friendly non toxic color coating with natural finish. The 23 pieces are 4 cm thick and can fit in a square frame of 44.5 cm side and it is ideal play toy for 3+ years old kids.
Winner of a 2011 Parent's Choice Gold Award
Named outstanding "heirloom toy"
Ages 3+
Grimm's 6-Piece Rainbow Stacker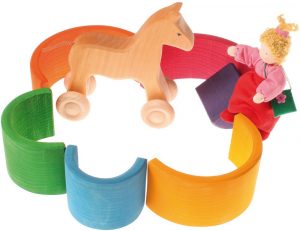 Grimms 6 piece rainbow stacker consists of 6 pieces of semi circular wooden pieces each one in a rainbow color. You can stack these rainbow stacker with other toys or stacker to create a more complex structures. When these these 6 wooden pieces are stacked together it forms a rainbow which measures in box of size 17.1 x 9.1 x 6.4 cm. The wooden pieces can be used to create arches, hills rocking chairs and beds for toys. Great for imaginative play!
Nest or stack the colorful, unique blocks
Handcrafted in Europe by German company Grimm's Spiel & Holz Design
Materials: wood and certified non-toxic, water based colors
Grimm's Set of 12 Rainbow Friends Peg Dolls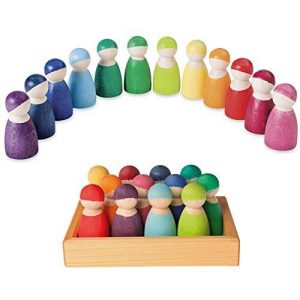 Grimms Set of 12 Rainbow Friends has 12 wooden rainbow friends painted in rainbow colors. You let your child to use these 12 pieces to learning colors, counting, ordering. Or it can be used to represent 12 months of a year. The wooden pieces are made from Alder and maple wood and hand painted with non toxic, child safe paints. Each wooden piece measures 6 cm in height can be arranged in 2 rows in the wooden crater.
All coatings are certified nontoxic and conform to stringent European (and American) toy standards, making them safe and suitable for children.
Comes minimally-packaged in clear shrink-wrap
Crafted by hand from sustainably harvested European wood
Grimm's Large Water Waves Stacker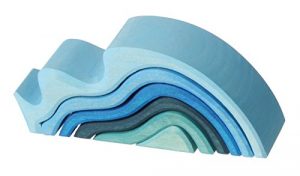 Grimss Water Waves stacker consists of 6 wooden pieces which nests together to create a stacking of waves. The smooth and natural colors of water blue has a soothing effect on the children and it stimulates creativity in child. 6 pieces can be used to create objects like hill, fence, see-saw doll cradles, tunnel , cave and other objects left to child imaginary skills. The wooden pieces are high quality toys and environment friendly as well. The coating on wooden these toys are non toxic, child safe paints.
Set of 6 wooden pieces nest together
Soothing blue waves represent one of the four elements of nature: Water
Grimm's Beads Grasper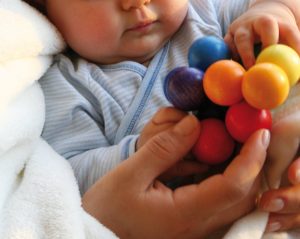 Grimms Beads Grasper in wooden baby rattle toy with large balls painted in rainbow color. It has 12 balls in rainbow color and are safely stung with strong elastic. It can be a wonderful gift for your baby when your baby starts to grasp things around at three month old. The colored balls are made from maple wood and measures 3 cm. It is coated with non toxic and child safe paint. It has a amazing natural beauty and texture of real wood. Overall, it's gorgeous, fascinating artistic toy for babies (and adults).
Perfect toy for baby's first grasping experiences (from 3 months & up)
Grimm's 12-Piece Rainbow Tunnel Stacker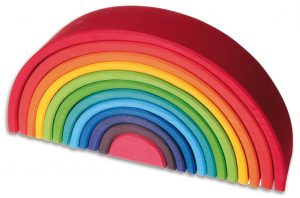 Grimm's 12 piece Rainbow Tunnel is a versatile 12 piece wooden stacker which can be used by kids of all ages above 1 year. Your child can stack them to create fences, tunnels, bridges, houses whole lot of other objects to provoke imaginary skills in your child.
The wooden pieces are of high quality and painted with child safe colors and can last for many years to play. The wooden pieces can be stacked over one another to create a rainbow, sort them in order of size, create concentric semi circles and other objects you child can imagine.
Cut from a single, solid piece of linden wood
Recommended for toddlers, kids and adults (from 18 months+)
A lovely decoration on a coffee table or bookshelf
Rich, vibrant colors from certified non-toxic, child-safe water based stains
Grimm's Giant Marbles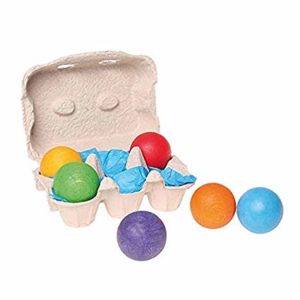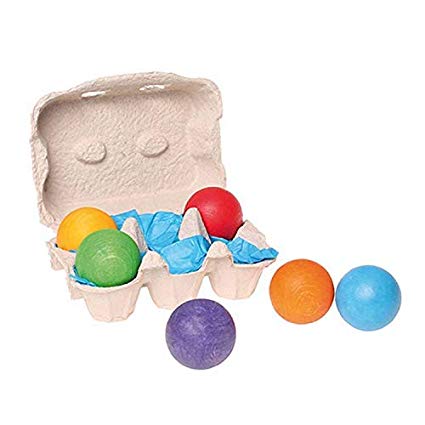 Grimm's Giant Marbles is set of 6 wooden balls in rainbow color ideal for both toddler and kids. It comes packed in a cardboard egg box and is easy to handle and store them. Your kid can use these balls to roll them , fill the egg box, bowls, order them in a row, count them, learn the different colors, use them as weights, or can be used to stack with other wooden toys to create a more bigger structures. The balls are 4.5 cm in diameter , colored with child safe, non toxic, water based paints. These Giant marbles forms an excellent combination with other Gimms stacking toys.
Comes in an egg carton: easy for storage when playtime is over
Large size is easy to grasp and safe for even very young children (1 year & up)
Made in Germany from solid wood and colored with certified safe, non toxic water-based stains (no worrisome paints or lacquers)