Investing in a dog crate is a practical solution for keeping your pet secure and comfortable. With various sizes and designs available, it's important to choose a product that fits your needs and can effectively contain any escape-prone pets. The market is overflowing with options, making it challenging to pick the best heavy-duty dog crate. When making your selection, consider factors such as design and durability. This article will assist pet lovers in choosing the top best heavy-duty dog crates.
A List of Top 10 Best Heavy Duty Dog Crates
Merax Heavy Duty Dog Crate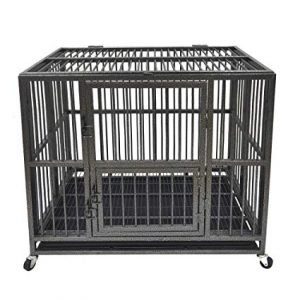 This product comes in three different sizes, 37", 43.3" and 49.6". It is designed with two doors, front, and top door. Its front door comes with double latches, which ensure that your pet is secure. It comes with an iron hasp that ensures that the crate does not move in any direction when the dog stands on it. The floor of the crate can easily be removed for cleaning purposes.
Made from durable rust-proof epoxy coated iron wire, strong and durable, environment-friendly finished surface
Easy to clean: removable (slide-out) plastic tray
Easy to install: just need to fit it with four wheels, no need to install screw bolts, locks were pre-assembled
ProSelect Empire Dog Cage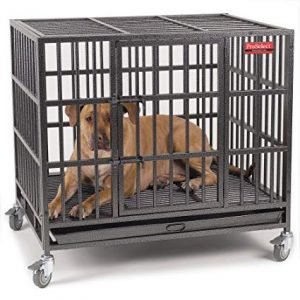 The Proselect Company is known for producing strong pet cages and crates. It has strong door attachments and steel tubing to make your pets feel comfortable. Furthermore, the kit has a steel tray, a floor gate, and removable locking casters. It is designed for heavy built and aggressive dogs.
Cleanup is easy with this ProSelect dog cage: grated floor with tray
Removable casters
Durable: stand up to the toughest abuse from the largest dogs with strong latches and thick steel build
Professional Superior Pet Cage
This is another heavy duty dog crate with a size of 36". It is highly affordable when compared with the other top models. Also, this cage has very thick bars that make it incredibly sturdy. It is a heavy crate bit it comes semi-assembled to make the setup process much easier. This crate comes with strong latches that are quite difficult to open.
Simple to install,
This cage constructed with the 3/4″ frame, forged from 20-gauge steel and reinforced by 1/2″ diameter steel tubes
Strongest, sturdiest, most durable cage
Wallcut Heavy Duty Crate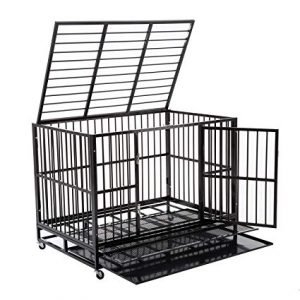 This cart has a size of 48" making it a practical option for big dogs like Anatolian shepherds. It is designed with double doors that make it easy for the big dogs to move in and out. Its front door is latched to give the pet owner easy aces to the kit. Again, it crate can be accessed easily without any hassle. A dog can't chew its frames because they are solid enough.
Heavy duty steel frame, strong and durable
2 removable bottom trays, a washable metal pan and a floor grate, make clean up easy
Yaheetech Heavy Duty Dog Carte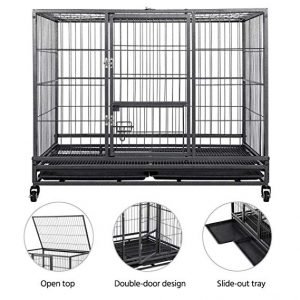 This is one of the most affordable pet crates in the current market. It is designed with an anti-corrosion layer along with a non-toxic coat. Furthermore, this cage comes with well-built swivel casters for the pet to move around. It can be folded easily when not in use to save on storage space. This care is lightweight and compact, making it a practical option for traveling.
Made of quality metal frame covered with non-toxic hammertone paint and durable ABS litter pan
Rust-resistance and solid build
Strong and safe for your pets to use
ProSelect Modular Select Cage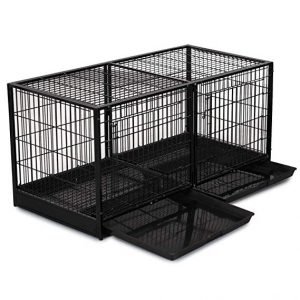 This is another strong cage from the ProSelect Company. The powder-coated finish makes it more durable. It is a robust carrier. This crate has sharp edges that can cause injuries to your little children. It comes with removable doors that make the cleaning process easy.
Stackable design offers unmatched versatility
Features powder-coated steel build and triple door latches for maximum strength and security
Comes with locking removable divider panel, two locking trays, and two floor grates
World Pride Heavy Duty, Metal-Wired Dog Crate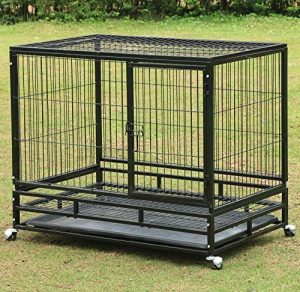 This cage comes with a large front door, making it easy for the pet to move in and out. Also, this kit has a polished surface that makes it durable and rust-free. The strong bars offer extra protection for dog bites. This cage is well-built to keep your pawed pets from finding their way out. Furthermore, it comes with a user manual that makes the setup process much easier.
World Pride Heavy Duty Metal Dog Crate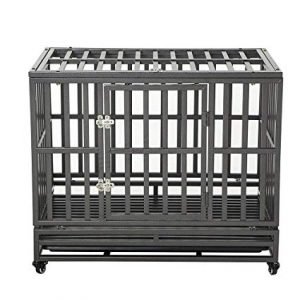 This crate comes with a steady and strong metal frame for dogs weighing about fifteen pounds. The well-finished bars provide the strength. This unit is not only sturdy, but it also looks good. Its non-toxic coated texture is safe for both big and small dogs. You can easily fold to save space. Moreover, this crate is corrosion free and weather resistant.
Made from rust and corrosion-resistant steel,strong and durable, nontoxic finished surface
Excellent anti-rust ability, suitable for most medium and large dogs
2 locks with the safety buckles: double door & locking caster design
Lockup Heavy Duty Dog Cage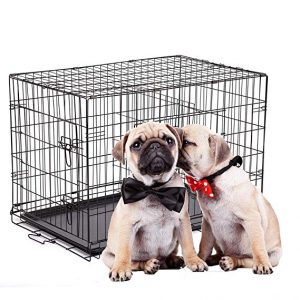 Ideally, this cage is for small pets that have reasonable tempers. This means that you will need a stronger kit if you have aggressive, energetic, and big canines. This cage has strong metal bars, and you can assemble it easily. It comes with three doors that make it accessible. With swiveling caster wheels, this crate makes it easy for you to move it around the compound. It comes with removable trays for collecting debris.
Folds down and set up in less than 1 minute easily
Rounded edges: safer for puppy
Two bolt latches for each doors: keep pup safe