Top Best Hog Hunting Gear
What gear do you need for hog hunting? New to wild hog hunting? Read on to find out more our list of recommendations of top best hog hunting gear. This is a simple question. Yet, it's a bit tough to answer. What do you wear for hog hunting? First of all, it really depends on a number of factors such as weather conditions, boots, gloves, and insulated or uninsulated jackets. During winter hunting, it's a good idea to have long underwear and rain gear.
At the end, you've got the our a simple checklist of the steps to prepare for hog hunting as well as the equipment and gear you should never leave behind. Essentially, it's good to have all the must-have, best hog hunting gear in place before getting into the wood to get the wild boars.
Where to hunt? Wild hogs are mostly inhibiting in the southern Gulf states like Texas, Florida, Mississippi, Alabama and Louisiana, and Arkansas. With just a basic hunting license, most hunters can enjoy all year long on private land in a state like Texas, where it has fairly lenient regulations.
The best wild hog hunting destination? It's at Piney Creek Ranch in East Texas. If you want to experience hunting feral hogs in a clean, fun, safe environment, then check it out: Boars All Day.
Disease? It happens. Like other wild animals, wild hogs are known to be good carriers of parasites like roundworm. Disease (like pseudorabies and swine brucellosis) transmission from animal to human should be a major concern. In any case you suspect signs of disease or parasite infestation in the hog, you should discard the carcass, as it is not safe to handle or eat. Other protection measures to take are: always wear disposable plastic or rubber gloves along with eye protection, take extra precaution to cook the meat thoroughly (even if there are no visible warning signs of infestation).
What is the best wild hog bait? Hogs love the smell of sweet corns (5-7 miles away).
How fast can a wild hog run? Wild pigs can run up to 30 mph.
A List of Top Best Hog Hunting Gear
Walker's Razor Slim Electronic Hearing Protection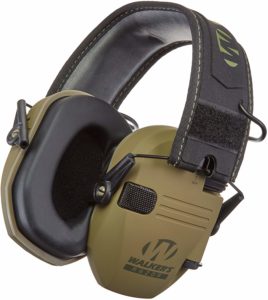 One of the best-sellers product in the Hunting & Shooting Earmuffs category, the Razor series also feature Walkers new comfort fit headband for all day shooting, and come in a host of color options. Designed and engineered in The U.S.A, this top rated product won't disappoint at the rifle range and during hog hunting. Overall, it's a great idea to have every advantage over the wild hogs and electronic hearing protection does just that.
Razor" ultra-thin rubberized cups
2 omni directional microphones
Sound activated protection over 89 dB at 0.02 reaction time
Noise reduction rating of 23dB
Operates on 2 'AAA' batteries- included
ATN X-Sight 4K Pro Smart Day/Night Rifle Scope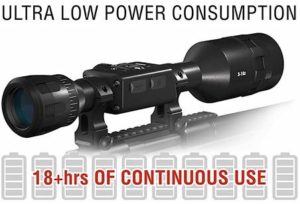 What is the best scope for hog hunting in the market we can buy? Love night time hunting? With the ATN X-Sight 4K Pro Smart Day/Night Rifle Scope, you get crystal clear view of your subjects, specially if you upgrade the IR Illuminator. The night vision performance is simply superb. This scope is not lightweight, but not as bad as a pulsar thermal scope. Eye relief? It's just excellent. We definitely recommend this the ATNX Sight scope as an excellent day/night vision for most hunters.
Ultra HD Sensor – Ultra HD 4K Sensor with our Obsidian 4 Dual Core Processor
Ballistic Calculator
Dual Stream Video Recording
RAV (Recoil Activated Video)
Shadow Tech, LLC PIGlite-CF4 Carbon Fiber Tripod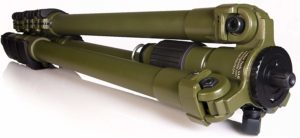 The best tripod for hunting is ideal for most outdoor enthusiasts. With the backpacker and hunter in mind, the PIGlite-CF4 saves weight where it counts. Compatible with both ball heads, and directly mounting the Shadow Tech LLC HOG Saddle or PIG Saddle, the PIGlite-CF4 is a great tripod option for those looking to gain that edge in the field.
The center column can fully rotate 365 degrees
Lightweight aluminum body,
4 section 28mm carbon fiber legs with adjustable cam levers (8 layers of carbon fiber), with a 24lb heavy duty weight rating
A removable, load bearing hook
A short center column
GearOZ Hunting Spotlight Kit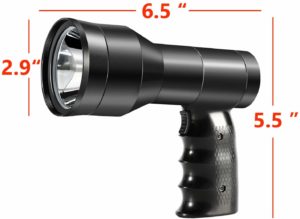 A must-have gear for hog hunting is a top rated spotlight. Lightweight, it's also very sturdy when holding. The handle has a rubber feel to it, so it's not slick metal. Comes with a car charger, the GearOz Hunting Spotlight Kit is easy to use. Let's light up the night sky.
Super-bright LED light with 10W high power, extreme long range 1000 yards visibility
Tactical red dot sight aiming your targets 500 yards away
Equipped with red and green lens for scanning, coyotes, predators, coons, varmints, hogs
4800 mAh rechargeable lithium batteries
Aircraft aluminum alloy body
Durable and waterproof
Switch between 4 different lighting modes
What is best caliber for hog hunting?