Best Horse Blankets (2022)
Should I blanket a horse in winter? You should get a blanket that's well fitted, waterproof in the rain, and rated for the weather. Which is the best heavy-duty horse blankets? Breathable insulation and moisture barrier are your horse's best friend during the winter. Giving your horse the comfort and extra protection is the first thing to do. This review covers everything you need to know before buying the top rated blankets. Your horse it not a pet. Give great love to him with the most comfortable blanket you can afford.
When it comes to choosing a horse blanket for horses, you will have a few choices to choose. Lightweight, waterproof, and size are what to look into before buying horse blankets. Typically, horses can stand against hash weather. Yet, this doesn't mean that a good blanket is not essential at all. A blanket can help protect your horse from insects and aids cooling, too. What is the best horse blanket for winter? Let's read on to find out more!
Also: Best Horse Fly Masks
A List of Top Best Horse Blankets
Weatherbeeta ComFiTec Airflow Detach Neck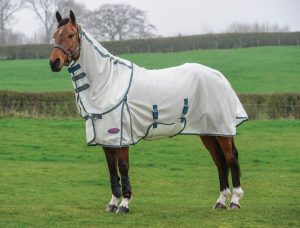 We recommend this Weatherbeeta ComFiTec because we love the nylon lined shoulders that reduce the possibility of rub. The polyester mesh material used for this blank is just great for most horses. Our favorite feature of this product is the removable elastic web leg straps that move and stretch with the horse to ensure comfort and fit. Overall, it's also beautiful.
Soft durable polyester mesh
Elasticized, adjustable belly wrap
Full wrap tail flap and traditional side gussets
Detachable neck
Ezi-clip front closure
Traditional shoulder gussets
Adjustable belly wrap
210T Nylon lined shoulders, mane and tail flap
TuffRider Comfy Mesh Fly Sheet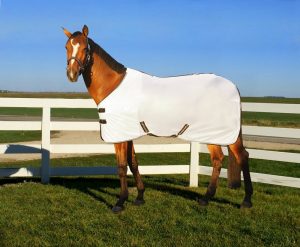 The product is one of the best-sellers for a good reason. The price is just perfect. The shoulder lining that prevents rubbing while giving comfort. In addition to this, the TuffRider Comfy Mesh Fly Sheet can reflects sun's rays about 50% UV protection. This fly sheet gives lightweight insect protection and helps protect your horse's coat from fading. In addition to this, the polyester fabric is also soft for your horse's comfort.
Adjustable low cross surcingles
100% Polyester
Stainless steel twin buckle front closures
The polyester fabric is also soft for your horse's comfort
AMIGO Mio Combo Flysheet 75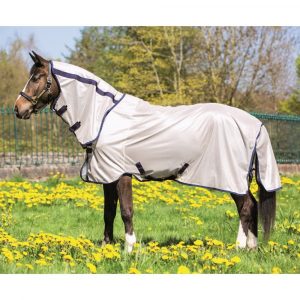 By providing up to 95% UV protection, this Amigo horse blank, made from soft knitted polyester mesh, makes it easy for the horse to breath. And it's very comfortable when covered. Also, it's the best value for the price.
Non-detachable fixed hood
Classic front closures
Fillet strings
Ultra breathable
Patented from leg arch
Integrated neck cover
Rambo Horseware Protector Fly Sheet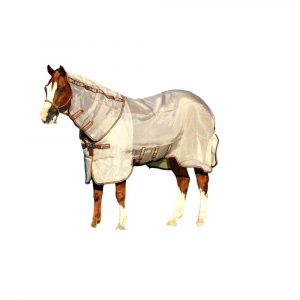 By using durable fabric, the Rambo Horseware blanket will protect your horses against flies and sunlight. Most horse owners use this blanket sheet to minimize fading on their black horse's coat. 
Removable neck cover
Supersized tail flap, leg arches, belly protection, V-front closure, shoulder and mane lining
Made from super-durable Rambo Protector fabric
Super-size tail flap
Belly protection and a neck cover
V-front closure
HILASON 66-84 Inches Horse Fly Sheet Uv Protect Mesh Bug Mosquito Summer Spring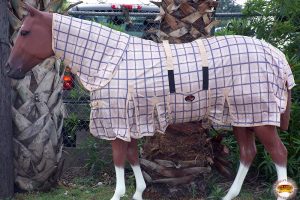 You'll just love this American flag blanket on your horses. It's quite patriotic. Isn't it? In addition to this, this Hilason horse blanket was made with great quality materials to last. This blanket's high quality Poly/nylon mesh will allow air circulation and keep insects and bugs away from your horses.

Double Buckle Front
Neck and belly wrap with "quick grip" closure
Patriotic USA Flag
UV protection for your horseDouble Buckle Front
Neck and Belly wrap with "quick grip" closure
White Plaid
Shires Sweet-Itch Combo Fly Sheet
Breathable and lightweight are the best thing in this horse blanket from Shires Sweet-Itch. If you've got horses with with critical bug bite allergies, then you should get this sheet. Ideally, you can use it for outdoor.
Blocks over 90% of the sun's harmful UVA and UVB rays
Adjustable chest buckle closures
Breathable and lightweight
Blocks over 90% of the sun's harmful UVA and UVB rays
Anti-rub lining on neck, chest, and shoulders
Deep shoulder gussets
Tough-1 1200D Snuggit Turnout 300g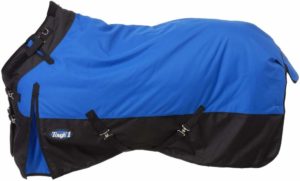 Very easy to adjust, the Tough-1 Snuggit Turnout is also sturdy and warm. This blanket is adjustable, which is great. You can make this fit your horse well! The neck adjustment also keeps this from rubbing him and from hitting nerves. We love this good quality blanket for the price. You can adjust up to fit your horse nicely. You'll just love how you can adjust around the neck to keep wind out better.
Waterproof, coated outer shell with taped seams and seamless spine
Breathable and moisture-wicking
Rugged on the outside while nice and warm on the inside
Horseware Amigo Bravo 12 All in One Heavy Turnout Rug Chocolate/Chocolate & Cream 5-9 by Horseware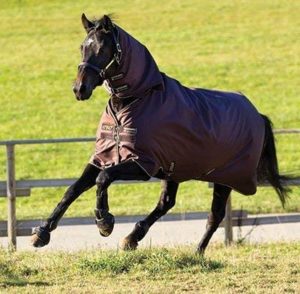 This product isn't cheap. But you'll get the best quality for the price. We love its design, which is mainly for maximum security and comfort. In addition to this, the polyester waterproof and breathable outer are essential.
Seamless neck join
1200 denier outer
400g fill in both the rug and neck
Polyester lining
Horseware Rambo Stable Plus w/Vari-Layer 450g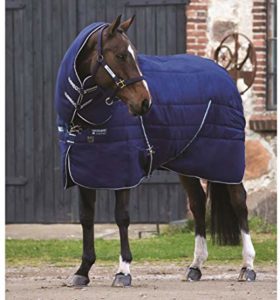 Want to give your horse the warm comfort and protection during winter? The Horseware Rambo Stable Plus is one of the top recommendations in this review. Why? Well, this blanket is really good quality and warm (great for winter). And the price is good too.
Detachable hood included
Comes with vari-layer technology
Includes patented v-front closure
Has microfibre lining and tail flap