If you live in an area with cold winters, waking up to find your car covered in ice or snow can be a frustrating experience. Fortunately, with the right tool, removing the snow or ice from your car doesn't have to be a difficult task.
An ice scraper is a must-have tool for anyone who lives in a cold climate. However, with so many models available on the market, finding the right one can be a daunting task. That's why it's important to do your research and look for a scraper that can provide you with the best service.
When searching for an ideal ice scraper, look for features such as an extendable handle, which can help you reach all parts of your car without straining your back. A versatile scraper that can be used on both snow and ice is also important. Some scrapers even come with built-in lights, which can be a huge advantage when scraping your car in the darkness.
A List of Top 10 Best Ice Scrapers
AstroAI 27" Car Duster Brush and Detachable Deluxe Ice Scraper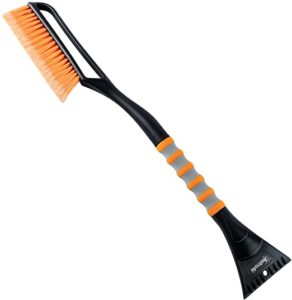 AstroAI 27" Car Duster Brush and Detachable Deluxe Ice Scraper is a handle tool. That features quality construction and performance that you can always rely on. First and foremost, it is a 2 in 1 design that will not only work as an ice scrapper, but it has a detachable end that features a brush that you can incorporate when cleaning your car. It is an ergonomic design that has been incorporated with some good quality material for strength and durability. Not only that but its handle allows for a comfortable grip even after working for long hours. The scrapper head is generously sized to be able to handle a good amount of ice.
Premium Ice Scraper Set (2 Pack) Heavy-duty Frost and Snow Removal
Its construction does not feature a brush like most of its peers The Premium Ice Scraper Set Snow Removal comes features one of the most unique and heavy-duty construction. It is important to note that it is equipped with some of the sharpest blades that will easily sweep the snow without leaving any scratch formation. What I mostly admire about its construction is the small portable design that you can conveniently tag along anywhere. Save cost by purchasing this unit that is sold as a pack of 2.
Hopkins 532 Mallory 26″ Snow Brush with Foam Grip

There is one thing that most people forget to consider when choosing an ice scraper, length of this hand tool. By acquiring the Hopkins 532 Mallory snow brush, this is one thing you will never have to worry about. Unlike other units, it is generously sized, to be precise it features 26 inches a good length to reach tall heights and comfortably scrap off the size. The scrapper head features a sharp blade and an additional ice chippers. This makes it to comfortably dig through and sweep off the ice within no time.
Amazon Basics Ice Scraper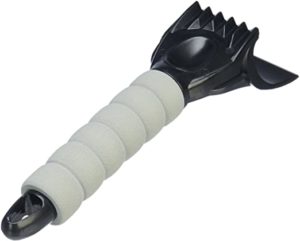 Most large size ice scrapper heads feature 4 inches , but the Amazon Basics Ice Scraper has an extra o.5 inches. That is a good size for not only shoveling out snow but also saving time as it will tackle huge amounts at a go. The head is a special construction that has chippers on the side. They play a major role of breaking the ice into section bringing about flexibility when clearing off snow from your vehicle.
Hopkins Subzero 16621 Ice Crusher Ice Scraper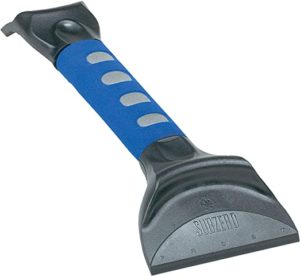 Another one from the Hopkins brand is the Hopkins Subzero 16621 Ice Crusher Ice Scraper. A durable construction that has been embossed with the high-quality material. It is a unique construction that has not only been equipped with a blade and chippers for ice separation. It also has an oval shape on its handle for maximum comfort all through the ice removal process.
RevHeads ICE Scraper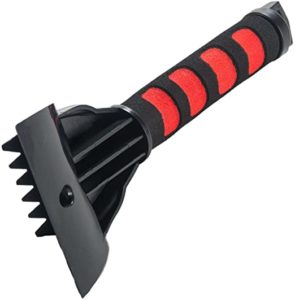 Some of its peers have the capacity to only clear loosely attached and small amounts of ice. This device RevHeads ICE Scraper comes with the most heavy-duty construction to easily rake through big chunks and clear within minutes. It is generously sized in term of length to allow you to comfortably reach heightened surfaces of your vehicles when removing ice. Iit is a heavy-duty construction, quality materials have been incorporated in its engineering. this is a factor that makes this unit not only strong but durable.
Audew Premium Ice Scraper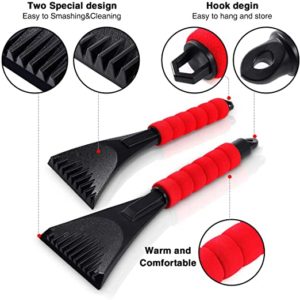 Getting an ice scrapper hand tool that can clear your vehicle without causing damage on the surface is not easy. However the Audew Premium Ice Scraper was specifically build to clean off ice from your vehicle while at the same time maintain its surface quality. With attention to its construction, it is not only equipped with blades, but it features ice gouging teeth for maximum ice removal. Its quality ABS plastic material is strong and will serve you for the longest time possible. Unlike other units that will require you to wear gloves, this unit is comfortable to hold without tiring the hands.
The Better ICE Scraper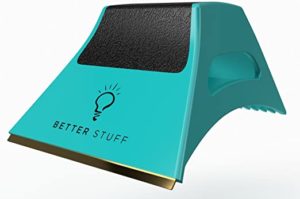 Even though it does not have an elongated handle, the Better ICE Scraper works perfectly. Its construction features amazing uniqueness and different technologies that gives this unit the capacity to over quick and efficient snow cleaning. It is light in weight, and a portable design that is easy to carry and stored away easily.
Mudder Ice Scraper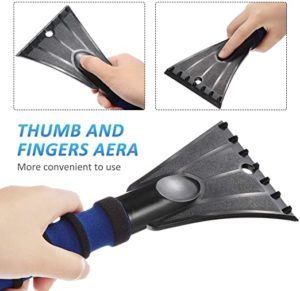 The Mudder Ice Scraper is one of the industry finest hand tool units for ice removal. It has been built with some of the most quality material that give it the capacity to remove ice especially from your windshield without causing scratches. On the other hand, its shovel is a unique design that will clean up the hard-mounted ice with an application of very little effort. Its handles are a foam grip design that offers good friction and is comfortable to hold.
OxGord 2-in-1 Ice Scraper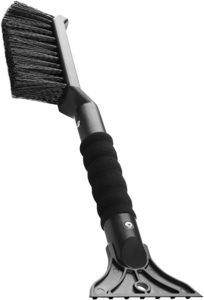 This is a versatile tool that does not only comes with the capacity to scrape out ice but turn it around and use its brush side to brush out dirt from different spaces. It is one of the few ice scrapper hand tools that features both a plastic and aluminum construction. This is a quality construction that besides strength its durable and will serve you for the longest time possible. It is a compact design that will easily fit into any trunk or can easily be stored away in the home storage unit.
Also Recommended: Best Wet Weather Tires