The Best Iron Plant Stands
To showcase your beautiful plants and flowers in your home, it is important to have a high-quality steel plant stand that will not only hold them securely but also add to the overall aesthetic of your space. A well-designed steel plant stand can bring a touch of elegance and sophistication to any room in your home.
Whether you have a small or large plant, the right steel plant stand can make all the difference. With a sturdy and durable construction, you can rest assured that your plants will remain safe and secure. Plus, steel plant stands are easy to clean and maintain, making them a practical and stylish addition to your home decor.
From classic to modern designs, there are various steel plant stands available to choose from. With different sizes, shapes, and colors, you can easily find the perfect one that suits your preferences and complements your home decor. Invest in a high-quality steel plant stand today and elevate the look and feel of your home.
A List of Top Best Iron Plant Stands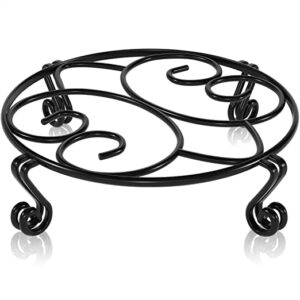 From its beautiful name, it is definitely one of the best steel plant stands on amazon. With its round base and coiled rings, it is outstanding not forgetting its black layout. Also, it is able to hold your desired plant because of its strong nature and support it very well.
Available in Black and Brown with different sizes
For indoor or outdoor
Strong and sturdy
Amazon Basics Plant Stand, Black

With an average rating 4.5, the Amazon Basic plant stand is outstanding. The tall and slim design fits easily into a corner, in front of a window, on a patio, or in an entryway.
Good price
Ideal for indoor or outdoor use
Achla Designs VTT-01 Round Trivet Wrought Iron Plant Stand, Graphite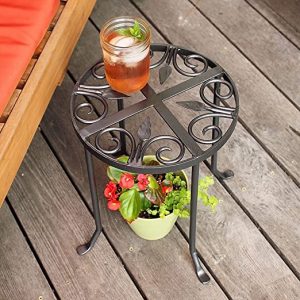 Having a round shape with a flat bottom, the Achla iron plant stand is a great deal. First, it has a 4 legged stand that supports the weight of the plant placed on it. Having a wider circumference, it is able to hold large volumes of flowers and any desired plants. Furthermore, this metal plant stands have a Graphite powder coated finish, giving them the natural look of wrought iron. And it is durable and weather-resistance.
It can be placed outdoor or even indoor.
High-quality, beautiful plant stands.
The Ikea Socked Plant Steel Stand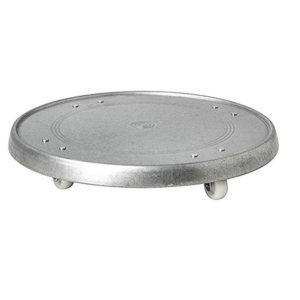 This plant stand is galvanized with steel to make it more stronger. Especially, it is rated at 4.5 by most users, the Ikea Socked is outstanding. Therefore, it provides great features including a flat top that is steel coated and the best part of it is that it can support any weight because of its strong nature.
Wider surface area to hold larger plants.
This steel plant stand can be placed at strategic positions in your home for beauty.
AISHN Metal Plant Stand 4 in 1 Potted Irons Planter Supports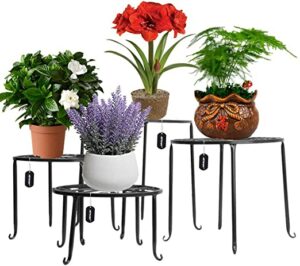 The AISHN Iron Plant Stand 4 in 1 is very stylish and make you feel the nature touch to your home. The plant stand comes with high quality iron thick wires. Therefore, it can bear heavier plants pots or other planters.
Moreover, this plant stands is designed with 4 supporting points which will make flower pots stand stably. And it is just perfect for larger planters.
Comes with different sizes and colors
Very solid and sturdy
Mkono Plant Stand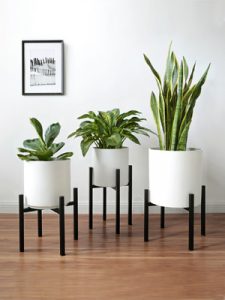 Mkono Plants Stand is inspired by the 1950's. It is sturdy and well-built with a classic mid-century style. Therefore, they are easy to put together and take apart. Importantly, it keep plants from falling or being knocked over by kids or pets.
To add on, with this elegant and modern style, offering a relaxed feel to your family and guests with its blooming greenery.
Simple style with modern design
Functional and Practical
Easy to install
Metal Plant Stand Multiple Flower Pot Holder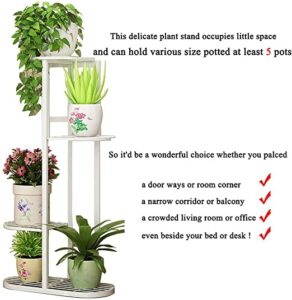 This iron plant stand is a pure hand-made. To begin with, this flower stand is made of 100% IRON, smooth and no burr, mildew moisture, easy to care and wipe. Also, it can easily hold 30 kg/ 66 lb weight in total.
Last but not least, this multi-functional flower rack is not only a flower rack, but it can also use as a book shelf, display stand, shelf, decorative stand, etc.
Rust-resistant and durable
Easy to assemble and easy to move
Sorbus Garden Cart Stand & Flower Pot Plant Holder Display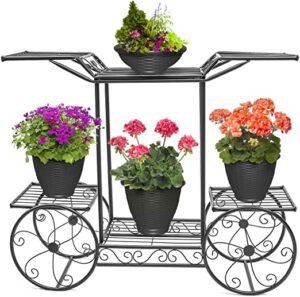 Unlike the other plant stand, this Sorbus Garden Cart Stand is special. First, it is well-design with a Parisian style cart which make your garden more lively and attractive. Furthermore, this charming multi-level planter stand is sturdy and durable. And, there are 6 levels for storage and display (3 upper, 3 lower levels).
Perfect for home and garden lovers
Multipurpose
Stylish and decorative
Metal Potted Plant Stand with Iron Art Planter Holders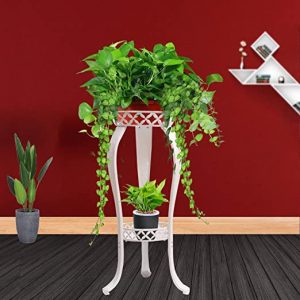 This iron plant stand has a beautiful design Arch Bridge Design potted Stander for home and garden lovers. First, it can use for both indoor and outdoor stander. Then, the design of the stand is just perfect and elegant. Furthermore, the hollow top tray prevent water from gathering at the bottom of your planter and help the plants breathe better.
Durable, safe, easy to clean and remove.
Very easy to assemble.
Space saving
Max weight: 5kg*2/11lb*2
unho Metal Plant Shelf Flower Display Stand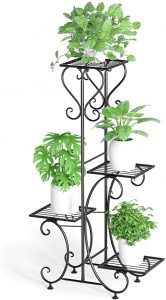 With an elegant look of the unho iron plant stand create a taste of European style. Moreover, this Pure hand-made outdoor flower pot stand is made of stainless steel. As a result, it is fine plated for rust-resistant and durable. The maximum weight hold of 40kg total(each tier 8-10kg). And it is suitable for most medium-sized flower pots and planters.
Color: Black/White
Material:Iron
Size: H*W – 36.8*20.6 inch
AISHN 3-Tiered Scroll Classic Plant Stand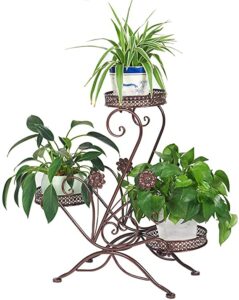 Introducing another classic AISHN 3-Tiered Scroll Plant Stand. To begin with, this plant stand is a great home and garden decor item. The great point is that it comes with 3 different colors which is White, Bronze and Black.
Multi-level plant stand
Dimensions: 23.62″ L*10.03″ W *26.8″ H.
Related Reviews: