A digging spade is a versatile and essential tool for any gardener or homesteader. It can be used to dig holes for planting, turn over soil, and remove weeds. With its sharp blade and sturdy handle, a digging spade can make garden maintenance a breeze.
When choosing a digging spade, it's important to consider factors such as the material, size, and shape of the blade. Stainless steel spades are a popular choice due to their durability and resistance to rust. However, there are also high-quality spades made from other materials like carbon steel or aluminum.
To ensure you choose the best digging spade for your needs, it's important to read reviews and compare different models. Look for features such as a comfortable handle, a sharp and durable blade, and a size that is appropriate for the tasks you plan to use it for. With the right digging spade, you can make gardening tasks more efficient and enjoyable.
[ Best Haws Watering Cans for Gardens ]
A List of Top Best Stainless Steel Digging Spades
BOND LH015 SHOVEL (MINI-D HANDLE)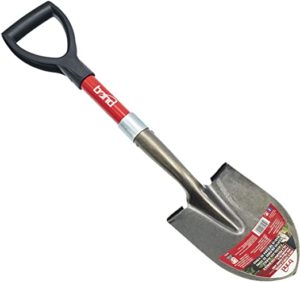 The bond LH015 is one of the best stainless steel digging spade. It has a D shaped handle for improved handling. The digging shovel comes with a heat treated head which makes it more durable.
Stainless steel handle
Lightweight
Powder paint coat finish ensures its rust resistant
Comfortable spade and non-slip gripping
SPEARS & JACKSON STAINLESS STEEL SHOVEL

The stainless steel shovel has a traditional design. The head of the spade is made from well polished stainless steel head. The head design ensures the spade is rust proof. The handle is split to give a user adequate gripping. The spade can be used in any weather.
Handle is made from hardwood timber
Well machined and polished for durability
NEVERBEND SPEAR & JACKSON DIGGING SPADE

This is one of the best stainless steel digging spades you can get. It has a well machined and stainless steel head. This ensures it can work for long with less rust effect. The shovel has a hardwood shaft which is well polished. The design makes it capable of withstanding harsh weather conditions.
Longer handle for easy handling
Great grip design for precise digging angle
208 PRO ERGONOMIC FLORAL SHOVEL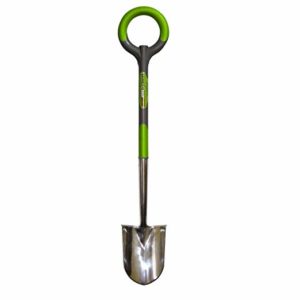 The shovel comes with a strong head made from stainless steel. The 208 pro ergonomic shovel design won an award for being the best floral spade. It's best suited for flower gardens and seed beds. The shaft is made from carbon steel with an O-handle. The handle gives a better gripping surface which reduces wrist strain.
The handle is made from a thermoplastic material
Comfortable gripping
JOSEPH BENTLY STAINLESS STEEL SPADE

If you need a light and small shovel, the Joseph Bently spade is one of a kind. Its design makes it useful for use in tight spaces. It's lighter and smaller when compared to the standard shovel. The handle has a YD design and has a rebate. This improves its gripping and makes it comfortable to use. There are treads on the edges of the shovel. The treads help in improving its soil penetration capabilities.
Made from stainless steel material
Wooden made handle
Light and portable
Trazon
Portable Folding Snow Shovel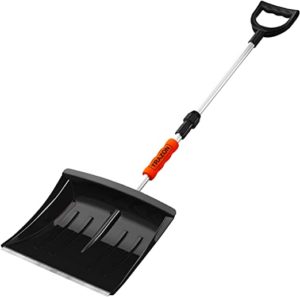 One of the best-sellers, the True Temper is a perfect snow shovel. Moreover, the handle is made of high-performance aluminum that is strong and reliable, yet lightweight enough to prevent fatigue.
Lil' Digger 29″ Heavy Duty Double Serrated Shovel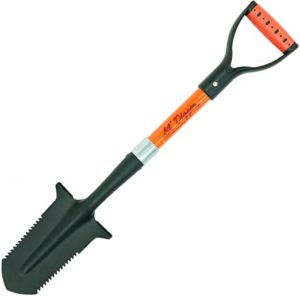 It is 29 inches long and 6 inches wide and under 3 pounds. Blade is 4″ x 8″ with a slight angle to the sides to engage the serrated saw teeth when pushed into the soil. Furthermore, it provides larger steps.
Long center spine adds rigidity and strength.
Best for Gardeners and Landscape professionals as well people who enjoy camping, off roading, metal detecting and survivalist.
Imperial Group LT0162 Ash Shovel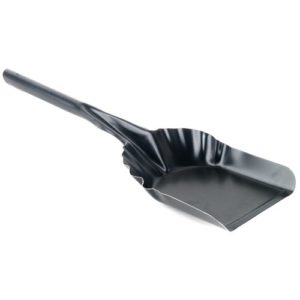 You'd need this for a camping trip to make coal or ash removal every morning easier.
Strong and sturdy for heavy duty digging
Lifeline Aluminum Sport Utility Shovel, 3 Piece Collapsible Design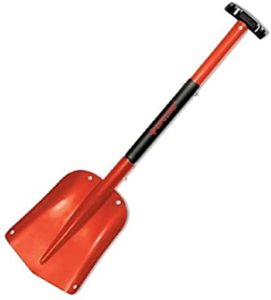 Best scraping stepped or driven on snow, The Lifeline handle is comfortable. And it really feels like it's going to last forever.
Rust-proof and durable
Ideal for transporting large of materials like soil, mulch, rocks, gravel, or sand.
Radius Garden 22011 Root Slayer Shovel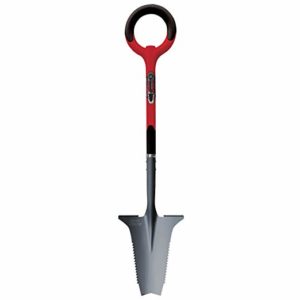 The best digging tool every garden should have. Why? Stronger and incredibly well-designed than others. You can exert all your weight on the shovel on the down-stroke.
sharpened "Inverted V"
150% stronger than comparable tools by an independent testing laboratory