If you're a homeowner looking to declutter your outdoor space, a storage bench can be your best friend. These benches are packed with room to store tools, gardening equipment, and other bulky items that might otherwise clutter up your yard or patio. But with so many options available, how do you choose a storage bench that will stand the test of time?
When selecting a storage bench, it's important to consider your specific needs. Look for a bench with enough room to store all of your necessary equipment, whether you plan to use it indoors or outdoors. If you're planning to keep the bench outside, make sure it's resistant to weather and rust, ensuring a long-lasting investment that will serve your family well for years to come.
Luckily, there are plenty of high-quality storage benches available that won't disappoint. These benches offer both style and functionality, providing you and your family with a comfortable and organized outdoor living space that will create many happy memories.
A List of Top 10 Best Storage Benches
Ulax Furniture Outdoor Storage Bench Rattan Style Deck Box w/Cushion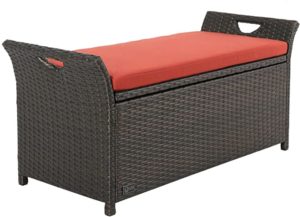 The Ulax Outdoor Storage Bench withstands the test of time and holds up against any weather. With dimensions of 38″x18″x19.5″, the chest can store tools, pool supplies, and/or gardening equipment. Plus, it's constructed of all-weather, UV-resistant wicker to ensure a reliable long-lasting bench.
Product Specifications:
Durable Solution-Dyed Fabric Cushions
Lightweight Easy Transport Design
Convenient Side Handles
Pros:
The wicker storage chest's stylish design accentuates patio furniture and outdoor decor.
This bench includes a heavy-duty steel frame that allows two or more people to sit upon.
Cons:
Requires patience and time to assemble.
Festnight Wooden Outdoor Storage Bench Acacia Wood Garden Patio Deck Storage Container with Cushion Seat Armrest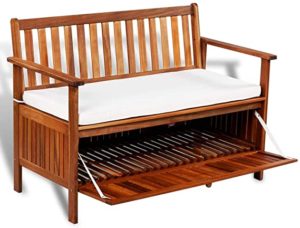 This Wooden Storage Bench by Festnight has a quaint rustic charm. It also has a thick upholstered cushion to provide comfortable seating for 2 adults. Thus, making a great addition for patio decks or poolside enjoyment. And unlike other storage benches, this one's made of 100% pure acacia wood. Helping it to withstand normal wear and throughout the test of time.
Product Specifications:
2-In-1 Multifunctional Garden Bench
Large 43.3" x 19.9" x 10.2" (W x D x H) Storage Space
Light Oil Finish
Soft Plush Seat Cushion
Pros:
The spacious storage compartment can hold a wide variety of items.
Bench's armrests & backrest provide comfort while enjoying the great outdoors.
It is easy to assemble and allows for well-organized storage
Cons:
Assembly instructions are somewhat difficult to understand.
Suncast Elements Loveseat with Storage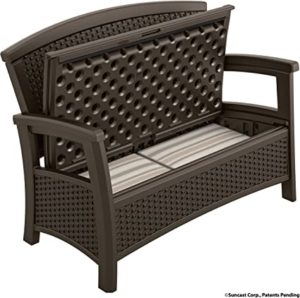 Known for its high-quality outdoor furniture, Suncast presents the Loveseat Storage Bench. With the consumer in mind, they added extra seating capacity and storage space. Aside from its unique design, bench contours to one's back curvature for added support. Making a great gift for parents and grandparents alike!
Product Specifications:
Multi-Wall Resin Construction
Storage Capacity Of 23-Gallons
Contoured Air Cushion
Ergonomical Design
Pros:
Available in Java, Taupe, and White, making the perfect fit with other patio furniture.
Its resin construction withstands against rusting, warping, and denting.
The surface of this Suncast storage bench is easy to clean & maintain.
Cons:
The bench does not fare well in places with blizzard-like conditions.
Step2 Outdoor Storage Bench – Durable Garden Deck Seat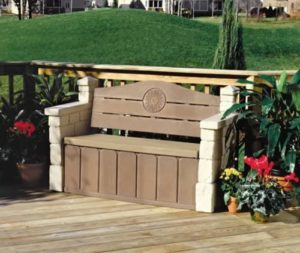 Composed of weather-resistant polyethylene ensures Step2 bench to be strong and durable. Built to hold up to 400 lbs, gives the ability to place planters on and still have room to sit. Ideal for those who give frequent outdoor parties and cookouts on the backyard grill!
Product Specifications:
5-Cubic Feet Storage Space
Maintenance-Free Design
Dimensions Of 53″ L. x 24″ D. x 33″ H.
Pros:
Step2 outdoor storage bench has very few parts and is easy to assemble as well.
Has 5-cubic feet of storage room for keeping basic garden accessories and much more.
The vintage stone design gives a classic appeal to any yard or patio.
Cons:
Is not good in areas where there are a lot of woodland creatures as they tend to make it their nest.
Leisure Season SB6024 Wooden Backyard Brown-1 Piece-Patio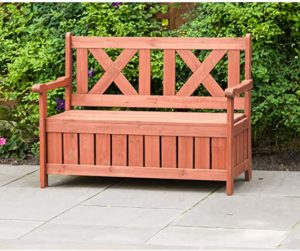 This Wooden Outdoor Bench by Leasure Season is simple yet, stylish. Made with 100% authentic Cypress Wood, the bench will hold up against fading and warping. Plus, its elegant country design looks homey on a front or back porch. Providing a comfy cozy place to sit on those warm sunny days.
Product Specifications:
100% Money-Back Satisfaction Guarantee
Storage Capacity Of 41″w x 21″ D x 10″H
Efficient Versatile Design
Pros:
Leisure Season storage bench is durable and decay-resistant.
It has a chic rustic look that goes well in one's backyard garden.
Cons:
The bench would be nicer if it came equipped with hinges.
Keter Eden 70 Gallon Storage Bench Deck Box for Patio Decor and Outdoor Seating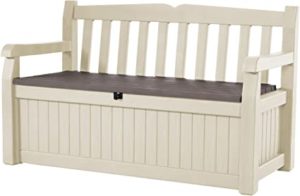 Equipped with 70-gallon storage capacity, the Eden Bench is nice and roomy. And it even includes a locking mechanism that fits standard padlocks. Enabling someone to secure expensive tools and equipment. Plus, it has an easy to clean surface that wipes with a soft damp cloth. Ideal for those with kids or grandchildren who enjoy eating popsicles and messy foods.
Product Specifications:
Weather-Resistant Polypropylene Coating
UV-Protected Resin Surface
Contoured Armrests
Pros:
The Keter storage bench is easy to maintain and never needs paint applications.
Has a special coating that's guaranteed not to chip, rust, peel, dent, or warp.
Cons:
Small insects can get inside of the bench.
Unfade Memory Storage Bench with Cushion Acacia Wood Storage Bench Deck Box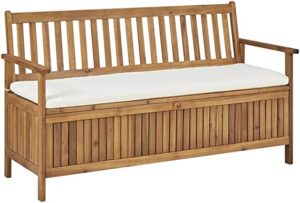 This brown storage bench by Unfade Memory seats up to 4 average size adults. Sit in comfort and style with the extra thick seat cushion. With dimensions of 58.2″ x 24.4″ x 33″ (W x D x H), this bench is capable of holding gloves, garden tools, and a gardening hose. Making the perfect fit for Mom's & Grandmom's alike.
Product Specifications:
Solid Acacia Wood W/Fine Oil Finish
16.9″ Seating Height From Ground
Soft Cream Color Fabric
Easy To Clean Design
Pros:
The entryway bench provides ample storage room and includes 2 sturdy doors.
Is a well-constructed bench that holds up in the rain, sleet, & snow.
Cons:
An overall nice piece of furniture, but would be even better with a padded backrest.
Canditree Outdoor Storage Bench Rattan, Large Storage Box Container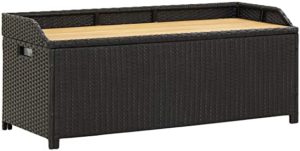 This intricate woven garden bench looks breathtaking along a poolside. Canditree designed it with the consumer in mind. Not only creating a heavy-duty product but one that is anti-rust resistant as well. Thus, holding up during torrential downpours!
Product Specifications:
100% Water-Resistant Inner Lining
Solid Acacia Wood Slats
Easy To Carry Side Handles
Pros:
The protective liner is effective att repelling dirt & moisture.
Thanks to the bench's elevated feet, it provides good air circulation to keep items dry.
Woven rattan's natural wood color adds appeal to a porch or deck.
Cons:
Canditree Rattan Storage Bench could use a higher backrest.
ModHaus Living Contemporary Multitone Brown Outdoor Wicker Storage Bench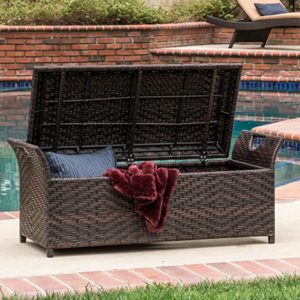 With a spacious interior and nice sturdy lid, the ModHaus storage bench is a real winner. Its versatile design allows for both indoor and outdoor use. Making a good fit in someone's den or in shaded garden areas. The entire storage bench measures 17.25 high x 42.5 wide x 17.75 deep inches. Enabling it to go in smaller areas of the home or garden.
Product Specifications:
18-Pound Lightweight Design
Cut-Out Side Handles
Multitone Brown Wicker
Pros:
The bench is easy to transport with side carry handles.
Blends in well with outdoor patio furniture and home decor.
Cons:
Nice bench but the instructions are hard to understand.
Simpli Home Burlington Solid Wood 42 inch Wide Traditional Entryway Storage Bench with Drawers
The SimpliHome Solid Wood Storage Bench's handcrafted using the finest materials. Unlike the typical bench, this one's equipped with 2 large frame panel drawers! Ideal for a person's bedroom or on an enclosed porch. And the protective NC lacquer finish accentuates the wood grain design.
Product Specifications:
Metal Drawer Glides
Antique Bronze Hardware
Appealing Wooden Design
Pros:
The storage bench comes with 2 roomy easy to open drawers for quick item retrieval.
Antique bronze pulls on drawers enhance the appearance and allow for easy opening.
Cons:
The Bench is low to the ground, making it uncomfortable for those with long legs.