Window shades not only serve a decorative purpose but also block harmful UV rays and provide privacy indoors and outdoors. For those looking for convenience, motorized window shades are a great option. They are easy to operate and offer enhanced control options.
When selecting the best motorized window shade, it's essential to consider the features that will be easy for you and your family or guests to use. This review highlights the top motorized window shades on the market, with a focus on their features, functionality, and price.
By selecting one of the best motorized window shades, you can enjoy increased comfort and convenience while also improving the aesthetics of your space.
A List of Top 5 Best Motorized Window Shades
Graywind Motorized Roller Shades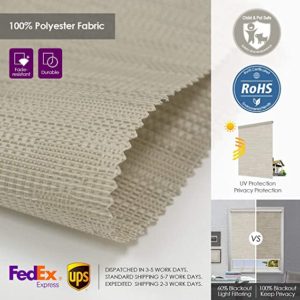 Graywind is the best-motorized window shade, friendly for your pets and kids. Its roller shades are made of polyester and linen mixture of 60 percent, which is durable and does not fade. The linen fabric filters sunlight to glow your room and ensuring absolute privacy. A brand new Graywind comes with an installation manual that makes it easy and quick to install. While installing, you will realize its battery motor is high quality, wireless, and rechargeable for 6hours via USB cable. The shades can be controlled/leveled up and down by a single/multi-Channel remote.
What makes the best motorized window shade is that it is compatible with Alexa and Google Assistant. You can then connect with your Wi-Fi network and control the shades at home and even away from home.
Pros
Environmental friendly for children and pets.
Energy-saving.
Absolute guaranteed privacy.
Blocks UV rays energy, thus reducing temperature.
Cons
The smart bridge requires a stable network for proper functioning.
Yoolax Motorized Zebra Blinds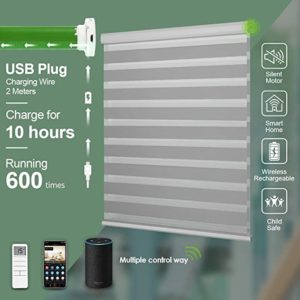 Yoolax is one of the best motorized window shades for the indoor purpose since it is made of 100 percent polyester fabric. It comes with double layer for sheer and privacy. It shades only 80 percent providing the room with a warm light.
The Yoolax Motorized Zebra Blind has a Zigbee motor that can recognize RF signal. Thus, it can be connected to either Alexa or Google Home for easy operation. The motors are silent free, can run up to 600 times, rechargeable for 10 hours via USB cable, and controlled by remote. The Yoolax motorized zebra blinds come with a manual, mounting kits, and a basic program.
Pros
The zebra blinds provide a cozy look for your room.
Easy to install and use them.
The zebra blinds can also be used in combined with curtains.
Cons
Zebra blinds do not provide complete privacy at night.
Graywind Blackout window shades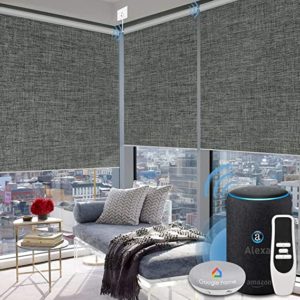 Graywind blackout window shades are made of 100% polyester fabric, durable and fade-resistant. So it can keep out 100% incoming UV rays for absolute privacy and minimizing the light's intensity into the room. The material has 2 surface cloth texture externally and an inner texture layer for heat energy insulation.
The shades are cordless for the safety of children and pets. It is also featured with a high quality inbuilt hardwired motor operated via the remote controller to at most nine shades. The motor is also compatible with Alexa and Google Assistant. Hence, you can manage all the shades via mobile App at any time or home or away from home. Furthermore, it is also easy and quick to install.
Pros
The blackout shades are aesthetic in the room.
Provides absolute privacy
Regulates the heat by keeping out the light out.
Cons
Limited outside view; hence, you need to roll up the shade half-way up.
Kona premium outdoor sunshade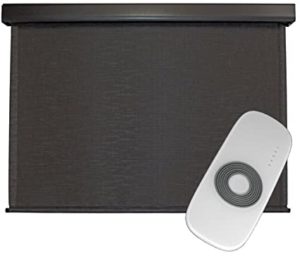 Kona premium outdoor sunshade is unique and the best motorized window shade for an outdoor purpose. Since it is heavy and made from PVC woven fabric that can block 90 percent of the UV rays. Thus, reducing the heat inside your home and saves the AC Bills.
The shade also has a cable tie-down system that can flex if exposed to moderate wind conditions. The shades have a series of greased valence that enables it to be operated outside and inside the house.
The Kona premium outdoor shades motor is also operated via a remote that can control up to 5 shades. The motor battery is rechargeable and durable. If you buy Kona sun shades, ensure that it has an installation manual and factory system operation.
Pros
Energy-saving.
It can withstand extreme wind conditions.
Ensures absolute privacy
Cons
It is expensive as compared to other window shades.
Taiwan Zebra Design Window Shades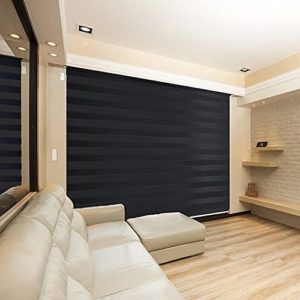 Taiwan zebra design window shades are the best-motorized window shades and certified by FCC as Best for kids. It has a double layer fabric design made of polyester and nylon material to give a shaded effect of 99 percent. The shades can be inclined at a different angle to keep the indoor light soft and transparent, providing a good reading and working environment. It's great for office, conference halls, home, and companies. The shades' speed is great for safety purposes. You can remotely motorize for separate or multiple curtains simultaneously. The remote works best at a range of 6 meters. Yet, it can be handled if there is no battery.
Pros
Can be operated both manually and automatically
Suitable for office and conference halls
It is environmentally friendly for children and pets
Cons
Cleaning the shades needs to get a professional cleaning service.