The Best Mountain Bike Tailgate Pads
Are you a mountain biking enthusiast with a truck or van? Look no further for a reliable and efficient solution to transport your bikes – a mountain bike tailgate pad. Not only does it protect your vehicle, but it also allows you to transport multiple bikes at once.
Tailgate pads are an excellent option for short distance travel, providing a cost-effective and secure way to transport your bikes. We've compiled a list of the top quality mountain bike tailgate pads to help you make the right choice for your needs.
Hit the trails with your friends and enjoy the ride knowing your bikes are safely secured with one of these tailgate pads. Take a look at the different types available and find the perfect fit for your truck or van. Happy Trails!
Best Overhead Garage Storage Racks
A List of Top 10 Mountain Bike Tailgate Pads
Yakima – Gatekeeper Tailgate Pad for Full-Sized Truck Beds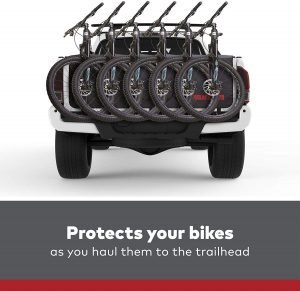 First, on our list of 10 Best Mountain Bike Tailgate pads is the Yakima Gatekeeper! Equipped to carry 6 full-size bikes, great for those with large families or an endless amount of friends. Easy to install, this tailgate pad straps onto most model trucks within minutes.
Product Specs:
Sight Tight Cradle, Prevents Sliding & Shifting Bikes
Velcro Cradle Closure System
Pros
Extra Soft Felt Backing Protects Your Truck's Paint Job
Rugged Nylon Outer Material Resists Abrasion & Weather Damage
Cons
Bikes Shift On Tailgate Pad During Travel
ElfAnt 54″ Waterproof Tailgate Pad with Tool Pocket Secure Frame Straps
Unlike similar items of its kind, the ElfAnt 54″ Waterproof Tailgate Pad has an additional tool pocket. Coming in handy for those unforeseen mountain bike repairs. With dimensions of 54″, making it ideal to carry up to 5 bikes at a time.
Product Specs:
Flexible Padding
Heavy-Duty Vinyl
Pros
Bikes Remain Securely In Place With Integrated Bike Separation
Gear Can Be Stored Securely,
Cons
Straps Wear After Several Years Use
MICTUNING Tailgate Pad for Trunk
Receiving 5 STAR Reviews, the MICTUNNING Mountain Bike Tailgate Pad transports your bikes with ease. Equipped with concave slots, it stores and carries two-wheel modes of transport safely to their destination!
Product Specs:
5 Bike Fixing Straps
Soft Flannelette Inner Layer Padding
Pros
Double Closed Design With Zipper & Magic Sticker, Making For Safe Easy Storage
Has An Outer Layer Made Of PVC Laminated Cloth, Being A Strong & Durable Tailgate Pad
Cons
Somewhat Costly But Worth The Money
Alfa Gear No Color Fading No Scratch Heavy Duty Nylon Soft Folding Tailgate Pad
Easy to install and remove, the Alfa Gear a highly sought after Mountain BIke Tailgate Pad! Guaranteed not to fade or scratch, making it an awesome deal for its great low price.
Product Specs:
Super-Soft Velvet Fabric, Protecting Car's Paint
Lifetime Warranty
Pros
Easy Folding Tailgate Pad For Transporting Long Gears
Has A Weight Capacity Of 100 LBS
Cons
Is Not Able To Carry More Than 2 Bikes At A Time
MNJ Motor Tailgate Protection Pad with Bike Fixing Straps
With a dimension size of 54 inches long x 7.5 inches wide x 16 inches tall, this MNJ Motor Bike Tailgate Pad is an excellent choice! Constructed of heavy-duty PVC outer layer with cushiony flannelette interior; making the MNJ both wear & corrosion resistant. Lasting throughout the test-of-time and years of bike toting.
Product Specs:
5 Concave Slots W/Bike Fixing Straps
Double Storage Closure W/Zipper
Pros
Designed For Quick & Easy Installation and Storage
Has An Open Design For Easy-Access To Your Tailgate
Cons
Is Not Compatible With All Vehicles
CyclingDeal Pickup Tailgate Tailwhip Pad
Equipped to hold multiple mountain bikes, the Cycling Deal Tailgate Tailwhip Pad is rated #1 in its class! With an ultra-soft underside, it helps protect a truck's tailgate paint. Helping to prevent any unsightly scratches from occurring.
Product Specs:
3/4″ Foam Pad W/PTV Waterproof Trap
5 Bike Carrying Capability
Pros
Tailgate Handle Access Flap Allows The Tailgate To Remain Open While Its XXL Tailgate Pad Is Attached
Effectively Protects Mountain Bikes & Vehicle During Transport
Cons
Is Not Compatible With All Vehicles
Leader Accessories Hitch Mounted 4 Bike Rack
Just as their name suggests, Leader Accessories is the top manufacturer of automobile bike racks. Including this 4 Bicycle Carrier Rack that's compatible with most small and large size vehicles. Making it a highly sought after item for mountain bikers!
Product Specs:
Dual-Arm Mounting Design
Easy Fold-down Arms
Pros
Easy Tilt-Down Access Rear Rack That Fits 2-Inch Standard Hitch Receivers
Dual Compound Tie-Down Cradle, Provides Bikes With Optimum Protection & Security
Cons
* Is Not Compatible With Cars That Have Spare Tires On The Back
Race Face Tailgate Pad in-Ferno, L/XL
Safely transport your mountain bikes with the Race Face Tailgate Pad! Able to hold 6 small, medium, large, and X-large bicycles under 62 inches. Ideal for large families who carry bikes of different sizes.
Product Specs:
DWR Treated Materials
Micro-Brushed Inner Lining
Pros
Comes With A 2 Year Manufacturer's Warranty
Cons
Tailgate Pad Is Overly Large For Certain Vehicles
Kraken Tailgate Pad for Mountain Bikes
Equipped with a heavy-duty vinyl cover exterior, the Kraken gives you your money's worth. Holding up through years of mountain bike toting, this tailgate pad is a guaranteed Best Mountain Bike Tailgate Pad Winner.
Product Specs:
Thick Tailgate Padding
Tailgate Handle Access Flap
Pros
Is Compatible With All Bike Styles
Effectively Protects Bikes and Vehicle
Cons
Strapping Down Bikes Can Be Challenging
Bzon Pickup Truck Tailgate Pad
Leaving the BEST for last, we present you with Bzon's Pickup Truck Tailgate Pad For Mountain Bikes! Backed up by a 30 day 100% Satisfaction Guarantee, giving the user sufficient time to try it out. Plus, the thick durable padding w/heavy-duty vinyl cover ensures no damage to your truck's paint.
Product Specs:
Tailgate Handle Access Flap
Oxford Made Protective Layer Between Straps & Tailgate
Pros
Its 54″ Frame Holds Up To 5 Mountain Bicycles
Cons
The Vehicle's Paint Will Scratch Without The Protective Strap