Best Multi Tools for Survival (2022)
Do you want to stay prepared for any emergency when hiking, trekking, fishing, or camping? If that is the case, a multi-tool is a handy piece of equipment. Besides using it for outdoor adventures, the tool is also useful during a cocktail party. The integrated bottle openers that become useful when you want to open wine or beer. But multipurpose tools on the market, selecting one product isn't an easy task. Hence, I did some research and settled for the 5 best multi tools for survival. These products are a perfect combination of durability, portability, versatility, ergonomics, and safety.
How useful are multi tools? The best multi tools for survival can help you handle a range of tasks. Yet, with a low-quality tool, handling such duties can get complicated and time-consuming. I recommend that you avoid such experiences by acquiring one of the reviewed items.
A List of Top 5 Best Multi Tools for Survival
LEATHERMAN, FREE P4 Multitool with Magnetic Locking
First thing first, it's very handy for most people. The build quality and design make this Leatherman multitool easy to use.
Magnetic closing and outside-accessible tools
Newly designed cam locks
25-year warranty
QuntionSt Camping Gear Multitool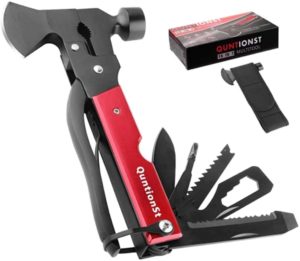 Are you looking for a cool and unique gift for outdoor enthusiasts? For those who love hiking, camping, or fishing, the QuntionSt Camping Gear Multitool is an ideal tool. It comes with features that makes it useful at rescuing you from various hurdles. Let's have a look at some of these features.
16-in-1 outdoor multi-tool
This is a 16-in-1 tool. It acts as a mini knife, screwdriver, plier, bottle opener, axe, wood saw, hammer, wire cutter, hex wrench, safety lock, hatchet, 2-model plier, fish descaler, file, among others. As a result, you can get it with an assurance that it will help you handle a variety of duties.
Heavy-duty construction
What's more, the multi-tool features a heavy-duty construction. It is made using stainless steel material. This material is coated using a black oxide coating to protect it from rust and corrosion. Adding to that, there is a red anodized aluminum handle. The lightweight design of the handle makes it easy to maneuver. It also offers a secure grip to ensure safety.
Lightweight & Convenient
Despite the lots of tools that this gear carries, it is compact and lightweight. The tool measures 6.8″ X 3.5″ X 0.9″ while it has a 15 ounces weight, thus an ideal choice for carrying in a backpack or gearbox.
AOKIWO Emergency Survival Kit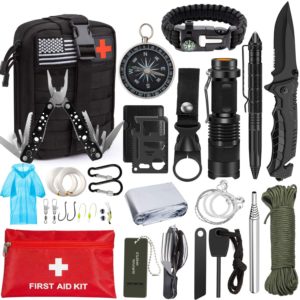 An ultimate survival kit to help you deal with any kind of emergency is the Aokiwo Emergency Survival Kit. It is designed for use by hikers, firefighters, the military, medics, campers, police, among other outdoor enthusiasts. You can use the survival kit for cars, bikes, motorcycles, or for survival during natural disasters.
47 pieces of survival gear
This kit comprises of 47 pieces of gear. In particular, it has 28 bits of emergency survival gear, 10 pieces of fishing tools, 16 pieces of medical supplies, and a 4-in-1 pouch. Also, the survival kit includes a first aid kit. This kit houses approved first aid supplies for emergency treatment and to help you deal with wounds to avoid infections.
High-quality gear bag
Besides the survival gear, the Aokiwo Emergency Survival Kit comes with a 4-in-1 Molle EMT pouch. The pouch is made of military-grade 1000D nylon for durability and water resistance. Also, the bag is small but with a large capacity for portability and easy organization of the supplies. The bag includes MOLLE-compatible straps with strong snaps. The benefit of this is the ability to attach it to MOLLE-compatible gear for convenient transportation.
Gerber Suspension-NXT Multi-Tool with Pocket Clip
I love the slimmer design. The tool pack is great for most people. It comes wire stripper, medium flathead driver, awl, file, and ruler. The needle nose pliers are spring-loaded to lessen hand fatigue for the user. The sturdy pocket clip allows the tool to rest deep in pocket or securely on belt when not in use.
GOGOTIT Survival Tool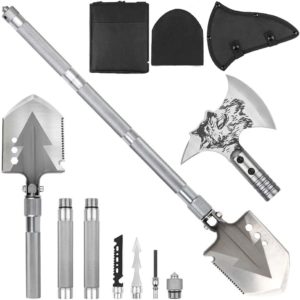 And finally, comes in the final product in this review, the Gogotit Survival Tool. This tool combines multiple survival tools, including an ice ax, hoe, safety hammer, shovel, fire bar, whistle, and knife.
Premium Construction
This tool features a premium-quality construction.
All parts are made using premium carbon steel to protect it from rust or corrosion. This material ensures that there will not be bent or broken parts so that you can get it with an assurance of durability and reliability.
Ergonomic design
Another benefit of the Gogotit Survival Tool is its ergonomics. Ideally, the tactical shovel is designed in such a way that it can reduce wrist strain and hand fatigue. Also, it features an anti-skid handle that offers a secure grip for a safe and comfortable user experience.
Portable design
The best multitool for survival must be one that allows you to carry it anywhere you need it. To meet these demands, this tool is foldable and lightweight for portability. Moreover, it is foldable and supplied with a storage bag for efficient carrying wherever it is required.