Spending time with loved ones outdoors in the yard is a wonderful experience. While your kids splash around in the pool, you and your friends can relax on the patio with a refreshing cocktail in hand. If you're thinking about upgrading your patio furniture, investing in a high-quality patio dining set is a great place to start. But with so many options available, it can be overwhelming to choose the right one.
Fortunately, we've done the research for you and put together a comprehensive review of the best patio dining sets on the market. From sleek and modern to classic and timeless designs, there's something for everyone. By considering factors such as durability, comfort, and style, you can choose the perfect dining set to suit your needs and budget. So sit back, relax, and enjoy your beautiful new patio dining set with your loved ones.
A List of Top 10 Best Patio Dining Sets
Flash Furniture Nantucket 6 Pieces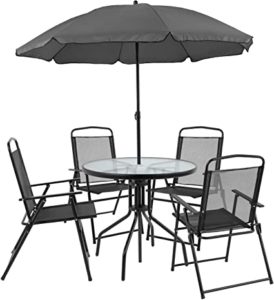 This patio dining set is great to take advantage of the warm weather to eat your meals and enjoy drinks on the patio. This dining set comes with an umbrella. You will find this unit being easy to assemble, and you can do it in a matter of minutes. Moreover, the chairs are already fully assembled.
Devoko Patio Dining Set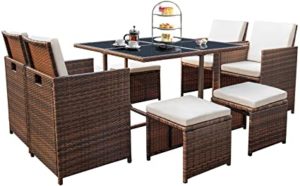 The design of this patio dining set can do well with any given backyard or garden. The modern design can complement any particular space. Moreover, the durable construction means this unit will be a favorite for you. This dining set is best for garden, lawn, balcony, swimming poolside, and outdoor patio. The dining se includes 1 table, 4 ottomans, 12 cushions, and 4 single chairs. It also comes with a manual and instructional video to help you assemble it.
Best Choice Products Patio Bistro Dining Set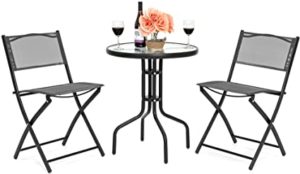 This is a compact set that is small enough to fit any given patio, balcony, garden, deck, and more. Ideally, it is designed to create a feel of dining in a café at home. It has foldable and lightweight chairs that are easy to store and move. In this way, it helps save you energy and space. Also, they have a durable frame that is UV-resistant and rustproof. Thus, this patio dining set is going to last for long.
Mainstays Albany Lane Seating Set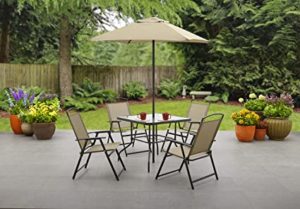 This dining set is perfect for smaller gatherings on patios and decks. It comes with a dining table, an umbrella, and four folding chairs. This set features a tempered glass tabletop for durability and safety. The folding chairs feature a durable-coated finish and sturdy steel construction. That means the set is available in different colors to suit your patio needs.
Best Choice Products Wicker Patio Dining Set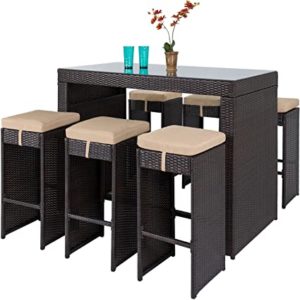 This dining set is designed to comfortably seats four, and it is crafted with a modern, stylish design that can help create an inviting ambiance for outdoor living space. You will also love the fact that it has weather-resistant wicker that is designed to withstand harsh weather conditions. That makes it ideal for outdoor space year-round.
Hallandale Outdoor Furniture Dining Set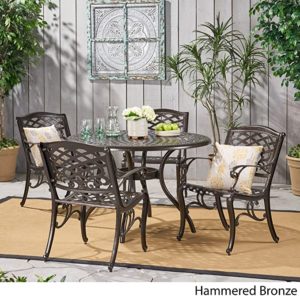 This is a 5-piece dining set that is designed to meet your outdoor patio furniture needs. The high-class set has 4 chairs and a round table and adds style to space without sacrificing comfort. In fact, the chairs fit quite comfortably around the table for the family dining in the backyard. Since it is made of rust-resistant material, it is highly durable.
Walsunny Wicker Dining Set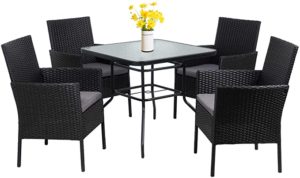 The Walsunny Wicker Dining Set can be used both indoors and outdoors. This patio dining set is functional and stylish with tempered glass and chairs. All-weather wicker is designed to withstand the any weather conditions. You will find it ideal whether you want to entertain guests or enjoy time outdoors.
LZ LEISURE ZONE Patio Dining Set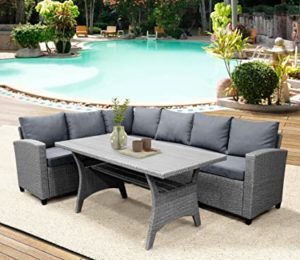 This dining table is simply beautiful and durable. Made of durable powder-coated steel, it can make the chairs and tables durable enough to last a long time. This set highlights the poolside décor or patio. High-quality wicker is strong to withstand any weather conditions for tests of time. Ideally, this dining set us made with coziness and relaxation in mind. The modular lounge and sectional chair comes with thick sponge and padded seat cushions. This dining set is great for backyard, garden, poolside, patio, and any other outdoor space.
Tangkula Outdoor Patio Dining Set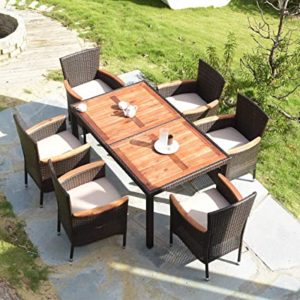 This is a modern dining set that includes six chairs and a table. It is ideal for a dining party with your friends and family. It combines exquisite rattan and the delicate acacia wood. This dining set is eye-catching and fashionable and adds charm to the garden. Its cozy cushions are waterproof to enhance comfy. The cushions are waterproof polyester cover and premium sponge. Since they are made of quality materials, they are ideal for outdoor use. Also, the smooth zippers are washable and removable.
SUNCROWN Outdoor Dining Set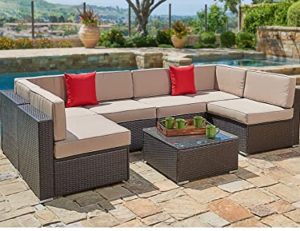 This is a complete dining set that is modern and stylized. A tempered glass tabletop and four chairs, you can a nice time with your family or friends. The all-weather wicker is ideal for outdoor and indoor use. The set is durable enough to withstand wind and rain. It also features a black glass top that highlights your poolside or patio décor. This patio dining set can fit a lot of living space settings and styles. It will only take about 1 hour to fully assemble the dining set.