The Best Portable Wheelchair Ramps
A portable wheelchair ramp can greatly benefit individuals with limited mobility, as it provides them with greater independence and mobility. With a wheelchair ramp, they can easily navigate steps and other obstacles without having to rely on the assistance of caregivers or family members. Moreover, there are now various styles of wheelchair ramps available, including ones that are small enough to fit in a car trunk, and that require little to no installation. These ramps are designed to support wheelchairs, scooters, and walkers, making them a convenient and practical solution for individuals with mobility challenges.
[ Best Mobility Scooters for Outdoor ]
Are portable wheelchair ramps safe? Below we have provided you with 10 best portable wheelchair ramps. Each one is safe and reliable, enabling you to explore the outside world with ease. What you should consider before buying a portable wheelchair ramp:
Dimensions & size
Portability
Pricing
Weight capacity
Portable wheelchair ramps come available in steel, aluminum, wood, and rubber. The typical ramps made of aluminum or rubber. Made from aluminum, it is anti-corrosive and effective at withstanding the weather elements.
Narrowing your product search down helps ease the decision-making process.
These recommended portable wheelchair ramps are beneficial to people mobility issues! They provide the freedom of travel minus any stressful limitations. All are sturdy and include safety features that give you back your mobility.
A List of Top 10 Best Portable Wheelchair Ramps
Clevr 6′ (72″ X 31″) Extra Wide Non-Skid Traction Aluminum Wheelchair Scooter Loading Ramp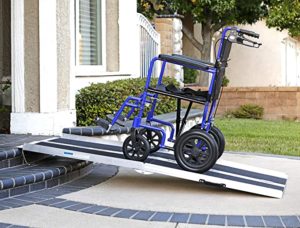 Become more mobile today with the Clevr Extra Wide Wheelchair Loading Ramp! This model can handle both motorized scooters and wheelchairs. Its special grip tape helps prevent slippage and has better traction control. Keeping the user safe in the event of an unforeseen rainstorm.
Features:
Heavy-Duty Safety Pins
Weight Capacity Up To 600 lbs
Built-In Carry Handle
Pros:
The wheelchair ramp requires no assembly and comes ready to use.
Its collapsible design makes for easy portability and can fit in most car trunks.
Comes with safety pins that keep it locked into place and anchor down for added support.
Cons:
Product might not work with certain doorway thresholds.
Ruedamann 5′ x 30″ Non-Skid Threshold Ramp, Portable Aluminum Folding Wheelchair Ramp for Home
With an ability to handle manual & power wheelchairs, Ruedamann's Portable Ramp is extra sturdy. Made from 100% aluminum alloy, it's a reliable wheelchair ramp. There are special hinges which allow for quick storage and transport to and from home.
Features:
Strong Nylon Handle
Black Non-Slip Surface
Anti-Skid Pad
Height Range Of 5.1"-14.8"
Pros:
Ideal for loading and unloading onto porches and curbs
Includes a unique tail-plate design for larger area coverage & better skid resistance.
Has an easy setup design that is quick to fold and unfold.
Cons:
It is only compatible with large size vehicles like trucks & vans.
Fullwatt 3FT Non-Skid Aluminum Portable Wheelchair Ramp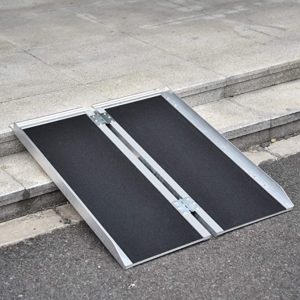 The Fullwatt Non-Skid Portable Wheelchair Ramps constructed of concrete decking. Along with its strong steel frame, this ramp is stable enough to handle thick curbs! Plus, the waterproof design gives you the option of leaving outside. Where it will be safe and sound upon your return.
Features:
Fire-resistant sturdy steel frame
Built-in carry handle
Safety Traction Tape
100% Money Back Refund
Pros:
The portable ramps special traction tape helps prevent slipping & provides added safety.
With a weight capacity of 600 lbs, the ramp is ideal for power scooters & electric wheelchairs.
Cons:
Is somewhat heavy to lift, requiring additional help for those with lessened strength.
Prairie View Industries SFW330 Portable Singlefold Ramp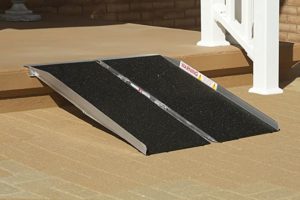 Unlike other portable wheelchair ramps, this one can hold up to 800 lbs! Allowing it to accommodate scooters, wheelchairs, and other motorized vehicles. To ensure your safety this ramp is factory tested and approved. And includes a special Safety Instruction Video to make sure all goes well during setup.
Features:
Heavy-Duty Security Pins
Welded Fabrication Design
30″ Wide Platform
Pros:
The Prarie View Industries ramp weighs a mere 15 pounds. Making for easy carry & transport.
This portable wheelchair ramp has an anti-slip covering w/skid-resistant tape. Adding the greatest amount of traction during inclement weather.
The product's collapsible design comes with a convenient carry handle.
Cons:
It is ideal for going over two-step inclinations. Yet, for an extra charge, there's the option of a 5-foot portable ramp.
OMECAL 4′ Wheelchair Ramp Threshold Portable Ramps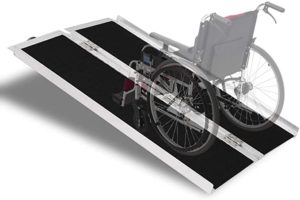 Assembly-free and travel-ready, this 4″ portable ramp by Mefeir is a true winner. Constructed of pure aluminum alloy, ensuring a reliable ramp that resists rust and corrosion. So, it gives you with one of the Best Portable Wheelchairs Ramps. It also has a multi-faceted design for better mobility in home and garden areas.
Features:
Stainless Steel Hinges & Bolts
Secure Grip Slip Resistance
Aluminum Alloy Panel Material
Pros:
Anti-slip back design makes the wheelchair ramp more stable on surfaces.
The collapsible wheelchair ramp has a folding size of 49.2″L x 15.7″W x 3.9″H & fits into most car trunks.
Cons:
Product does not include support attachments for doorways or thresholds.
EZ-ACCESS TRANSITIONS Aluminum Threshold Ramp with Adjustable Height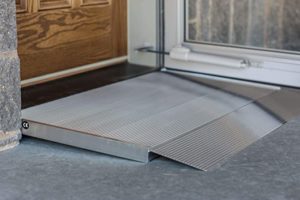 At less than 16 pounds, the EZ-Access Portable Wheelchair Ramp is light and easy to carry. This sturdy ramp is ideal for doorways that swing in & out, single rise steps, and uneven surfaces. Giving the user endless freedom to take along his/her travels.
Features:
Independent Adjustable Legs
Swivel Feet
Anchoring Hardware
Extruded Tread Surface
Pros:
The EZ-Access portable wheelchair ramp is an effective item for extra high doorways.
Its lightweight aluminum design is good for those with back pain & weight limitations.
The adjustable legs allow the angled entry ramp to secure onto uneven surfaces.
Cons:
Feet of ramp begin to rust in areas near saltwater locations.
Koozam Upgraded Wheelchair Ramp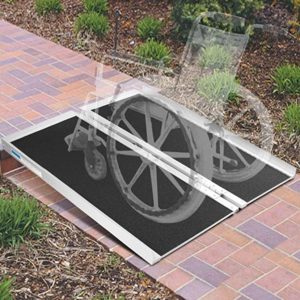 This ramp by Koozam is stronger and more durable than similar items of its kind. With a weight capacity up to 800lbs, it provides safe transport on and off portable ramp surface area. Measuring in at 36 x 31 inches, the ramp is wider than most others and suited for most motor assist vehicles. Allowing you to get around stairs on your wheelchair or mobility scooter with ease.
Features:
Hassle-Free Lifetime Warranty
All-Weather Rustproof Aluminum Ramp
Non-Slip Sandpaper Grip
Pros:
Premium wheelchair ramp that has stainless steel hardware for added security.
It is effective at keeping you safe in any weather condition.
Its quick & easy compact design folds down for stowing away in your vehicle's trunk.
Cons:
This portable ramp is more compatible with cars whose trunks are wide & roomy.
Goujxcy Aluminum Wheelchair Ramp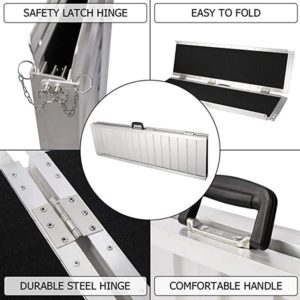 Made with durable welded aluminum construction, the portable ramp by Goujxcy is lightweight. Enabling the user to fold up within minutes and pack away in his/her vehicle. And it has a special handle to provide quick convenient carry from one location to another.
Features:
2 Stainless Steel Heavy-Duty Bolts & Hinges
Users Instruction Manual
Anti-Skid Back Design
Pros:
Optimal grip via its high traction surface
Cons:
It cost an additional $137 for the 8-foot version of this portable wheelchair ramp.
Gharpbik Non-Skid Aluminum Multifold Wheelchair Scooter Ramp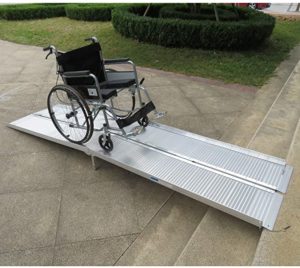 For those who want a reliable wheelchair ramp to get from point A to point B, then this Gharpbik will do the trick. Extending out to 10-feet, it allows user to reach entranceways in no time. Making it perfect for individuals with limited mobility and seniors alike.
Features:
2 Side Guardrails
Rust-Resistant Metal Construction
14.5 Max Slope Angle
Pros:
Gharpbik ramp has 4 individual lightweight sections for easier transportation & storage.
Ease of access for wheelchairs, motorcycles, and other unwieldy transports.
Heavy-duty aluminum alloy
It has a user to glide up sloped inclines
Cons:
This portable wheelchair ramp works great, one setback is the somewhat high price.
ANGEL USA Heavy Duty All Metal Construction Digital Portable Floor Wheelchair Scale Platform with Ramp and Edge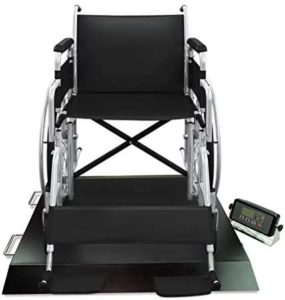 For those who are leary about narrow portable ramps, this one by ANGEL USA will help ease your worries. With a dimensional size of 33″ x 30.5″, it adds extra security and protection. The wheelchair ramps come with 2 guide handles and 2 wheels.
Features:
AC Power Adapter
Flexible Cable Remote W/Wall Mount
Digital Scale
Wide & Low Profile Platform
Pros:
The 2 guide handles and wheels allow for effective vertical transport mode.
ANGEL USA cable remote can provide a tabletop display or wall-mount viewing.
Cons:
Has a weight capacity of 660 pounds & may not be suitable for heavy motorized scooters and like items.