Outdoor cooking can be a straightforward and enjoyable experience with the right equipment, especially when it comes to propane gas grills. The convenience of gas-powered grilling, along with its ability to produce delicious and evenly-cooked food, has made it a popular choice for outdoor cooking enthusiasts.
When searching for the best propane gas grill, it's crucial to consider factors such as heating performance, cooking area, and build quality. With so many options available, it can be overwhelming to select the right one. That's why we've curated a list of the top propane gas grills in the market, taking into account the aforementioned criteria, to make your search easier.
Whether you're a seasoned griller or a novice, our list will help you find the perfect propane gas grill that suits your cooking style, needs, and budget. From compact and portable models to large and feature-packed ones, our selection caters to various preferences and requirements.
Best Electric Griddles for Pancakes
A List of Top 10 Best Propane Gas Grills for the Money
Char-Broil 463377319 Performance 4-Burner Cart Style Liquid Propane Gas Grill, Stainless Steel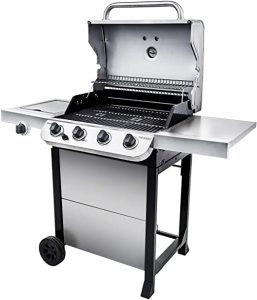 The Char Broil 4-burner gas grill is ideal for most families to use as the master grill. If you're looking for a high performing gas grill with great features, then you should get this. Not for slow-cooking, it's overall the best for grilling. The cooking is amazingly even and the temperature stays very constant.
Pros
TRU Infrared Cooking System
Surefire Electronic Ignition
10,000- BTU Lidded Side Burner
Durable porcelain-coated cast iron grates
443 Stainless steel burners
Cons
Not so easy to put together
Not fast to heat up
Weber 46510001 Spirit E310 Liquid Propane Gas Grill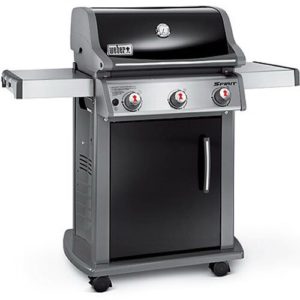 With the Weber Propane Gas Grill, you can cook a 20-pound turkey or roast meats and vegetables at the same time. If propane gas grill would be your first time purchase, this will be best grill you'll have. It's beautiful, well-constructed. If it's your first assembly of a grill, it may take you a couple of good hours.
Pros
The lid open 63-inch by 52-inch by 32-inch
Starts easily and consistently
Cast-iron cooking grates and porcelain-enameled Flavorizer bars
Good value and quality
Cons
Average quality knobs
Installation is a pain
Blackstone 36 inch Outdoor Flat Top Gas Grill Griddle Station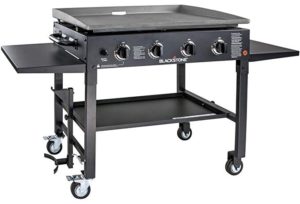 This gas grill is actually a restaurant grade that provides professional quality. You'll like this gas grill for its no fuss ignition. The electric push button igniter is a fast start every time. We really love the build quality of this grill.
Pros
Stainless steel burners make a total of 60,000 BTUs
Simple to use and easy to assemble
Expansive Cooktop
Cons
Customer service: average
Poor quality control and design
Char- Broil Standard Portable Liquid Propane Gas Grill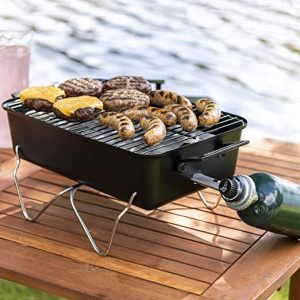 Best value for its price, the Char-Broil Deluxe is not that easy to assemble at first. We like its compact size. Very lightweight, the size is just perfect for grilling for 2 people without having to fire up the big grill.
Pros
Easy start, battery powered push button ignition
Great for grilling and indirect cooking at low temperatures
Cons
Not built to last
Take efforts and time to set it up
Cuisinart CGG-306 Chef's Style Stainless Tabletop Grill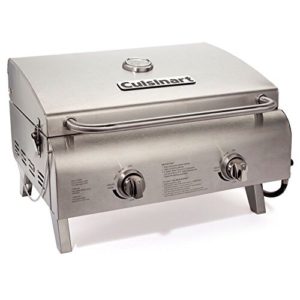 Love to grill? This the best tabletop grill for most people. It's very well built. All stainless, quality fittings, includes a heavy gauge propane fitting.
Pros
Stainless cooking grate
Best for large cuts of meat
Cons
No customer support
Uneven heat distribution
Weber 61086001 LP Genesis II E-335 Liquid Propane Gas Grill, Deep Ocean Blue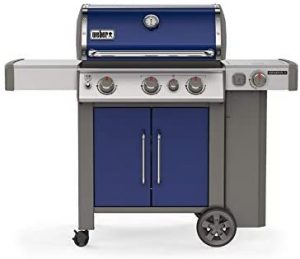 This is actually a commercial-grade with stainless steel burners that deliver 36,000 BTUs of steady heat.
Pros
Easy push button electronic pulse ignition system
Heavy-duty surface
Cons
Not quite durable: average build quality
Installation: not straight forward
Weber 50060001 Q1000 Liquid Propane Grill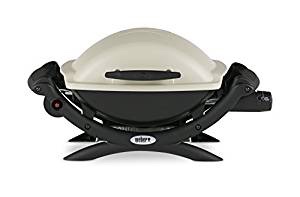 This is another product from Weber that's hardly to avoid when making this recommendation. We love the sleek style. Overall, this propane gas grill is the best for money for most families.
Pros
Porcelain-enameled cast-iron cooking grates
Cast aluminum lid and body
Push-button ignition
Infinite control burner
Cons
Pit Boss Grills 75275 Stainless Steel Two-Burner Portable Grill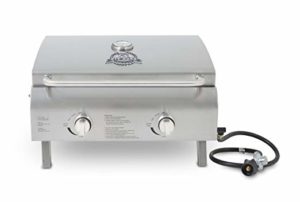 The stainless steel grill rack is heavy and well-made. The folding legs are a good idea, although there are no locks. It's the best portable grill with lots of cook space. Also ideal for outdoor use.
Pros
Portable design features
Folding legs and latching hood for easy carry
Push and turn ignition and dome thermometer
Lightweight and easy to carry
Cons
Folding legs: not lockable
Build quality: average
Smoke Hollow 205 Stainless Steel TableTop Propane Gas Grill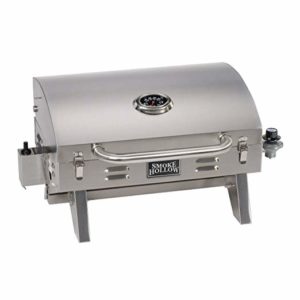 One of the great things about this Smoke Hollow propane gas grill is how easy it to clean. This is an advantage for most people to keep it clean for later uses.
Pros
Stainless steel drip tray
Temperature gauge
Cons
Uneven heat
Poor quality control
Weber 45010001 Spirit II E-310 Black LP Outdoor Gas Grill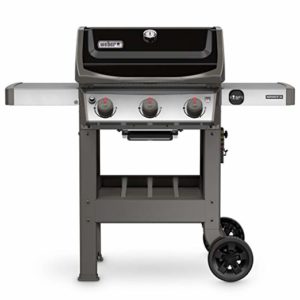 The grill is easy to move around inside your house or outdoor. The Weber outdoor gas grill is built to last. Best value for the money.
Pros
Folding side table
Open cart design
Ignition is flawless
Very even heat
Cons
Too small shelf at the back
No ledge in the front or back