The Best Propane Grills for Camping
Camping and grilling often go hand in hand, as we love to cook our meals over an open flame in the great outdoors. Propane grills are a popular choice among campers, as they provide a convenient way to cook hot food on the go. When looking for the best propane grill for camping, there are a few key factors to consider.
First, you should think about temperature control and cooking surface area to ensure you have the right tools to cook your meals to perfection. It's also important to consider the type of fuel the grill uses and how it ignites, as this can impact the convenience and ease of use.
With so many options available, it can be difficult to determine which propane grill is best for your camping needs. Portable grills can offer the flavor you crave while on the campsite, but it's important to consider factors like fuel type, size, transportation, fuel tanks, and build when making your selection. Take the time to research and compare different models to find the perfect propane grill for your camping adventures.
A List of Top 10 Best Propane Grills for Camping
Coleman RoadTrip LXE Portable Propane Camping Grill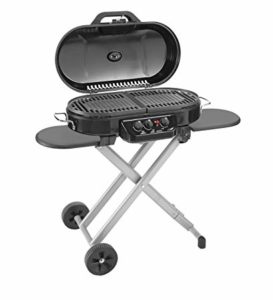 This type of grill is lightweight and easily portable and has its built-in table. It can be rolled up and be folded in the form of a wheeled suitcase making it easy to move around wherever you need. It has a spacious table and it is possible to swap out the grill top making it versatile. It is built from steel construction and durable ceramics that are very easy to clean. This propane grill uses easy one-button ignition that makes it firing up the grill with a snap and it is easy to adjust the temperatures using the knobs on the front.
Up to 20,000 total BTUs3
With improved burner technology for more precise temperature control
Sturdy quick-fold legs and wheels
Integrated design for accurate temperature monitoring
Cuisinart CGG-180T Petit Gourmet Portable Tabletop Gas Grill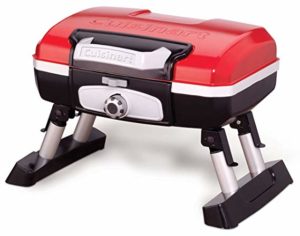 This is a tiny propane grill that is designed for use on tabletops outdoors. It is lightweight and portable, made possible by its locking lid, collapsible adjustable legs and its briefcase-style handle. It has one burner implying that it has a pretty small cooking area. This grill is usable on anything even on the uneven grassy ground.
Powerful 5,500 BTU stainless-steel burner and even-heating porcelain-enameled grate
Aluminum legs and stabilizing feet set up in seconds
Integrated lid lock
Pronounced briefcase-style carrying handle
Weighs 13.5 pounds
Blackstone Table Top 17 Inch Propane Camping Grill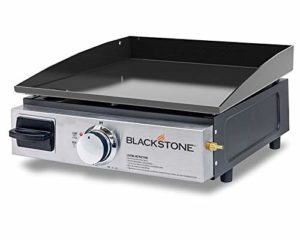 This propane camping grill is designed in a way that the top space of this grill provides space to cook upon its use. It has an easy to use electric igniter, making it easy to light up the grill anytime. The availability of a simple cooking surface makes it easy for the propane grill to clean. Ideally, these propane camping grills come in different sizes making it easy for customers to choose the product they want.
Built with an easy to use electric igniter
Uses convenient 1 pound propane bottles for fuel
Heavy duty cooking surface for versatility and durability
Stainless steel "H" burner that heats up fast
Even heat distribution and fast cooking with a 12,000 BTU heat output
Weber 10020 Smokey Joe 14-Inch Portable Camping Grill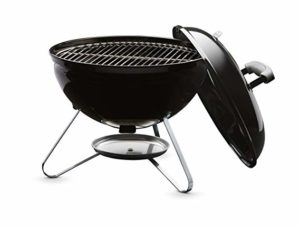 This type of propane camping grill comes to a design of the classic BBQ style implying that it has a circular cooking surface. The lightness of the grill makes it easy to carry around. This type of grill has a lid that is porcelain-enameled to ensure the retention of heat and a fitted nylon handle making it cool to touch. The grill also has dampers inside the grill that ensure the regulation of heat and has plated steel cooking grate.
Holds up to five burgers made with a Weber burger press
Compact and lightweight for grilling on the go
Porcelain-enameled lid and bowl
Durable plated steel cooking grate retains heat
Easy to clean
Coleman Classic Propane Stove Camping Grill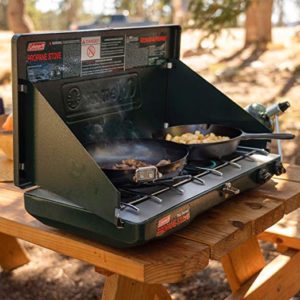 This type of camping grill has two burners that ensure the delivery of power. This device is also fitted with wind blocks that ensure that they block or stop disturbances on your flame with adjustable burners too. It is durable and fitted with a chrome-plated grate that makes it easy to clean, as well as an aluminized cook top that is resistant to rust. The burners are independently adjustable.
Shield burners from wind
Pressure-control technology for consistent performance
Up to 1 hour on high on one 16.4 oz. propane cylinder
Weber Liquid Propane Camping Grill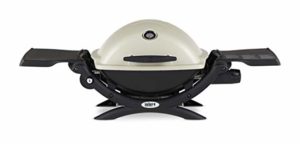 It is relatively small, making it portable and has a big cooking space fitted with one burner. It has porcelain-enameled cast-iron cooking grates that help in giving food a great taste. It also has a cast aluminum lid and body with a nylon handle that regulates heat by ensuring that it remains cool to the touch. It has an easy to start ignition and its burners have valve settings that make it easy to use.
One stainless steel burner produces 8500 BTU-per-hour to heat 189 square-inch total cooking area
Porcelain-enameled cast-iron cooking grates and cast aluminum lid and body
Fully assembled out of box
Easy-start electronic ignition and infinite control burner valve settings
Glass-reinforced nylon frame
Mr Streak 1 Burner Infrared Portable Grill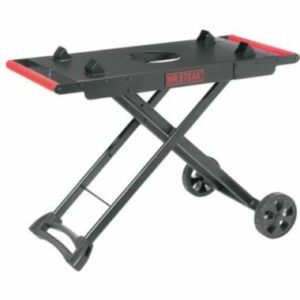 This is a propane-fueled grill with a unique ceramic infrared burner that burns at very temperature. This type of grill is highly portable and adopts electronic ignition. It has heavy-duty construction features such as folding legs, a carry handle, and a locking lid. It also has a removable grease tray.
Portable stand
Collapsible for easier transport
Comfortable height for use
Adjustable steel brackets
EUREKA Gonzo Grill Cook System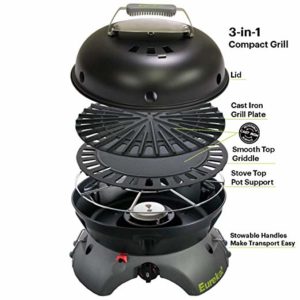 It has a large size that is convenient for storage and transport. It has a compact design making it truly a unique cooking option. It has both functions as an oven and as a grill. It is large enough for about four full-sized burger pattles. This product is compatible with other Gonzo products.
6,000 BTU of cooking power
Advanced simmer control with four full dial turns of heat control
Cast iron cooking surface—grill or griddle
Steel lid with vents
Integrated grill scraper
Removable, dishwasher-safe drip tray, for easy cleaning
Stoves can be daisy-chained together and operated from a single fuel source
Smoke Hollow 205 Stainless Steel Table Top Propane Camping Grill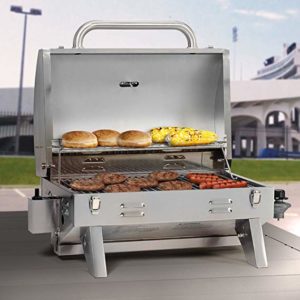 This comes in a stylish look to impress everyone in the campsite. There are two layers to the grills, making it possible to keep food warm until it's eaten. It has a massive burner that can emit plenty of heat. It also has stainless steel legs that can be folded, as well as trays that can easily be cleaned.
Stainless steel cooking area
Chrome-plated warming rack
10,000 BTU stainless steel "U" burner
Fold-able stainless steel legs
Stainless steel drip tray
Char-Broil Portable TRU-Infrared Liquid Propane Gas Camping Grill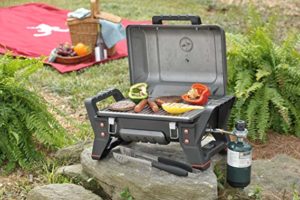 This type of camping grill has a cast-aluminum firebox and a lid that has stainless steel latches that also have temperature gauges that are in-built. It is durable and easily portable. Its cooking system consists of a flare-up system that ensures added safety; thus, offering a large space. Its frame can survive a lot of high impacts and it's fitted with carrying handles.
Road worthy and built to travel easy
High-impact frame with legs and carry handles
No flare-up TRU-Infrared cooking system
200 square inch stainless steel grilling grate