Do you enjoy sipping on hot tea and coffee? There are many popular brands of electric kettles for coffee, but not all are created equal. It's true that there are many ways to brew good coffee, but finding the right electric kettle is crucial.
Which electric kettles are the best for coffee and tea? What is the healthiest option? Are stainless steel electric kettles safe? Coffee lovers are always searching for the best brewing methods, but what they may not realize is that the key to great coffee starts with the electric kettle.
A List of Top 10 Best Electric Kettles for Coffee
Ovente KS88S stainless steel electric kettle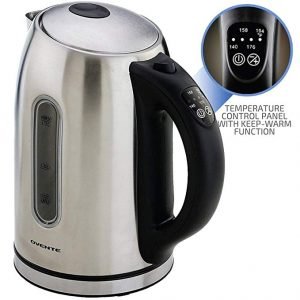 The Ovente kettle comes in red finish with traditional steel. It looks great in any dream kitchen. Our favorite? It automatically switches off after the water boils. The kettle comes with a concealer to reduce any buildup of mineral.
Specification
Up to 1.7 liters
Durable lid
A cool and a light button switch
Fellow Stagg electric coffee kettle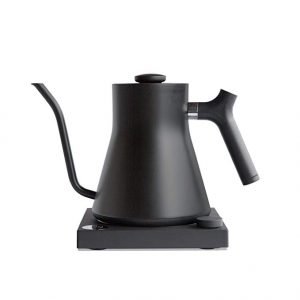 It's beautiful. Its sleek modern design isn't cheap. There are 2 features we love to recommend. We love the temperature control and the temperature hold feature. It just feels solid. The handle is great in our hand.
Specification
It has an LCD screen
A stopwatch
Bluetooth connectivity
Cuisinart JK-17 cordless electric kettle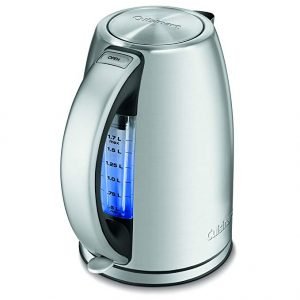 This modern kettle design has a backlit water window to measure how much water there is in your kettle. Its heater is 1500-watt. You can choose the water temperature you need.
Specification
Can brew up to 1.7 liters
It has a wireless connectivity
Has a filter that can be removed
Bonavita mini electric kettle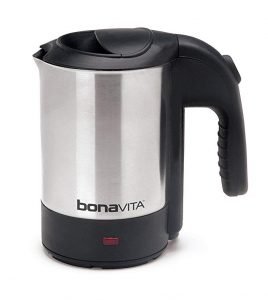 If you travel a lot and you need that homemade coffee, Bonavita is the ideal electric kettle for you. It has a 5 liter capacity, a heating element of 900 watt, and an easy fit in a suitcase.
Specification
Automatically shut off
Multipurpose
Boil-dry protection
Oster electric kettle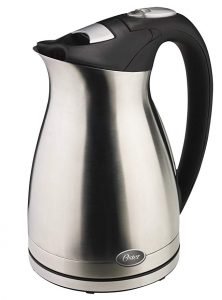 Oster is the solution for persons who are always afraid of burning themselves on a kettle. It has an insulated handle. Why this electric kettle makes our top 10 list we recommend? Made of stainless-steel, we really like the non-drip spout with removable fine-mesh filter.
Specification
Holds up to 2 liters
Indicator level
Bonavita temperature gooseneck kettle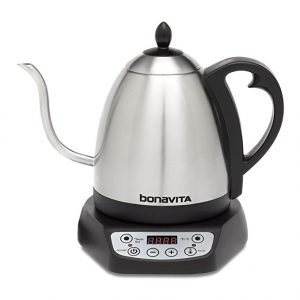 The Bonavita gooseneck kettle can heat water to between 142 to 200 degrees. Its modern design makes it appealing, and it can fit with any décor. The kettle has a 1000-watt heater to heat your water fast.
Specification
Gooseneck ensures better pouring
Can be set to 140F
Can be set at variable temperatures
Brushed stainless steel and BPA-free plastic
Ovente electric kettle
This is the most affordable electric glass-made kettle type. It comes with numerous colors that will help you bring life to your kitchen. Its 1100-watt heater heats water evenly and quickly.
Specifications
1.7 liters capacity
Comfortable handle for easy pouring
Cordless
Auto shut-off feature
Boil-dry protection technology
Zell stainless steel kettle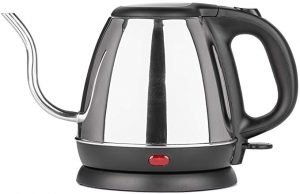 The one-button is simply great. There is no plastic contacts the water.
Specifications
1.4 liters capacity
Can utilize gas
Thin sprout for pouring
BPA-free, 18/8 stainless steel electric gooseneck
Automatic shutoff
Willow & Everett electric gooseneck kettle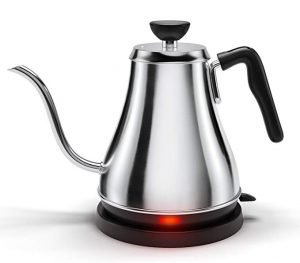 Features an automatic shutoff, its outstanding design looks great for most people. This stainless steel gooseneck electric kettle is one of our favorites.
Specification
One liter capacity
Cordless
Airtight spill-free lid ensures no messes happen
100% food-grade stainless steel with no chemical linings
Hamilton beach kettle
This 1.7-litre capacity kettle has a push-button lead. Why we recommend this product? Best for college dorms or kitchens, the drip-free spout can keep your hands safe from hot water.
Specification
Window level
An on an off switch
Easy to clean
Push-button lid