Top 10 Best Rolling Coolers for Beach Sand (2022)
Carrying a basic cooler for an outdoor trip? That's not the way to go. Instead, you should look for the ones good enough to roll off the trail or on the sand. You should realize that sand poses a great challenge for a wheeled cooler. Therefore, a heavily loaded cooler is going to be a real hassle and not rolling as smooth as you expect. That's why this list of recommendations will help you discover and get the best rolling coolers for your beach trip.
A List of Top 10 Best Rolling Coolers for Beach Sand
The Igloo Ice Cube Roller Cooler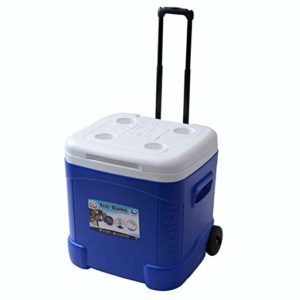 is extremely sturdy and will be easy to roll on beach sand. It is made of very durable polyethylene material and will keep all of your items ice cold. There are also handles on the sides to make it easy to load into a truck or carry from the ground to a higher surface.
Polyethylene
Ultratherm insulated body
Push button and locking telescopic handle
Durable wheels and reinforced tow handle
Molded side scoop handles
The All Terrain Coolers Wheeled Cooler with Inflatable Tires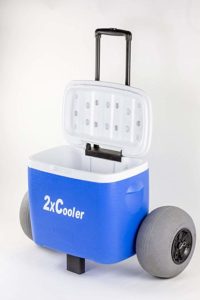 is perfect for taking to the beach. The inflatable tires make it possible to even take the cooler into the ocean! The cooler also has four cup holders on top for extra drink storage space when relaxing at the beach. And, in case you want to remove the tires, they are also easily removeable!
Inflatable Tires
Retractable Handle
4 Cup Holders
48 Liters
Removable Wheels
The Coleman 100-Quart Xtreme 5-Day Heavy-Duty Cooler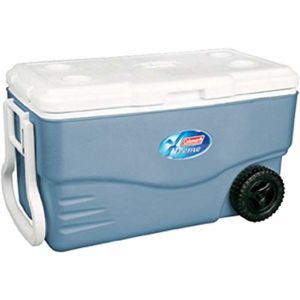 is an amazing choice for a beach cooler because it is large and has a lot of storage space. The items in the cooler can stay ice cold for up to five days due to heavy insulation in the lid and sides. The cooler has reliable, sturdy wheels for easy transportation on any type of terrain. Due to the large rectangle shaped lid, the cooler also makes a perfect, convenient seating place for those who need a rest at the beach!
Insulated lid and extra insulation in walls
Heavy-Duty Wheels
Holds 160 cans
Molded cup holders on top of lid
Leak-resistant channel drain
Large tow handle for easy pulling
2-way side handles
Made in the USA with low CO2 insulation
The Igloo Maxcold Quantum 52 Cooler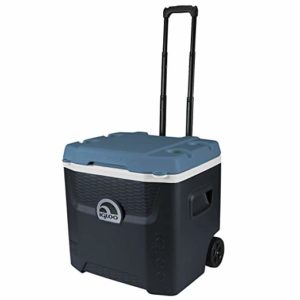 has a shelf inside of it to easily rest drinks upon. It is made of durable material to keep your drinks and food cold all day under the hot sun! The body of the cooler also has hangers and handles perfect for hanging purses and bags on. The strong wheels on the bottom of the cooler make for easy pulling as well as pushing — an excellent choice for bulky sand and terrain!
Cold retention with utratherm insulated lid and body
Locking, telescoping handle equipped with gear hangers
Wheeled for easy transport
Molded-in side handles
Internal shelf-ledge
The GiNT Rolling Cooler with Handle, 53 Quart Ice Chest Cooler with Wheels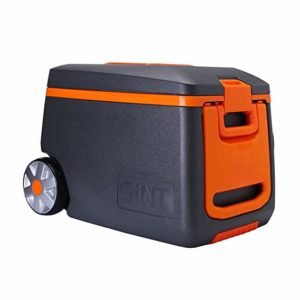 is a vibrantly colored cooler made of durable TPE exterior to keep your cooler safe and your condiments cold. The handle can be shortened down to make the cooler easy to carry. The cooler also has a tie-down loop where you can safely put your umbrella! The cover is easily removable for instant cleaning and the handles also move out to be used as a small table for drinks or food.
Big oversized wheels and solid build
Impact- and puncture-resistant
Big tow handle
The Coleman 42-Can Soft Cooler with Removable Liner & Wheels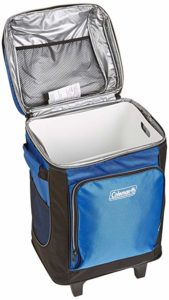 can hold up to 42 cans and keep them ice cold for hours under the hot sun. The liner is actually removable and antimicrobial to prevent and mold, mildew or foul odors from forming. There are pockets all over the cooler to keep your valuables safe and to hold any extra items you don't want to lose. And, the cooler is easily foldable to make for easy and convenient storage!
Arctic Zone Titan Deep Freeze Rolling Cooler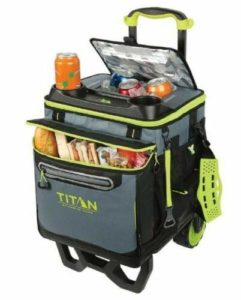 With its four extreme layers of insulation, the Arctic Zone Titan Deep Freeze Rolling Cooler is an excellent choice for the beach. It has many compartments to keep your food and drinks cold as well as storage compartments to keep hold of all of your valuables. The outer layer of the cooler is water and stain resistant, so you don't have to worry about the ocean water or rain ruining your cooler! The inner layer is made of sleek, stain proof material that makes it easy to clean. The cooler can hold up to 100 pounds and it can easily be removed from the cart in case you want to take it somewhere else.
The Igloo Marine Ultra Cooler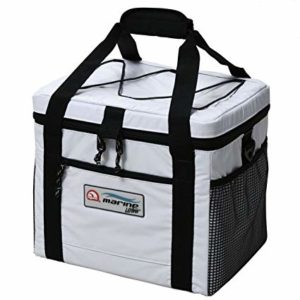 comes in many different sizes depending on your desires. The beautiful white exterior provides ultraviolet protection against sun damage, all while keeping your food and drinks cold. The lid has four self-draining cup holders so you can set your drinks down and not worry about any spillage. With a sturdy, long handle that easily can be shortened down, you can also hang your purses or bags on top for extra convenience while at the beach. The soft-ride wheels are made to not mark any of your floors as you easily glide it along any terrain.
The Igloo Glide Pro 110 Roller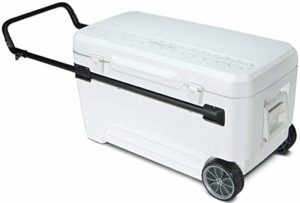 is made of polyethelene material to safely keep your food and drinks ice cold under the sun. The cooler is large and rectangle and can work perfectly as a seat. The long, horizontal and sturdy handle can be folded down for easy pulling on rough terrain. This insulated cooler will keep your ice cold for 5 days under 90 degrees fahrenheit.
The VINGLI 80 Quart Wagon Rolling Cooler Ice Chest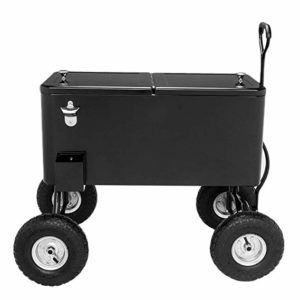 The VINGLI 80 Quart Wagon Rolling Cooler Ice Chest will be the life of the party when you take it out in public. With its unique and sleek appearance, it will keep all your food and drinks cold in its spacious interior. Its unique design features a bottle cap opener and catcher in case you forget one. With its long, sturdy handle, you can move this cooler anywhere with ease. The four, inflatable wheels are removable for easy transportation and lifting. The cooler also has a drain plug inside to remove any excess water to make for easy cleaning — perfect for the beach!