Solar powered water fountains are a popular addition to any yard or outdoor space. They come in a wide range of shapes and sizes, making them the perfect complement to most outdoor decor and patio furniture.
We hope our list has given you some insight into the variety of solar fountains available and has made your buying process a bit easier. Each model on our list has been chosen with care to suit your needs and guarantee you a reliable product that will withstand the test of time. Take the time to compare the 10 different solar fountains and their features, and choose the one that best suits your needs.
When it comes to fountains, two key elements are design and durability. A well-built product will last throughout the years and hold up against the elements of nature. There are several different types of fountains available, including ceramic, fiberglass resin, polystone, and terracotta.
Ceramic fountains are typically hand-crafted and designed of clay that's glazed, giving them a smooth exterior. This makes them easy to maintain and extra durable, holding up even when dropped on hard surfaces. Fiberglass resin fountains are nice and lightweight in design, making them easy to transport from one area to the next. Polystone fountains are usually dense in design and are a blend of mixing resin and sand molded into a hardened durable material. They come in various thicknesses and textures depending on the resin to sand mixture. Terracotta fountains are like their ceramic counterparts, only minus the shiny glazed finish. They tend to be more porous in composition, making them more brittle and somewhat harder to clean.
In summary, a solar powered water fountain is a beautiful and eco-friendly addition to any outdoor space. Take your time to choose the best option for your needs based on design, durability, and material. Enjoy the beauty and tranquility that a solar fountain can bring to your home!
A List of Top Best Solar Fountains in 2021
Sunnydaze Cascading Log and Buckets Solar with Battery Backup Outdoor Water Fountain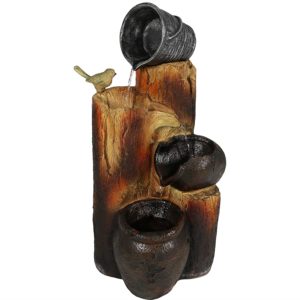 With a 14 inch diameter and weight of 17 pounds, the Sunnydaze Solar Outdoor Water Fountain the perfect garden adornment. Constructed of heavy duty resin and fiberglass, guaranteeing it to hold up throughout the years. Plus, Sunnydaze backs their fountain up with a 1-year manufacturer's warranty as well.
Pros:
* Optional Battery Pack & LED Light Source
* Lightweight & Durable
* Submersible Water Pump
Sidenote:
Remove the water pump from fountain interior at the first sign of winter; storing it away in a safe, dry place.
Thirsty Dog Faux Bronze Garden Solar Water Fountain by Classic Gifts and Decor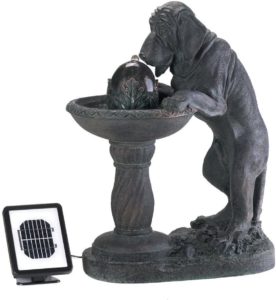 The Thirsty Dog Bronze Solar Fountain adds a whimsical touch to any yard or garden setting. It runs by full-solar energy, saving the hassle of running out for batteries. Plus, you'll have the ability to place anywhere you so desire. They also make great homewarming gifts for family and friends.
Pros:
* Bronze Outdoor Finish
* Lightweight & Easy Transport
* Attractive Hound Dog Design
Sidenote:
Item is not available for purchase to those living outside of the United States or Canada.
Wishing Well Solar Fountain by Furniture Creations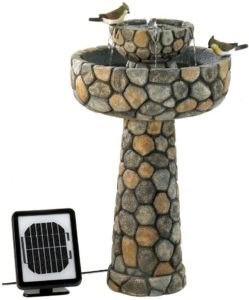 At only 17 pounds, the Furniture Creations Poly-Resin Fountain is easy to transport from one area to the next. The multi-functional design provides you all-in-one Solar Water Fountain, Birdbath, and Wishing Well. Constructed of sand, poly-resin, and stone-powder mixture, provides a unique natural stonework appearance.
Pros:
* Dimensions: 15 x 15 x 25 inches
* Two Tier Water Bowls
* Optional Electrical Adapter (Included)
Sidenote:
There may be an added cost for shipping & handling, depending on delivery address!
Sunnydaze Black Ball Solar Water Fountain – Battery Backup and LED Light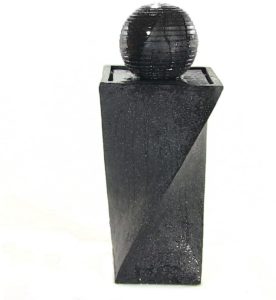 Give your flower garden a mystic look with the Sunnydaze Black Ball Solar Water Fountain. Constructed of heavy-duty resin fiberglass, this product will last for years into the future and even comes with a 1-year warranty as well. Plus, it includes a compact sized solar panel that can mount onto any surface area. An ideal placement for the side of shed or house siding.
Pros:
* Quick & Easy Assembly
* Requires No Additional Power Source
* Optional Recharging Battery Pack
* Unique Sphere Design
Sidenote:
The solar panel needs to be in full sunlight to reach its maximum potential.
Sunnydaze Solar Water Fountain with Battery Backup – Modern Cascading Bowls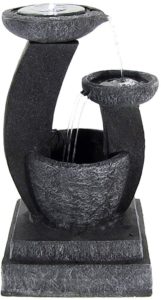 At 15 inches long and 28 inches high, this Sunnydaze Solar Power Water Fountain takes up very little room and makes for a great lawn ornament. Made of heavy-duty fiberglass and resin, this fountain withstands the test of time and weather elements. Besides that, it also comes equipped with an LED light feature on top tier for water illumination in the evening.
Pros:
* 12 x 7 Inch Solar Panel
* 4-AA Backup Batteries (Included)
* 2-Tier Freestanding Design
* 1-Year Sunnydaze Warranty
Sidenote:
The solar panel needs to be in full sunlight to reach its maximum potential.
Sunnydaze Solar Outdoor Water Fountain – Lovers Umbrella Design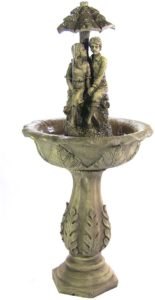 Standing at a height of 43 inches, this Lovers Umbrella Solar Water Fountain is the perfect front yard addition. Its special water feature has a composition of fiberglass-resin for easier mobility and transport. And the optional solar power battery will last up to 4 whole hours on a full charge. Providing you with an endless amount of bubbling enjoyment throughout the day.
Pros:
* Quick & Easy Assembly
* Artistic Couple W/Umbrella Design
* Optional Battery Power Mode
* Power On/Off Button
Sidenote:
The solar panel needs to be in full sunlight to reach its maximum potential.
Smart Solar 34222RM1 Gray Weathered Stone Country Gardens 2-Tier Solar-On-Demand Fountain, Designed for Low Maintenance and Requires No Wiring or Operating Costs by Smart Solar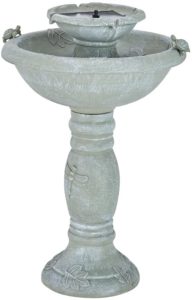 Unlike your typical solar fountain, this one by Smart Solar has weathered stone finish which provides a quaint rustic appeal. Making it an easy, low maintenance fountain that wipes clean within minutes. And the solar-on-demand technology allows you to select when your fountain is to be up and running.
Pros:
* Glass Fiber Reinforced Concrete Construction
* Underwater Pump System
* 6-Hour Running Time
* 2.5 Gallon Water Holding Capacity
Sidenote:
Place in a warm area for storage during the wintertime, as freezing temperatures may cause damage.
Jur_Global Scallop 2 Tier Solar on Demand Fountain by Jur_Global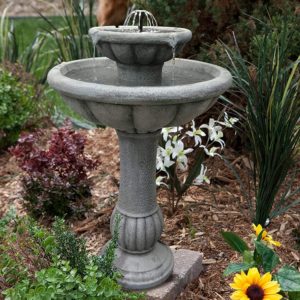 With its simple, yet elegant 2-tier design, the Jur_Global Solar Fountain is complimentary to lawn ornaments and yard decor. Equipped with an on-demand integrated battery, unit stores up energy until you hit the power switch for tranquil water effect. Creating that personal oasis for you and the family to enjoy while lounging outside your home.
Pros:* 2-Tier Reinforced Concrete Fountain
* Power On/Off Button
* Dimensions – 20-Inch Diameter x 32 1/2-Inch Height
* Quiet Water Flow Mechanism
Sidenote:
You must contact Jur_Global to find out more information about solar fountain warranty.
Sunnydaze Rock Falls Outdoor Solar Water Fountain with Battery Backup and LED Lights – Outside Patio and Garden Water Feature with Rechargeable Solar Battery – 22-Inch by Sunnydaze Decor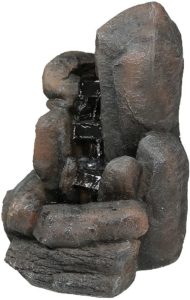 With a height of 22 inches, the Sunnydaze Decor Solar Rock Falls Fountain is a nice addition to patio decks and porches. The natural rock waterfall in combination with its soothing water sound effects help to create the perfect ambiance. And this is possible thanks to the recirculating solar water pump.
Pros:
* Battery Back Up Pump
* 1-Year Manufacturer's Warranty
* Solar Panel W/3-LED Lights
* 5-Stone Pool Levels
Sidenote:
Place in a warm area for storage during the wintertime, as freezing temperatures may cause damage.