The Best Sous Vide Machines
Sous vide is a French term that means "under vacuum". A sous vide machine is a cooking appliance that involves sealing food in a vacuum bag and placing it in a hot water bath. This unique and innovative cooking method produces excellent results. However, buying the best sous vide machine can be a daunting task for most people. There are two types of sous vide cooking methods: sous vide ovens and immersion circulators. In this article, we'll provide a list of the top 10 sous vide machines to help you make an informed decision.
A List of Top 10 Best Sous Vide Machines
Breville Joule Sous Vide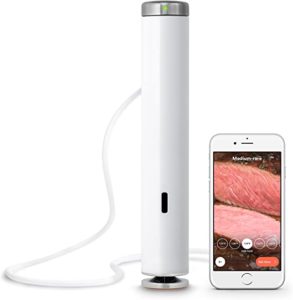 Breville Joule Sous Vide is a smart kitchen product by Breville. The kitchen tool has a weight of 1.3 pounds and a height of 11 inches hence portable. It is made of a streamlined sturdy stainless steel base and cap. The versatile machine is half the size of the most sous vide machine making it easy to carry and store. Despite the small size, Breville Joule Sous Vide has excellent performance with Wi-Fi.
The system features 1100 watts of power for quick heating. It requires Android 4.4 or IOS 8.0 for internet access. The Joule app helps you to visually see how food cooks. Breville Joule Sous Vide is Wi-Fi and Bluetooth compatible with iPhone and Android. You can cook from anywhere. The minimum and maximum water depths are 1.5 inches and 8 inches respectively.
Anova Culinary Nano Sous Vide Precision Cooker, 750 Watts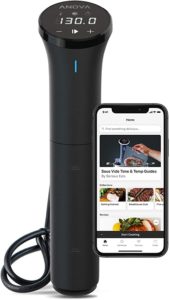 Anova Culinary Sous Vide Cooker circulates water at the set temperature. The machine is Bluetooth compatible to control and set the machine. It features Anova's app to set cooking temperature and duration on the circulator.
Anova Culinary Sous Vide Cooker also has manual controls to help you control it without the use of a phone. This is an ideal tool designed for an accurate and exclusive performance. It designed to cook almost all foods including chicken, eggs, pork, and vegetables. It is easy to use and a small size for easy storage and portability.
Monoprice Black/Silver Sous Vide Immersion Cooker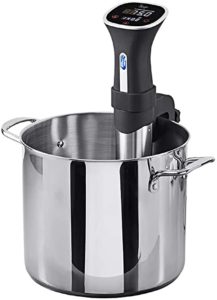 Monoprice Sous Vide Immersion Cooker is a smart kitchen tool with great performance. The product affordability makes it one of the best sous vide machines in this list. It features a bright LED touch screen display that is easy to read. The LED display helps you to regulate the cooking duration and temperature.
The product comes with an adjustable clamp to use different sized cooking pots. The cooker features a 2.25 gallons per minute circulation pump.
Anova Culinary Sous Vide Precision Cooker Pro, 1200 Watts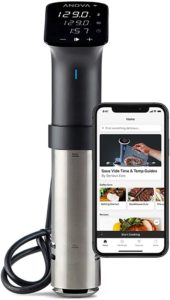 Anova Pro Sous Vide Precision Cooker is the latest and largest sous vide by Anova Culinary and as well expensive. This is a great machine with an ergonomic design. With a removable clamp, you can use the cooker with any pot of any depth. It features a control panel with a large touch screen display for easy cooker control. Also, Wi-Fi is for easy connection with your phone using the new Anova app. The Anova app also has preset recipes to guide you with your cooking as well as recipe inspiration.
Anova Pro Sous Vide Precision Cooker consists of solid stainless steel build. It is capable of heating up to 100L of water while running continuously for a minimum of 10,000 hours. Also, it consists of manual controls. Overall, it is IPX-7 rated and easy to use.
Gourmia GSV115 Immersion Sous Vide Cooker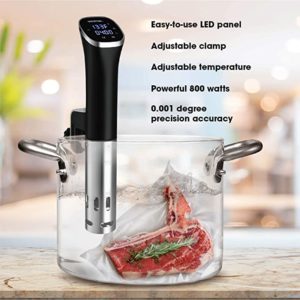 Gourmia GSV115 is a cheap and affordable smart kitchen cooker. It features a constant 360 degrees water circulation at a speed of 1.5 GPM. The product clamps allow you to securely use any pot with a capacity of 5 gallons. It also features an EZ view display for a convenient time and thermostat monitoring. The product features a small and compact design hence easily portable and storage. It is ETL certified hence efficient and safe appliance. Gourmia GSV115 comes with a recipe book for recipe inspiration and cooking guide.
Instant Accu Slim Sous Vide Cooker and Immersion Circulator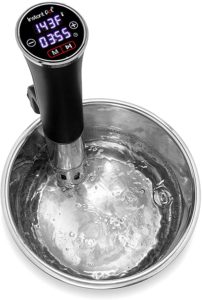 Instant Accu Slim Sous Vide Cooker is designed to cook quality dishes at restaurants. The immersion circulator provides an accurate and controlled water for great results. It is easy to use with a cooking duration of 10 minutes to 72 hours and a cooking temperature range of 40-90 degrees. Instant Accu Slim Sous Vide Cooker features a touch screen control panel that is easy to read. It is made of stainless steel with rubber-coated handles. The cooker also consists of a quiet and durable 12V DC motor that stops when removed from the water.
Sansaire Sous Vide Immersion Circulator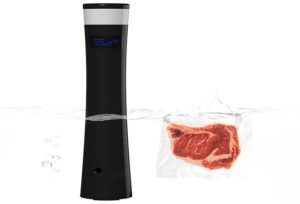 This is an efficient and effective cooking tool by Sansaire. It features 1100 watts cooking power that and quickly heats up water. The small and compact design is compatible with any pot. The versatile cooker provides exclusive cooking results. It has a sleek design and excellent performance. Sansaire Sous Vide Immersion Circulator features a screen display to read temperature settings. The solid and durable build consists of polycarbonate and stainless steel.
Emeril Lagasse Sous Vide Cooker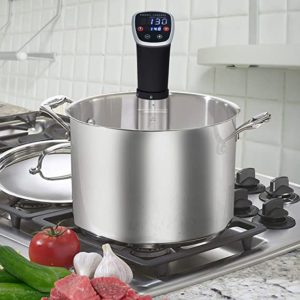 Emeril Lagasse Sous Vide Cooker is a great smart kitchen tool. It features accurate cooking temperature control. So it's ideal for home cooking of vegetables, fish, steaks among others. It is also used for wine and desserts. Emeril Lagasse Sous Vide Cooker features a digital touchscreen display. The brushless DC motor is efficient cooking with low noise.
Tribest Sousvant SV-101 Complete Sous Vide Circulator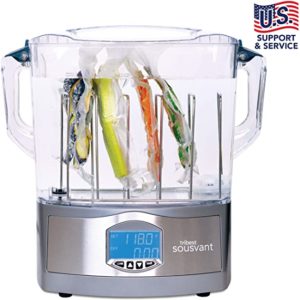 This is a complete set of sous vide machine. So there are no extra containers and circulators needed. Tribest Sousvant SV-101 has a sleek design with digital controls and display. It features 1000 watts powerful circulator that heats up water. The transparent and removable carafe allows you to check the process. The machine operates quietly with energy-efficient cooking.
Oliso Sous Vide Cooking System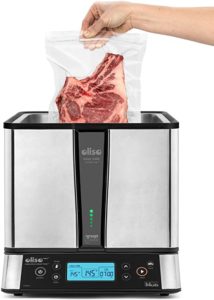 Oliso Sous Vide Cooking System uses induction that directs heat to the cooking pot. It also has a removable water bath that is insulated for energy efficiency. So it's ideal for slow cooking, poaching, sous vide, and steaming. The Induction SmartHub and the SmartTop work for accurate temperature control. The 1500 watts power allows quick heating to 550°F. A unique feature with Oliso Sous Vide Cooking System is the digital touch screen LCD display. There are 10 adjustable power stages, temperature regulation, and countdown timer. It is also easy to read and comes with a 1-year limited warranty.