The Best Tire Repair Kits
A tire repair kit is an essential tool for every driver to have in their car. It is a simple yet effective device that contains all the necessary tools to fix a flat tire quickly and easily. A typical tire repair kit includes a T-handle tool, a spiral probe, and rubber plugs.
As a driver, it's important to be prepared for unexpected situations like a sudden flat tire. With a tire repair kit in your car, you can handle such situations with ease and avoid the frustration of waiting for a tow truck or changing the tire by yourself.
Investing in a good quality tire repair kit is a smart decision. Not only will it save you time and money, but it can also prevent dangerous situations on the road. Before purchasing a kit, it's important to consider factors such as durability, ease of use, and compatibility with your car's tires.
By having a tire repair kit in your car, you can have peace of mind and be ready to handle any unexpected tire issues that may arise while driving.
[ Best Paintless Dent Repair Kits ]
[ Best Truck Floor Mats ]
A List of Top 10 Best Tire Repair Kits
Tooluxe Universal Tire Repair Kit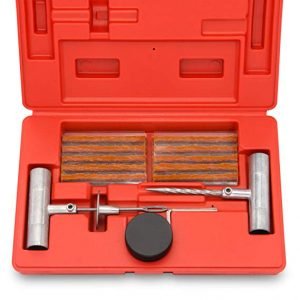 Starting our list is the Tooluxe Universal Tire repair kit. The red toolbox kit contains all the necessary tools you would need to repair your flat tire in minutes. Inside the kit, you'll find two hex, an insert tool, a tub of sealing lubricant, rasp and a 30 string plugs. The tools are made with an ergonomic T-shaped handle designed for comfortability during use. Other than that, they are built from sandblasted stainless steel. This makes them last longer as well as resist corrosion, grime or dirt.
Safety Seal KAP30 Tire repair kit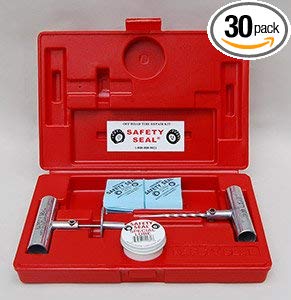 When you look it for the first time, this kit seems rather sparse. However, you'll be pleased to know that it has everything needed to repair any tire problems you may encounter. This kit comes with an excellent set of instructions hence easy to use. Therefore, even if you haven't fixed a tire before, you'll find it an easy task.
Also, this kit is compatible with trucks, cars or even buses. Made from high-quality materials, the tool kit is very durable.
Boulder Tools Heavy Duty tire repair kit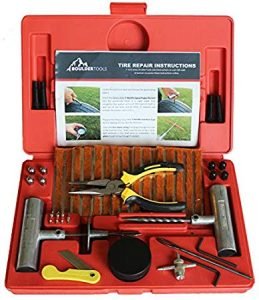 This kit comes with a total of 56 pieces. Hence, it can repair nearly all types of tire punctures. In as much as it's a bit expensive, its build construction is excellent, more so when compared to other repair kits.
Every tool in this kit has an ergonomically design to make its use easy and convenient. Plus, the kit comes with a one year manufacturer's warranty to improve customer satisfaction. Lastly, the repair kit is user-friendly and comes with easy to understand manuals.
Slime T handle tire plug kit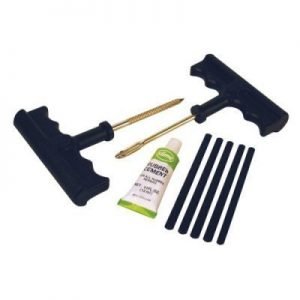 If you are running on a tight budget but still want a tire repair kit that will serve well, this kit will be your best option. It comes with a T handle tire reamer and a T handle plugger coated with a plastic handle. Additionally, it also features 5 plug strings and a rubber cement that aids in sealing off the flat tire permanently. However, you are warned not to inhale or swallow the rubber cement as it contains harmful chemicals.
Smittybilt tire repair kit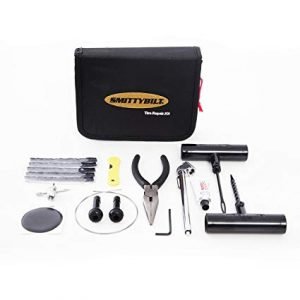 The Smitty kit comes with an attractive casing that contains all the essential tools for a tire repair. It is small in size hence easy to carry and to store. Just in case your puncture is caused by a small needle, you'll need a rasp tool to remove it, then apply the plug and some glue. However, if the puncture hole is large, you'll need the pliers to remove all the punctures before applying a round patch on the damaged part. All these tools are found within this kit.
Blackjack Tire repair tool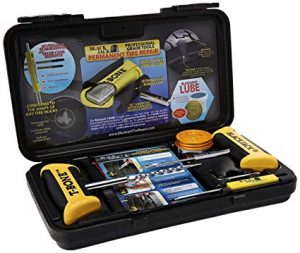 The Blackjack tire repair kit comes with tools perfectly encased in a container in an organized manner to make it easier for us. Inside this kit, you'll find tools such as a spiral probe, plug insertion, soft rubber grip, sealing lubricant, screwdriver, and core remover. The plugs are designed with a butyl rubber compound which provides topnotch sealing services. Also, the materials made to make the tools are sturdy and durable.
Victor 22-5-00206-8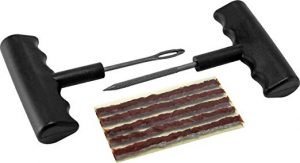 If you are looking for an affordable repair kit, the Victor 22-5-00206-8 will serve you right. It's versatile, and practical hence can be used to repair almost all types of punctures. The ergonomic design of its tools provides an excellent feeling while in the hand. Also, this item comes with about 5 strings to aid in faster and convenient tire repair.
AllTools Tire Repair Kit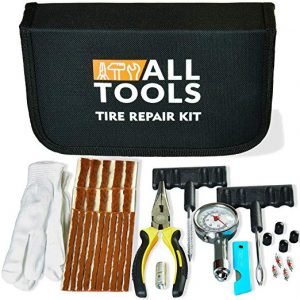 This tire repair kit comes with every tool needed for repair services. Plus, it features other interesting components such as tire gauge and replacement valves. Plus, the plugs are available in a variety of sizes. This makes it easy to plug up holes without having to whittle down the plug or adding the number of sticks.
Unfortunately, one main downside of this kit is that it isn't as durable as its competitors. They wear out faster hence can't guarantee heavy-duty description.
Cuque Universal

7-piece Tire Repair kit
This is another top-rated tire repair kit that you'll find convenient. It's crafted with high-quality metal material to provide you with excellent repair services for a longer period. The tools are often ergonomically made to improve convenience for users. What's more, the tools are highly versatile since they can be used to repair a puncture in a wide range of vehicles.
Cuque Car Tire 37 pieces tire repair kit
This small but compact tire repair kit comes with all the necessary tools that you might need for tire reparation. Purposely designed for off-road enthusiasts, the kit comprises of tools such as heavy-duty T-handle, valves and non-slip pliers etcetera.
Other than being durable, you can use the tool kit with all types of vehicles. Packed in a classic carrying case, you can take it with you all the time.