A set of high-quality kitchen knives is an essential tool for any cook, whether you're a professional chef or a home cook looking to make precise cuts. However, not all utility kitchen knives are created equal, and what works for one person may not work for another. To ensure that you have the right knife for the job, it's important to choose a high-quality knife that's tailored to your specific needs.
When selecting a utility kitchen knife, consider factors such as blade material, handle grip, weight, and balance. These features can greatly impact your ability to chop, dice, and slice with precision and ease. By choosing a knife that fits your needs, you'll be able to make the most of your time in the kitchen.
To help you find the perfect utility kitchen knife for your needs, we've compiled a list of the top five knives on the market. Whether you're looking for a versatile chef's knife or a specialized meat cleaver, our list has something for everyone. Choose one of these high-quality knives, and you'll be well on your way to creating culinary masterpieces in no time.
A List of Best Utility Kitchen Knives
1. STEINBRÜCKE Utility Knife 5 inch – Kitchen Utility Knife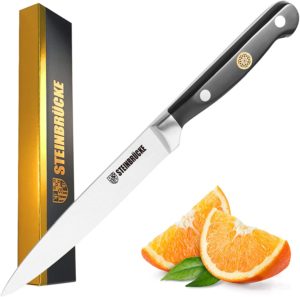 The best utility knife, whether you want to cut through peaches, bread, or sandwiches is the STEINBRÜCKE Utility Knife. This knife goes through a 3X edge grinding process. Because of this, it features a razor-sharp blade that cuts through different types of food without bruising or crushing the soft interiors. Adding to that, the knife's blade is precision forged from a single piece of German stainless steel 5Cr15Mov.
The premium stainless steel goes through a precisely-controlled vacuum heat treatment, a measure that results in a hardness up to HRC58 for long-lasting edge retention. The full tang design is another addition. It aids in the even distribution of the weight along the knife for better balance and comfortable use. Better still, there is a triple-riveted handle that is ergonomically designed for guaranteed comfort. The handle adopts a flawless polishing process, which means that it will never become slippery when holding it with wet hands.
Pros
·The blade is resistant to corrosion.
·Ergonomic handle for better control and user comfort.
·The knife is dishwasher safe.
Cons
·The knife isn't sharp out of the box.
2. Mercer Culinary Renaissance 5-Inch Forged Utility Knife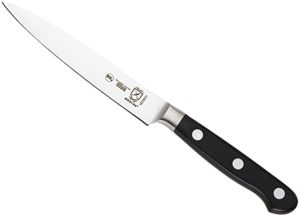 Coming in in the second position is the Mercer Culinary Utility Knife. The 5" knife is triple-riveted with a full tang that runs through the handle's length for superior comfort and stability. Also, it features a one-piece forged construction, which makes it one of the best utility kitchen knives that is durable and safe to use. The knife integrates high-carbon German cutlery steel that resists rust, discoloration, and corrosion.
Also, it integrates an ergonomically designed Delrin handle for guaranteed comfort after hours of use. The handle has a rounded spine that provides a comfortable grip. Plus, there is a shortened bolster. The bolster exposes the full edge of the blade for easier sharpening. Finally, there is a taper-ground edge for stability, long-lasting sharpness, and easy honing.
Pros
·The knife is easy to wash.
·The blades can maintain their sharpness for a long time.
·Sleek and elegant design.
·A textured handle provides a comfortable and stable grip.
Cons
·The knife is pricey.
3. KONOLL Utility Knife 5-inch Chef Knife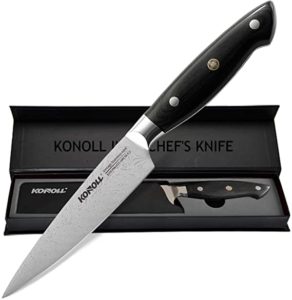 The Konoll is an all-purpose kitchen knife. It is suitable for dicing, slicing, and mincing. The knife features a blade that is made of 5Cr15Mov stainless steel. As a result, it is resistant to rust, wearing, and corrosion for long-lasting durability. Adding to that, the blade has a 56+ Rockwell hardness for longevity and reliable performance.
The blade highlights a beautiful pattern that makes the konoll a stylish and elegant kitchen knife. Adding to that, the blade has a razor-sharp edge that allows you to cut through the food easily and effortlessly. The handle is soft and ergonomic for a comfortable grip and easy control of the knife. Finally, the handle is made of TPR-coated polypropylene for durability.
Pros
·Non-slip handles ensure user safety.
·The knife is lightweight for effortless maneuvering.
·It is top-rack dishwasher safe.
·Superb alloy blade doesn't rust or wear.
Cons
·The knife's handle doesn't fit comfortably in small hands
4. Dnifo Kitchen Utility Knife 5 Inch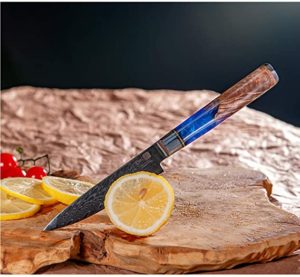 If you need a utility kitchen knife for right-handed or left-handed people, I would recommend that you get the Dnifo Kitchen Utility Knife. It is a 5" knife with a double-sided cutting edge so that it can suit left and right-handed users. Besides that, the knife is an excellent choice for an elegant utility kitchen knife, thanks to the beautiful patterns on the blade.
The knife integrates an ergonomic wooden handle for guaranteed comfort. The handle features high-quality resin for comfort, strength, durability, and excellent handle control without the risk of slipping. Designed for guaranteed durability, the blade is made of high-quality stainless steel. Better, the blade has a cutting core with a 60±2 Rockwell Hardness to protect it from breaking or deforming while cutting.
Pros
·The knife is easy to re-sharpen and clean.
·Blade patterns and a colorful handle enhances style.
·The round handle is easy to hold and comfortable to maneuver.
Cons
·The blades are not too sharp out of the box.
5.
PAUDIN 5 inch German High Carbon Stainless Steel

Utility Knife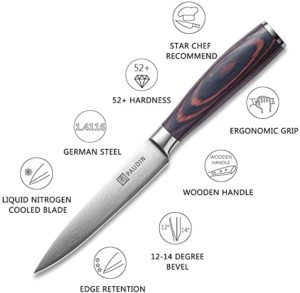 Introducing the PAUDIN Knife, it is a multifunctional kitchen knife suitable for paring, slicing, or mincing. This knife features high-quality German stainless steel. The blade highlights a 56+ Rockwell hardness, enabling it to resist rust, corrosion, stains, and wear. Adding to that, the blade is hand-polished by seasoned craftsmen.
Because of this, it highlights a razor-sharp edge meant for cutting through a range of products with the required precision. The nitrogen-cooled design is another plus. It enhances the hardness of the blade for guaranteed durability. Still, the knife integrates an ergonomically designed handle. The handle features a full tang construction for even distribution of the weight along the length of the knife for guaranteed comfort.
Pros
·A triple-riveted handle provides an excellent balance.
·Ergonomic design provides maximum comfort and the best manipulation.
·Sharp blades slices easily.
Cons
·The blade isn't sharp enough out of the box.
Conclusion
The best utility kitchen knives in this article highlight a durable construction and sharp blades meant to hold the sharpness for long. Adding to that, these knives integrate ergonomic handles that make them easy to maneuver when chopping or slicing. Therefore, I would recommend that you buy either of the reviewed products and rest assured to handle your cutting tasks fast and accurately.