The Best Luggage Carts
If you're a frequent traveler, you know how important it is to have a reliable luggage cart to transport your belongings. With so many types of carts available in the market, it can be overwhelming to choose the right one. However, if you're looking for a cart that's both lightweight and durable, aluminum carts are a popular choice.
But why settle for a basic cart when you can have a folding luggage cart that can easily handle your luggage? The convenience of a folding cart cannot be overstated, especially if you're constantly on the move.
Whether you're rolling your carry-on luggage onto planes, navigating between airline terminals, or simply need a general service cart, the best luggage carts can save you time and energy. In this review, we've compiled a list of the top 10 luggage carts that are perfect for most travelers. From budget-friendly options to premium choices, we've got you covered.
Best Folding Mobility Scooters
A List of Top 10 Best Luggage Carts
Coocheer MFT-01 new multi-function hand cart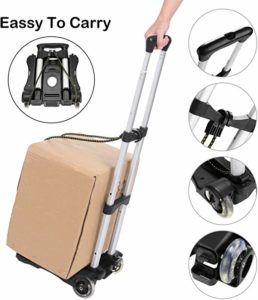 This is a multifunctional hand cart and portable trolley. You can fold and convert easily into a trolley if needed.
Features
It has a collapsible portable trolley.
Two stable files between the handle to support each height stop
A based plate which is easy to unfold
Pros
Made with high-quality aluminum
Easy to unfold and fold
The wheel rolls smoothly
Cons
It is not light in weight
Design Go Luggage Travel Trolley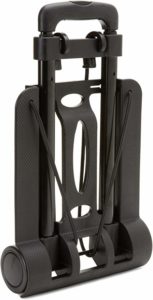 This luggage cart comes with nice plastic wheels. It is light, small, but durable and can do well like the big airport luggage cart. It is a perfect helpmate especially for work or school materials
Features
The cart comes in a UK design.
Plastic hooks which perfectly fit on the handle
Pros
Affordable
Very light
Strong wheels and bungee hooks
Cons
Too small wheels for stairs
TravelKart Travel Luggage Cart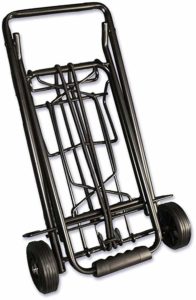 The luggage cart is beneficial, especially for many luggage. It is affordable though it cannot support heavy luggage. The cart is made from steel apart from the wheels. Although cheap, you can use this travel cart to transport a big Diono car seat through many airports.
Features
It has a steel tube construction
It comes with neoprene wheels as well as a powder coat finish
It has stretch cords for securing your luggage.
Pros
Folds easily
The pink color makes it attractive
It is affordable
Cons
Magna Cart Personal 150lb Capacity Aluminum Folding Hand Truck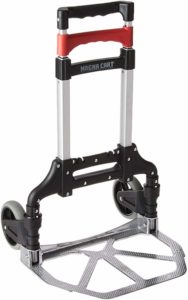 This cart is ideal for every home and most parents. It comes with aluminum build as well as rubber wheels that usually travel on any floor. One thing for sure is the cart works great as a car seat carrier for traveling! For parents with small kids, this is the cart you need for car seat travel.
Features
It comes with a compact design that fits everywhere
It has rubber wheels that are foldable and ideal for every type of floor
Pros
It is constructed well
Can be stored in smaller sizes
Cons
The cart is heavy
Too short handle
Ollieroo Cart Compact Personal Folding Cart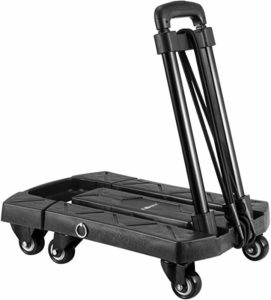 Looking for a solution to carry your pet at the airport or when traveling? Perfectly fulfilled my needs.This is a folding hand cart, and it is very convenient for traveling. It is as well essential for shopping or delivering materials to the warehouses.
Features
It has a loadable surface that can extend up to 5 inches
The cart can be adjusted forward and backward too
Pros
It is light, thus easy to carry
Flexible
Convertible into two types
Cons
Too small even when extended
BlueJan Luggage Cart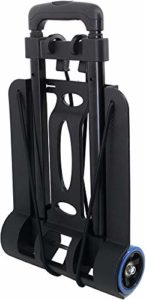 This cart has a sturdy construction. It resists rust and bad weather. Its space-saving due to its folding ability. The cart is perfect for people with disabilities or those with muscular strains. It is light and can also carry heavy bags. What we like about this product the most? Well, the cart folds flat and fit easily under the seat on the airline.
Features
It has two adjustable straps for anchoring your bags
It comes with colored wheels with a classic look
Pros
Cool design
Very affordable
Light in weight
Cons
The handle is flimsy when extended
Travel POTG Luggage Cart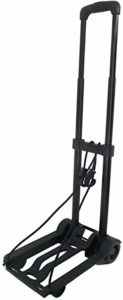 Traveling by flight with kids? This cart has an excellent stand due to its support from the front wheel. It is one of the carts that stand on its own. It has an excellent supporting capacity.
Features
It has two flexible hook straps for supporting the luggage
It comes with folding ability
Pros
Strong rubber wheels
Very light
Cons
The back wheel pushes the luggage out of the base
Smart by Conair Heavy-Duty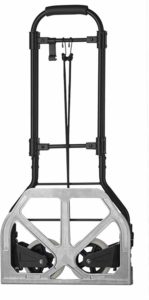 It is a heavy-duty cart designed to support ideal for large luggage that requires a big and spacious base. Ideally, this product Smart by Conair Heavy-Duty is great for travel as it folds flat for easy storage. It also comes with a bungee cord.
Features
A contoured handle which can adjust up to 35.5 up to 39 inches
Wheels that swing out and fold automatically
Pros
Heavy duty
Easy storage since it folds flat
Wide plate for wide luggage
Cons
A bit expensive
Not light in weight
Sparco Compact Luggage Cart

This cart comes with strong supporting capacity, unlike other carts. It can carry many luggage, big boxes, machines, and duffle bags. It is made of steel and designed to carry heavy things. Good size for small equipment, its handle is too short. Also, this compact cart comes with a strap, easy-grip handle, and flip-out support platform for larger luggage. The downsize is the handle is not adjustable.
Features
Two elastic cords to hold your things well
A much durable, easy-grip handle
Pros
Sturdy metal construction
Strong rubber wheels
Front foldable stand
Cons
Samonite Luggage Compact Folding Vart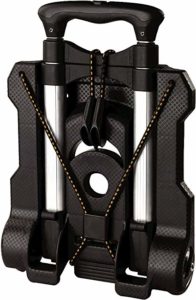 This cart can carry big luggage since its handle extends up to 37 inches. It carries big luggage, and it is easily folded. Our favorite feature of this Samonite product is, of course, the rugged wheels for easy handling.
Features
Two adjustable straps to support your luggage
Huge rugged wheels which spin easily
Extendable handle
Pros
Affordable
Small and light in weight
Extending handles
Cons