Top 8 Best Walking Stilts For Kids (2022)
Stilts are a great way for kids to develop coordination and balance while having fun. With so many different options in the marketplace, parents can sometimes have a bit of a hard time choosing the best option for their active little one. We have gone over many of the stilt options out there and found what we think are the top five. From stilts for older kids who are more active and experienced to smaller options with trainers to help little ones develop their skills, we have outlined the benefits, features, pros, and cons of all the options that we found to be the best.
1. Walkaroo XTREME Steel Balance Stilts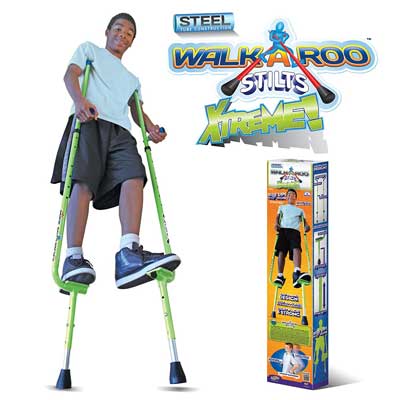 If you are looking for a great set of steel stilts for kids, the Walkaroo Xtreme Steel Balance Stilts by Air Kicks take our number one spot. These are a great option for older kids who are experienced with stilts as well as younger kids who are learning. With their sturdy build, great add-on features, and durability, the Xtreme Steel Balance Stilts are a far and away from the best option available online to parents.
Key Features and Benefits
Suitable for kids from 4 feet to 6 and a half feet
Can support up to 210 pounds safely
Put kids 5 inches above the ground at their standard height
Come with Vert Lifters to allow the stilt walkers to get even higher off the ground at a height of 12 inches to 17 inches
Pros
Strong steel design
Non-marking rubber feet for use both indoors and outdoors
Ergonomic S-shaped design to allow the poles to rest comfortably behind your shoulders
Adjustable heights and suitable for both tall and shorter kids
Can grow with kids as they become more comfortable using stilts
Cons
The bottom feet can fit a little loosely at times
Can be a little heavy for younger kids to use
Changing the height can take a little time
2. Alex Toys Active Play Ready Set Stilts

The Alex Toys Active Play Ready Set Stilts are great options for kids who are just beginning to use stilts. They help active little ones build strength and coordination and can grow with the kids as their skills grow. Alex Toys took into consideration everything that makes active toys great for little ones, right down to the soft-grip handles. If you are looking for a great Stilts option for smaller kids, these are very sturdy but are lightweight set that is safe enough for smaller kids to easily use and learn on.
Key Features and Benefits
Soft grip handlesCome with trainers for more stabilityRecommended for kids 5 years old and younger
Come with feet to replace the trainers with the kids improve on the stilts
Pros
Good for kids learning to use stiltsSmaller design is good for little kids
Come with trainers for kids learning to walk on stilts
Included no-skid caps can replace the trainers when kids are ready
Lightweight but sturdy build
Cons
Trainers can be a little noisy Not a ton of height adjustment options
3. Hijax Standard Size Stilts: Best Walking Stilts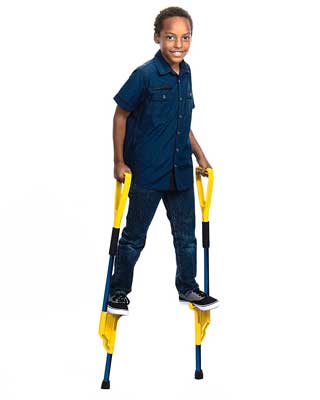 The Hijax Standard Size Stilts is the perfect option for active kids. Traditional stilts don't make it easy to do tricks and jump around. With Hijax Stilts innovative fully looped handle design, active kids can jump around and do tricks on these stilts without having to worry about losing their grip. As a parent, you can feel good about giving your kids these stilts because you know that they are designed for active play.
Key Features and Benefits
Suitable for 8 to 11-year-old kids (or up to 56 inches tall)
Step height of 15 inches
Supports up to 155 pounds
No assembly required
Available in blue, red, green, or silver
Made of lightweight aluminum
Pros
Lightweight for kids' easy use
Looped handle design good for tricks and jumping
Help improve kid's balance and coordination
Rubber non-skid tips
No assembly required
Cons
If kids are not used to stilts, these can be challenging for them to get the hang of
No behind the shoulder option
Rubber tips can wear out fast so you should keep extras on hand
4. Original Walkaroo Steel Stilts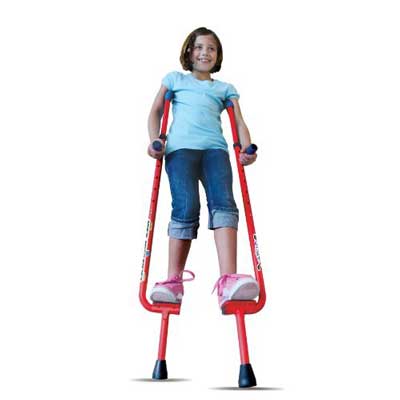 Air Kicks Original Walkaroo Steel Stilts make easily balanced stilt walking easily with their ergonomic design. The stilts feature a unique s-bend that makes them more stable making them perfect for kids who are just learning to use stilts. They are lightweight and durable and feature handles that make it easier to stand upright and balance.
Key Features and Benefits
For kids 6 years old and up
Can support, 210 pounds
Ergonomic s-shaped stilts for easy balancing
Can be adjusted to accommodate anyone from 4 and a half feet to 6 and a half feet
Made of strong steel with durable rubber tips
Rubber tips are non-marking for use both indoors and outdoors
Helps kids improve balance and coordination
Pros
S-shaped design makes it easier to walk on stilts allowing kids to develop skills more efficiently
Can support a lot of height and weight
Adjustable height that can accommodate kids of different heights
Footrest sits at 10 inches above the ground
Cons
Ergonomic design is no traditional and could get some getting used to if a child has never used them before
Can be a little heavy for smaller kids to use
Sometimes, smaller children can struggle to use them if they are a little under four and a half feet
5. Flybar Maverick Walking Stilts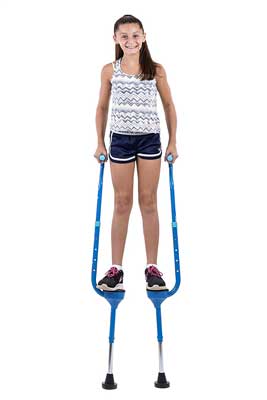 The Flybar Maverick Walking Stilts is an innovatively designed version of a classic. These stilts are designed with bars that do not go behind the back. Instead, kids stand on the stilts and use the handles on their sides. This design allows for more stability and gives kids more flexibility in maneuvering with stilts.
Key Features and Benefits
Designed for younger kids from age 5 and up
Can support 190 pounds
Comfort grips and wide rubber foot tips Easily adjustable for kids of different heights
Lightweight and sturdy design
Full length of stilts is 45 inches
Pros
Ergonomic design that allows for more maneuverability
Comfort gripsWide, non-slip, and non-marking feet
Adjustable height makes Flybar Maverick Stilts suitable for both tall and short children
Stilts can grow with the child due to adjustable height
Cons
Can be a little heavy for kids under 7 years old
Some smaller children can have a little trouble adjusting to the design due to the lack of shoulder support
Adjusting the height can sometimes take a little bit of time
6. Large Walking Stilts for Age 10 Up by Flybar

These ​kids' stilts​ are designed for indoor use, as well as wilder terrain. If you're looking for ​outdoor fun for boys​ or ​outdoor fun for girls​, these ​Flybar Master toy stilts ​are for you. With extra-wide foot grips, each teenager could use these Flybar stilts. The thick rubber nubs at the base provide extra traction and won't wear thin like inferior brands of the teenager walking stilts.
This stilts, we can choose from 5 different positions from 12.5" to 17" off the ground. You can go further on these walking stilts with chunky foam handles that are easy to grip. Give the gift of health with these ​children's stilts​ and watch your child's confidence grow.
Key Features:
These stilts are ergonomically designed to make learning how to stilt walk easy
Improve the balance and coordination
Beautifully designed handgrips and shoulder rest
The padded hand grips make for a comfortable riding experience while the shoulder rests go behind your shoulders to ensure you're standing up straight.
Adjustable height from 12.5 inch – 17 inch off the ground
The full length of this stilt is 72 inches long
It has extra-wide footrests for maximum stability and comfort
Come with sturdy rubber tips, that will make for a more stable stilting experience
7. Aluminum Lightweight Stilts by Geospace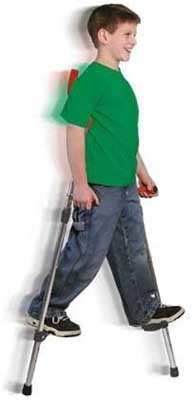 This under 110 Lbs is perfect for anyone both adults or kids, the ergonomically correct design allows a "stilt-ist" to walk in a more natural, upright position that encourages play.
They're made of sturdy aluminum (instead of the steel used in Walkaroo I), which makes them easier to carry and quicker to maneuver. As kids gain balancing skills, they can move the footrests higher for more challenge.
Key Features:
Ergonomic S-bend design wraps behind shoulders allowing for natural posture
Comfortable foam cushioning on handles and underarm rests
Non-marking, non-slip rubber feet on the bottom for stability
The lightweight tubular aluminum design makes the Walkaroo JR. Stilts easy to carry and maneuver on
Adjustable foot platform height and pole height allows for use by age 5 up
Suitable for riders up to 110 lbs
Coordination and upper/lower body strength
8. Balance Stilts Lite for Beginners Ages 4 up by Geospace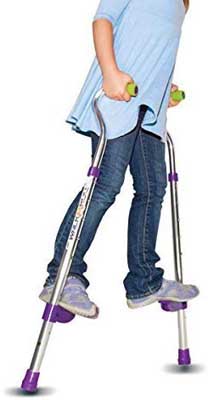 This balance stilt is constructed of strong, yet lightweight aluminum for easy portability. It is comfortable and completely adjustable for stilt walkers of many different heights.
The kids 4 years up can start off on the lowest footrest level until they become familiar and comfortable. Later, this stilt will grow with the kid as they get taller and taller since both the footrest and the handle positions can be adjusted for a custom fit.
When kids gain confidence and improve their skills, the footrests can be raised higher, adding to the challenge. The maximum weight limit is 110 lbs. And when the kids walking on any of our ergonomic WALKAROO Stilts is a fun, physical, giggle-inducing workout. Kids won't realize this fun activity is also good for them. They'll be exercising muscles in their arms, legs, shoulders, and core.
In addition to this full-body workout, coordination and balance will improve with practice. The comfortable rubber footrests and foam cushioning on the handles encourage hours of active play.
Key Features:
Lightweight beginner stilts for kids as young as 4 years old
'Wee Lite' Stilts are made from high-quality aluminum, which makes it more maneuverable for small kids.
The E-Z Walk Handle design makes stilt walking simply to learn for younger kids and beginners, just step on, pull up and go.
Come with soft foam grips and C-shaped handles for greater control and comfort.
Made of rugged tubular aluminum
Footpegs adjust in height from 10" to 15" off the ground
Can adjustable arm positioning as kids grow
Non-slip, non-marking rubber feet for max stability and indoors or outdoors
Coordination and upper/lower body strength.
Recommended for ages 4 -12, with a max weight of 110 lbs.