Top 10 Best Wheelchairs for Dogs (2022)
Disability can impact every human being and every animal. Do dog wheelchairs work? Man's best friend can also suffer from injuries. The article will give the best wheelchairs for your furry friend. Your dog can feel normal even with the disability with the best wheelchairs for dogs.
A List of Top 10 Best Wheelchairs for Dogs
Huggiecart wheelchair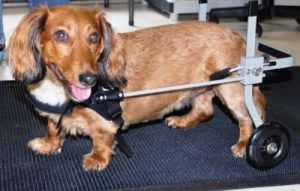 Made for dogs with problems with their hind legs, it is a wheelchair that does not cost you a lot for the perfect job it does. It also comes with assembling videos online. The only downside to this wheelchair is that it might take a lot of time to get used to. This chair has two options. You can use it with legs either up and down. It has stirrups which are a metal attached to both sides of the dog's body to where they place their feet in. The stirrup helps to provide support.
Features
Contains stirrups
It is cost-effective
Videos of it's assembling are available online.
Best friend mobility SitGo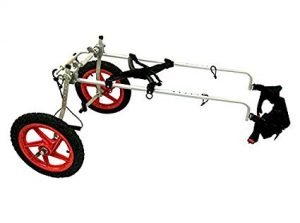 This is a unique wheelchair because it not only helps your furry friend to move, it also has a seat. Your dog can sit down on the inbuilt chair when they are not using the wheelchair. The chair is also ideal for heavier dogs because of the low rump. The rump can be lowered and the dog can be well-rested. The dogs can be rested and relaxed while wearing this chair. The downside to this wheelchair is that the screws that hold it loosen with time. The chair has an adjustable harness that can be moved to your desired height and size.
Features
It has an adjustable harness.
Injured dogs can stay active.
It has a rump that can be lowered
Change puppy cart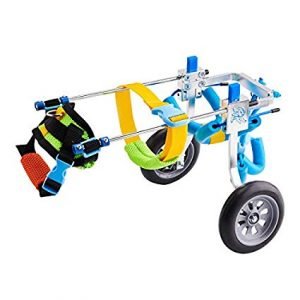 This is a one of a kind chair that can be adjusted to fit your dog's size. That is it can fit any dog's size because of the adjustable collar and stirrups. It also has low friction tires and bearings that are easy to use any terrain, that is, it can be used on tarmac roads, they can be used both outside and inside. The disadvantage of this wheelchair is that tutorials on its installation are not easy to find. This chair has rubber lining where the chair touches the dog's skin giving your pet comfort.
Features
Has adjustable features
It has assembly tools
It is comfortable
Best Friend Mobility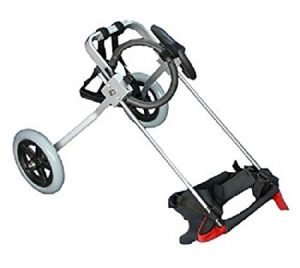 This wheelchair is for dogs that are recovering from an injury. It is ideal for both partial and full weight. It is made from aluminum. This means that it is a light chair. It does not hinder the movement of the pet because it is light. The aluminum being light makes it easy for you to carry the chair. Your dog does not get tired. It, therefore, helps dogs stay active. The lightness of the cart also makes it easy to pick it up and place it in your car. This cart is also made from stainless steel which makes it durable and does not rust easily.
Features
Aluminum parts making it light
Has stainless steel
Suitable for injury recovering dogs.
K9 Carts Rear Support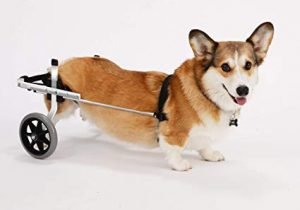 This cart was manufactured after several tests were conducted at a veterinary clinic in the orthopedic center. It is made with the dog's interest in mind. It was specifically made to give pelvic support to your pet. This cart comes with different sizes. The pelvic support is made from durable foam which gives the dog comfort. This chair works great on grass platforms. The rings that provide pelvic support do not form any pressure sores on the body of the dog. The cable rings provide comfort for the pelvic because of the dense padding.
Features
Dense padding
Available in several different sizes
Professionally tested
The new life mobility Reachability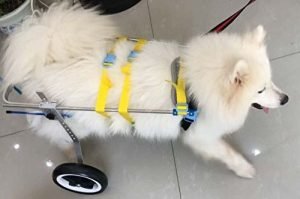 This cart is ideal for dogs that have had surgery on their rear limbs or suffered an injury on the hind legs gets back to full health. It also serves as a helper to elderly dogs and dogs with disability. It is ideal for older dogs because it offers support which they cannot have on their own. Made from aluminum which, it's very light and it does not rust easily. Although aluminum is light, this does not mean it is not strong. It is also an adjustable meaning that can fit any dog's size.
Features
Made from a sturdy material
It does not rust easily
It is very light
HiHydro small dog wheelchair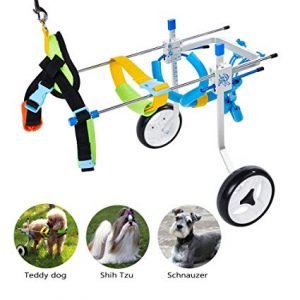 Suitable for small dogs that weigh between 2-13 pounds. It's so light that your pet will walk easily with it. Other key features we like is user-friendly design and the length and height are adjustable range.
Features
It has a soft harness
Rear limps support.
ExGimzo adjustable dog wheelchair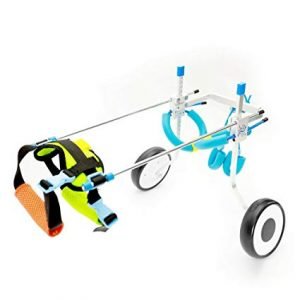 This wheelchair has four wheels that make it ideal for small dogs with week legs.
Features
It is lightweight
Made from aluminum
Adjustable harness
Quaz 4 adjustable dog chair
This is a wheelchair suitable for the recovery of the front limbs of the dog. It is available in seven different sizes and provides full-body support. We recommend this dog wheelchair for its durability, lightweight aluminum frame. This means that it can provide optimal comfort and mobility.
Features
A belly band for spinal support
Available in several different sizes
Full-body support
Walk-in wheels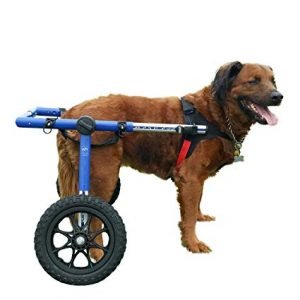 This cart is available in three different colors. Designed for dog to use the bathroom when using the cart, the harness is also adjustable. What set this product apart is the patented adjustable design. Well, with the unique design, you can customize the dog wheel cart to suit your dog's size and changing health. We also love the wheelchair as it is also adjustable in height, length, and width. So your pet is both mobile and comfortable.
Features
It does not harm the dog's skin
It has an adjustable harness
The dog can go for a bathroom break when using it