Best Wood Chisels (2022)
Wood chisels are multifunctional tools to have, especially if you are involved in woodwork. These are tools you can utilize for shaving rough surfaces, chopping corners of a wood chunk, scraping off materials like glue on a wood chunk, and so on. The wood chisel comes in sets with varying blade sizes. Here is a review of the top 5 best wood chisels to look at. These are quality and multifunctional wood chisels worth buying. The chisel blades are made with quality materials and take a few minutes to sharpen. So, check our review to find the perfect wood chisel set for your woodwork.
A List of Top Best Wood Chisels
Amazon Basics 4-Piece Wood Chisel Set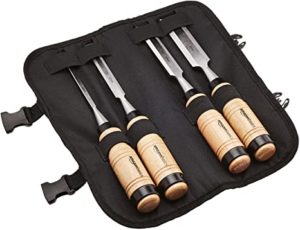 Whether you are a professional woodworker or you need a set of wood chisels for DIY jobs in your home, this is a great set to acquire. A set has four pieces of chisel that have a blade size of ½, ¾, 1, and 1-1/4 inches idea for handling different wood jobs. Working with these chisels is comfortable since they feature a long ergonomic handle.
The handles provide a comfortable holding surface so you can focus on your work. When it comes to durability, these chisels are meant to last you for long, thanks to the quality blade's construction. The blades are made with steel alloy materials that are heat-treated to strengthen them.
What we like
These chisels are durable and strong
The handles are crafted to reduce fatigue when working
The set has different blade sized chisels
The chisel set comes with one year warranty
What we don't like
The carrying case is cheaply made, and you may need to buy another one for secure storage of the chisels.
GREBSTK Professional Wood Chisel Tool Sets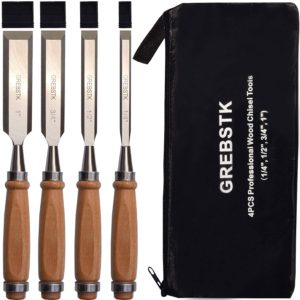 This wood chisel set may be budget cautious but rest assured the quality and function are not compromised in designing. They also allow versatility since the four pieces are designed in different blade sizes of 1/4 inch, 1/2 inch, 3/4 inch, 1 inch. You don't need to worry about the blades rusting or corroding after exposure to moisture or constant work.
The blades come pre-oiled to secure them from the outdoor elements. Another part of these chisels we love is the handles. Made with quality beech wood, the handles are well customized to provide a good grip for easy working.
What we like
The blades of these chisels are pre-oiled for protection
The chisels are versatile in functioning
The chisels are suitable for simple to hardwood jobs
They are affordable
What we don't like
Some customers have mentioned about the blades getting blunt quickly when handling a large project. You may have to keep sharpening them.
EZARC Wood Chisel Tool Sets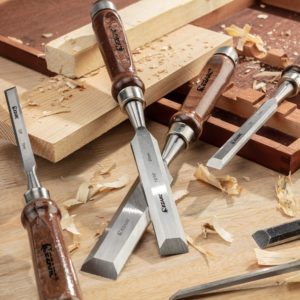 This is a commendable wood chisel set for people who need chisels for professional woodwork or if you work in a woodshop. A set consists of 6 chisels with varying blade sizes so you can work on different projects. All the blades of the chisels are made with heat-tempered chrome-vanadium steels that are sturdy and strong.
So, I guarantee you can handle any wood using these chisels. The other outstanding feature of these chisels is the beveled ground at 25 degrees sharp edges such that you can use the chisels on opening the package.
What we like
The handles are made with premium wood materials
The chisels are safe and sharp to handle all types of woods
These chisels are sharp and have beveled tips
The chisels are multifunctional
What we don't like
You have to sharpen the blades before using even when new
Schaaf Wood Carving Tools, Set of 12 with Canvas Case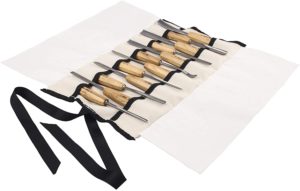 Does your father love to do simple wood jobs like sharpening, repainting, or crafting chairs for family use? Get him this set of the chisel. The set has 12 pieces of chisel that he can separate for various jobs. The chisels require sharpening on buying them but are pretty reliable when it comes to the work.
The blades are made with alloy chromium-vanadium steels that have been hardened for strength. The handles are made with an extended ergonomic design that provides comfortable and efficient holding space as you work.
What we like
These wood chisels come with a replacement and money refund warranty
The wood chisels are suitable for light to heavy-duty wood jobs
The chisel set comes with a strong canvas storage bag
The handles are long and comfortable
What we don't like
You need to be cautious when you receive the package since several customers have complained of receiving crooked chisel blades
Hurricane 4 Pieces Wood Chisel Set Cr-V Construction for Woodworking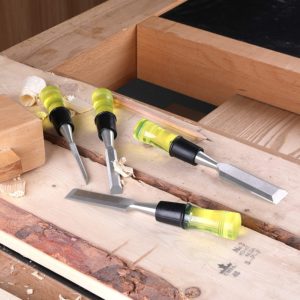 No other tool can beat Hurricane when it comes to professional wood curving jobs since the blades are strong and quite durable to handle these jobs. The blades have premium materials crafting that guarantees excellent power for the chisel to pass through the wood materials. The blades have also been hardened such that you can use the chisels to handle any wood.
What we like
The handles are contoured for comfortable holding to work
These are quality and durable wood chisels
A set has four different bladed wood chisels
The chisels are suitable for all types of woods
What we don't like
The handles of these chisels are a bit short, and some people may find them uncomfortable to hold when working.